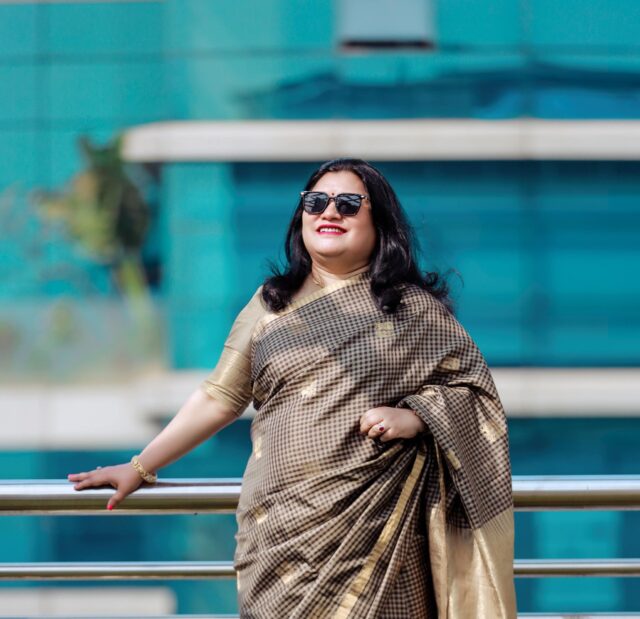 Rupali Chowdhury
Managing Director
Berger Paints Bangladesh Limited
President
Foreign Investors' Chamber of Commerce & Industry (FICCI)
Rupali Chowdhury, the name of inspiration in thousands of hearts. She is an iconic individual irrespective of region, industry, and gender. She took Berger Paints Bangladesh to new heights after taking the helm of the paint manufacturing company in 2008. Since then, the corporate leader led from the front and made Berger the number one company in Bangladesh's paint industry.
Not only she established herself as a successful corporate leader, but she also nourished certain human values in herself and worked towards the benevolence of greater humankind. Her ideology and ordinary way of living is highly exemplary.
Please take a look at her wonderful career peregrination! After receiving her undergraduate degree in Chemistry from Chittagong University, she completed her MBA from the Institute of Business Administration (IBA), Dhaka University. Ms. Rupali started her career in 1984 with Ciba Geigy (Bangladesh), a multinational pharmaceutical and chemical company. She joined as a Management Trainee Officer (MTO) and left the company in 1990 as a Brand Manager.
In the same year, 1990, she joined Berger Paints Bangladesh as a planning manager. During her tenure, she worked for various departments such as marketing, sales, supply chain and systems under different supervisory capacities. From then onwards, we have seen an excellent steady progression in her career.
Rupali Chowdhury became the Managing Director of Berger Paints Bangladesh Ltd. on 1 January 2008. She is also Managing Director of Jenson & Nicholson (Bangladesh) Ltd., a 100% subsidiary of Berger Paints Bangladesh Ltd.; and Director of Berger Becker Bangladesh Ltd. and Berger Fosroc Limited. She is also a member of the Audit Committee of Berger Paints Bangladesh Ltd.
Ms. Rupali is the President of the Foreign Investors' Chamber of Commerce & Industries (FICCI) for the third term. She is a Member of the Advisory Board of UNICEF Bangladesh. She is the Independent Director of Linde Bangladesh Limited and Bata Shoe Company (Bangladesh) Ltd.
Her wisdom, diligence, foresight, and perseverance propel us to confer her the title of Majestic Corporate Leader. The InCAP team indeed had a glittering conversation with this leader regarding the evolution, development, challenges, and prospects of the Bangladeshi business culture meticulously. Happy reading!
Career Cogitation
The InCAP: In your time, in the early eighties of the last century when the female students' tendency to study in Business Administration was very limited. At that time, you were admitted to IBA of Dhaka University. After completing your studies, you went against contemporary tradition and started working in a multinational company. What was the source of so much courage with such an excellent strength?
Rupali Chowdhury: It was not a much-planned career move at that time. My brother, Mr. Shyamal Bikash Chowdhury, and my husband, Mr. Abdul Haque, inspired me to complete the MBA program to whet my business acumen and to become financially independent. I believe that was the turning point in my career. The MBA program really helped me to learn how to be successful in the business world.
The InCAP: It is seen these days that many young professionals in Bangladesh are perplexed with their career progression. They are hesitant about their choices. What is your advice for them?
RC: The majority of the youngsters are not sure about their passion and our country also cannot offer opportunities in every field of the passion of many young people. Hence, the majority of the students coming out of university or college try to get into the job market.
However, there is a new trend in the country right now. A lot of youngsters are joining startups and also pursuing entrepreneurship themselves. During these periods of not realizing what they want to do in life, they can sharpen their technical knowledge and do internship/apprenticeship in different companies or try their luck in startups.
Whatever they do, they should do it with absolute dedication without worrying too much about the outcome. No matter how brilliant one person is, there is no substitute for hard work.
The InCAP: We all know you are one of the most prominent scholars in the paint industry. We want to know what are the biggest considered threats and problems throughout the world in this sector today. And what should be the way of passage?
RC: The paint industry has made significant progress by introducing products with various augmented features that create customer delight and enhance product performance. Remarkable improvement took place in paint technology in the last two decades, especially in terms of durability, finishing, ease of application, greener input, and efficient manufacturing process.
However, there are scopes of advancement in paint technology by improving formulations of backbone ingredients of paint (emulsions, resins, and pigment), as well as additives that add special features.
More innovation is required to reduce dependence on the currently used scarce natural resources that are being depleted at a rapid pace and to replace hazardous ingredients with inputs that ensure health and safety and a clean environment.
More challenges are faced by the paint industry worldwide. Most of the raw materials for paint are oil derivatives. The prices of these raw materials fluctuate with the international oil price, and the sources that supply these raw materials are limited around the world. Therefore, it is often challenging to secure a supply of RM at cost-effective prices.
Constant innovation through advanced features in paint products and technological progress is essential to survive. Therefore paint companies need to look forward and invest in innovation.
We have observed that smaller paint companies who cannot keep up with technological advancement are driven out of the market, and international companies penetrate developing countries by acquiring local companies, bringing in new technology, and augmented products.
There is a trend of consolidation in the paint industry, which drives modernization and technology transfer worldwide. Recently we have observed that unforeseen occurrences necessitate innovation to meet situational demands.
For example, the recent outbreak of COVID-19 has shifted the focus of innovation in paint features from functional and aesthetics towards health and hygiene. Throughout the world, paint companies are now introducing paint products with antibacterial and antivirus properties.
In developing countries like Bangladesh, paint applicators' fees are still low; therefore, painting jobs are assigned to contractors or applicators. Many painters/applicators in developing countries are not educated, and they are not well trained. Therefore paint companies have to take extensive training and knowledge sharing initiatives for the painters/applicators to ensure the best performance of paint products.
Some companies introduce one-stop professional painting services, and this trend will continue to emerge. On the other hand, the cost of professional painting services is high in developed countries; thus, most consumers in those countries apply paint by themselves.
In the western world, paint companies focus on hassle-free painting processes like single-coat paint and invent easy-to-use painting tools for consumers. However, fees charged by professional applicators are also rising in developing countries. Therefore, in the future, Do It Yourself (DIY) painting will be more popular among consumers in developing countries as well.
The InCAP: What initiatives has Berger taken to cope with the COVID-19 Pandemic?
RC: The global spread of coronavirus (COVID-19) pandemic has immensely affected millions of daily-wage earners of the country, including painters. To aid the painters and dealers during this crisis, Berger Paints Bangladesh Limited has come forward with several initiatives.
To ensure safety painting services, Berger Paints Bangladesh has provided Personal Protective Equipment (PPE), 105,000 masks, 20,000 Mr. Expert Hand Sanitizers (company's new product), and 30,000 gloves to 6,000 painters across the nation. The company has also provided emergency fund assistance of more than BDT 2 crore to 20,000 painters nationwide.
Additionally, Berger Paints has collaborated with Digital Health Services – Tonic, to bring digital health services for the valued members (painters) of the 'Shomporko Club'. Under the package, Club members were already enjoying BDT 100,000 cashback in death or partial disability, hospitalization benefit of BDT 100,000, 24-hour doctor consultation, and up to 50% discount from over 1,000 partner outlets. As COVID-19 became a global pandemic, Berger, in partnership with Tonic, decided to cover this new disease under their existing health package.
The company has been relentlessly working with painters in rural areas across the country to bring them under the new health benefits coverage.
We customized our painting service considering this pandemic and started offering complete safe painting to the consumers ensuring six-step protective measures for Berger Experience Zone color consultants and painters. We also launched Berger Expert Sanitization services under which our team members will work for a periodical sanitization of customer's places, be it home premises or official workplace. The service is intended to provide our consumers safe environment from all kinds of viruses, including coronavirus.
The recent trend in the global paint industry is the introduction of paints that provide antiviral/antibacterial properties. Keeping up with the new demand, we have also launched Berger Breathe Easy Viracare.
The InCAP: Can you explain how Berger consistently distinguished itself from its competitors?
RC: Berger has been the market leader in the paints industry for several decades. This was achieved due to the inherent strength of the company. The company's top leadership has been able to spread the company's vision among all the company members. The company's values have created a sense of respect, integrity, commitment, and excellence (we call these RICE here) in the Berger Family.
Professionalism and continuity of leadership have also played an important role here. The company's leadership has not gone through drastic changes in the last few decades. This has helped the company achieve long-term goals as per plan and steer the company through external environment changes.
The InCAP: We want to know your specific action regarding the development of the Bangladesh paint Industry.
RC: In Bangladesh, per capita paint consumption per annum is still low (1.16 kg), compared to neighboring countries and other developing countries. For example, per capita paint consumption is 2.5 kg in India, 3 kg in Indonesia, and 7 to 8 kg in ASEAN countries. Therefore paint industry in Bangladesh has the scope of achieving significant growth in the years to come. Paint consumption in the country is expected to increase, driven by infrastructural development and rise in per capita income.
We have undertaken various actions to build awareness for paint usage among different stakeholders. We are keeping regular contact with the concerned government authorities and industrial segments to establish the importance of paint as an essential product for protection against corrosion of infrastructure and longevity of assets and properties.
On behalf of the Bangladesh Paint Manufacturers' Association (BPMA), we regularly plead with the government authorities to withdraw supplementary duties on paint products, which will allow consumers to get price benefits.
We have also taken initiatives like experience zones to give exposure to consumers on various paint products and let them get a realistic experience. To educate and train consumers and other stakeholders like dealers, painters, and paint specifiers, different initiatives have been undertaken through various platforms like service wing, workshops, distribution of paint manuals and brochure, tutorials/videos in social and digital media, blogs/articles in newspapers /online media, reality shows on painting.
Interactive helplines and paint consultancy services, competitions/ contests to engage consumers, etc., are also helpful in this regard.
Berger has been the pioneer in making all its product offerings lead-free – health and environment-friendly. We are also encouraging members of BPMA to become more environmentally free manufacturers.
Berger Paints has been proactive in bringing global technology to Bangladesh to offer international products as quickly as possible. We have made strategic alliances with global leaders in different painting solutions to introduce import substitution paint products in Bangladesh. Recently Berger has teamed up with Chugoku Marine Paints, Limited (CMP) for high-performance marine coatings and related industrial paints. Among Berger's joint venture initiatives is Berger Becker Bangladesh Limited for coil coatings products and Berger Fosroc Limited for construction chemicals.
Painters and applicators play a significant role in maintaining the connection between the consumers and the paint companies. To educate the painters and applicators, Berger has undertaken various initiatives. Berger has established Painters' Training Institute and Auto Refinish Lab to ensure that painters /applicators can properly apply paint products and know about all product offerings.
Berger has introduced modern automated paint application tools to improve productivity and to reduce health hazards in paint applications. Berger is also offering Express Painting Services through its experience zones, which gives complete painting solutions to consumers.
With all these initiatives, we are relentlessly working to take the paint industry of Bangladesh to the next level, keeping up with the global standards.
The InCAP: What "Berger – Experience" do you want to write in your biography?
RC: The lion share of my professional life, I have been with Berger Paints Bangladesh Limited. The constant factor that I can take away from this experience is GROWTH. The mindset should be growth-oriented in order to achieve growth, innovation, care for the consumer, and continuous development of HR is required.
I will remember the team members' dedication and the support I got during my tenure as their leader. The success of any company/ organization depends on the quality of the human resource and driving that team towards achieving the company's common goal. A system must be there to highlight meritocracy and provide incentives according to merit.
The InCAP: You are serving as the President of FICCI. You know that Bangladesh's performance is disappointing in comparison to the other countries regarding foreign investment. What are the BD barriers? Do you think the Bangladesh Government should change some of its policies or take some additional steps to attract foreign investments?
RC: The competing countries that are trying to attract FDI are better equipped with physical and legal infrastructure compared to Bangladesh. Hence, during the last few decades, lots of investment went to Vietnam, Indonesia, and some other countries.
We also need to benchmark ourselves against the competing countries and offer attractive packages to prospective consumers. However, in recent years, BEZA has been developed to provide land at a competitive price coupled with other attractive fiscal benefits to attract FDI. Moreover, the power supply has improved significantly along with the gas supply situation. With a number of large infrastructure projects, our road transport will also improve.
The government has also started economic diplomacy through FTA and other necessary contracts with different countries to improve bilateral trade. Foreign currency policies are also designed to facilitate international trade through commercial banking. BIDA has been developed to facilitate FDI and provide the one-stop solution for trade and commerce in Bangladesh.
Automation has been at the forefront of BIDA's activities to reduce human intervention and provide speed to the approval system. Our ranking of ease of doing business must improve significantly; otherwise, it might give the wrong signal to the prospective investors. With these changes, we believe that Bangladesh will be able to attract FDI in different sectors and help to generate necessary employment.
The InCAP: You have seen the business culture of Bangladesh with your extremely talented and sentinel eyes. How would you evaluate the existing business culture of Bangladesh?
RC: For the last few decades, the private sector has played a vital role in creating the country's economic value, and the biggest contribution is employment creation. To take it to the next level, the government has to play a vital role in facilitating business growth through building robust infrastructure right now and aligning fiscal policy, thus reducing the cost of doing business.
The human resource must be developed to an employable level. The education system should be aligned with the industrial requirement. Things are improving but not at the rate we would like to happen.
The InCAP: Ms. Rupali Chowdhury, people respect you as their professional mentor and leader. Your advice is incredibly important for everyone. We're expecting some guideline words from you.
RC: Success in the past doesn't guarantee success in the future, hence, enjoy and celebrate the success but do not get too comfortable with the past glory. Failure is part of the learning process. Learn to accept failure, take lessons from it, and move forward. Aim high, work hard but enjoy life and live life to the fullest.
Self-portrait
The InCAP: You are one of the most prominent figures in the Bangladesh corporate world. But we think we'd start this section by talking about your childhood. How were you as a child?
Rupali Chowdhury: I had a very normal childhood, raised in a small town. I was very much involved in cultural activities. My childhood memories are the best memories of my life!
The InCAP: What's your plan for your motherland Bangladesh?
RC: To do my best as a human being and also as a professional being.
The InCAP: How do you explain your life so far? What is your life philosophy?
RC: Life is filled with success, failure, happiness & sadness; nonetheless, it is still exciting.
Life Philosophy: Today is better than yesterday. Tomorrow will be better than today! Don't dwell in the past success or failure!
The biggest mystery of life is the uncertainty of the future.
The InCAP: Thank you so much, Ma'am. We wish you and your work-world all the best!
Rupali Chowdhury: Such a pleasure for me. Thank you greatly to all of you. All the very best wishes for InCAP and The InCAP.
Award & Honor
Different organizations have awarded Rupali Chowdhury for her great contribution in the field of Management.
She was awarded "Anannaya Top Ten Award 2007" by ANANNAYA (A fortnightly Magazine for Women) for corporate management.
"Begum Rokeya Shining Personality Award 2006" by the Nari Kantho Foundation for her contribution to the business arena.
She was awarded for leadership from Rapport Bangladesh.
"Highest Female Income Tax Payer" 2018 awarded by the National Board of Revenue (NBR)
"Vocational Excellence Award 2019" – awarded by Rotary Club of Uttara
"Women of Inspiration Award" awarded by BOLD in 2017.
"Inspiring Corporate Leader of the decade" – awarded at RFL Inspiring Women Award
"Bangladesh Supply Chain Excellence Award – 2018" – by IPDC Finance
Outstanding Woman in Business 2019, an initiative of The Daily Star and DHL Express.