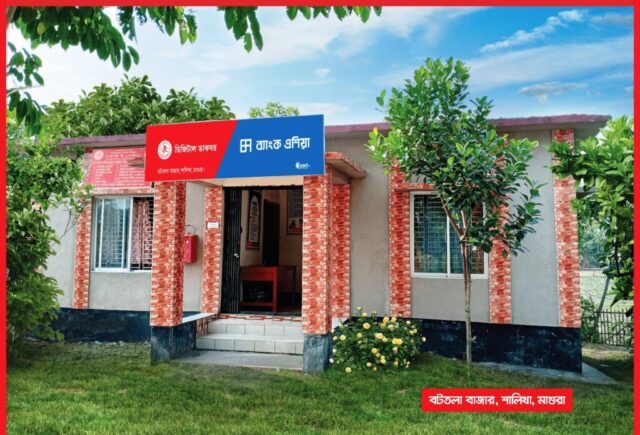 An agreement has commenced a modern technological revolution of the banking sector in Bangladesh. It is between Bangladesh Post Office and Bank Asia Limited. They signed an MOU to expand the financial services to the citizens delivered by both of these organizations. Addressing the broader scopes of that understanding, Bank Asia has started to establish Agent Banks in the Digital Post Offices by appointing the Digital Post Office Entrepreneurs as the Bank Agents. Bank Asia is offering their Agent Banking services through these Digital Post Offices. People, especially unbanked sections, are getting banking services in their neighborhoods, and the national commitment to Financial Inclusion has taken a leap.
We all know that the Bangladesh Post Office has also known by the trade name Bangla Post is responsible for providing postal service in Bangladesh. It is an attached department of the Ministry of Post and Telecommunication (Bangladesh). This ministry is concerned with the policymaking for its two attached departments.
Since its inception, Bangladesh Post Office has been serving the nation throughout the country for more than 150 years. During the journey of developing Digital Bangladesh, they have also taken a large number of digital initiatives to provide digital services to the people of Bangladesh. Digital Post Office is one of those initiatives. They have set up 8,500 Digital Post Offices across the country to deliver different types of Government and Non-Government digital services to ease marginalized citizens' lives by facilitating their inclusion and accessibility to the services.
Now let's look a little further. In 1999, Bank Asia Ltd. was launched by a group of successful entrepreneurs with recognized standings in society. The management of the Bank consists of a team led by senior bankers with decades of experience in national and international markets. The senior management team is ably supported by a group of professionals, many of whom have exposure in the international market.
Bank Asia Limited started its service with a vision to serve people with modern and innovative banking products and services at an affordable charge. The bank's commitment is to provide modern and value-added banking services to all segments of society by maintaining the truly best standard in a globalized world, with the help of technological advancements.
Moreover, Bank Asia Limited has been a major facilitator of Financial Inclusion in Bangladesh by providing banking services to the country's remotest corners through pioneering Agent Banking services in Bangladesh during 2014. Since then, it's been a remarkable story of financial inclusion with more than 3500+ outlets and 3 million+ customers across the rural areas of Bangladesh.
With a vision to build a poverty-free Bangladesh, in the future, Bank Asia wishes to open a bank account for every able person of the country despite of their socio-economic class by expanding the Agent Banking Network to a financial kiosk in every village of the country.
Bangladesh Post Office and Bank Asia are working together to include all in the financial network and to develop a new dimensional digital financial ecosystem.
So this great initiative of these two parties grabbed the attention of our editorial team. The InCAP squad focused on the entire project of the Post Office Banking.
Post Office Banking
Bank Asia is the pioneer in Agent Banking. Expanding Agent Banking through Individual/ Institutional Agents, UDC & Post Office.
Post Office Banking is an extension of Agent Banking of Bank Asia. Bank Asia and Bangladesh Post Office signed MOU to provide banking services through Digital Post Offices. Digital Post Office entrepreneurs are being appointed as agent upon receiving approval from Bangladesh Bank.
About Post Office
Postal Department is a service-oriented government institution under the Postal and Telecommunication Department of the Government of the People's Republic of Bangladesh.
8,500 post offices have been converted to Digital Post Office and the Digital Post Offices are being provided under social security fences.
Services at Digital Post Offices:
Computer Composition
Printing, Scanning
Photo Print
E-Mail
Internet-Based College and University Admission
Sat-Exam Results
Internet Browsing
Country-Country Video Conference
Economic Services
Agent Banking
Social Security Benefits under the Fences
E-Commerce
Business Process Outsourcing
Computer Training
Post Office Banking Vision & Mission:
Vision
To bring low-cost, secured financial services to the doorstep of the unbanked people of Bangladesh as a part of financial inclusion for empowerment through Digital Post Offices.
Mission
The mission of Bank Asia & Bangladesh Post Office is to provide more protected financial inclusion by offering technology-driven banking solutions to the unbanked people living in rural and dispersed areas of Bangladesh.
Objectives:
Provide Secured Banking Services
Build 8,500 Agent Outlets in Digital Post Offices
Provide Foreign inward Remittance Services
Provide facilities for Utility bill payment, Passport fee payment, Social Safety Net Payment Services
Process Agricultural, SME & Retail Loan
Enable e-Commerce Services through Agents
Promote school banking in the locality
Train and Develop the prospective SME Entrepreneurs
Financing Solar Home System and renewable Energy Sectors as a Green Banking Initiative
Agent Banking: Bank Asia
Agent Banking, a very new but powerful and wide-ranged initiative in the journey of Financial Inclusion in Bangladesh. Bank Asia introduced this venture here in January 2014. Earlier in 2013, Bangladesh Bank accorded Bank Asia to roll out this specialized banking service. In span of a few years, this service spreads in multi-dimensional ways, reduces gap of time and space and becomes attractive to rural mass. The small droplets of deposit contribute in building strong platform of our promising economy, and thus infuses lifeline in our rural economy. Now marginal farmers, small entrepreneurs and general people enjoy loan facilities in easier and faster manner through this platform. To reach Agent Banking services at the doorsteps of rural people Government, non-government and development partners shake hands together.
Bank Asia Limited: At a Glance
Established in 1999.
Acquired Bank of Novo Scotia & Muslim Commercial Bank of Pakistan.
Technology Driven Bank in the industry
Ratings: Long Term AA2 Short term ST2
Customer: 5 million +
Deposit: BDT 284,426 million (USD 3386 million)
Advance: BDT 240,653 million (USD 2865 million)
Bank Asia Agent Banking: Competitive Landscape
Bank Asia pioneered Agent Banking in 2014 for rural financial inclusion under the auspices of Bangladesh Bank. The bank is extending full range of banking services to the last mile citizens across the country. Bank Asia, alone represents more than 50% of total female customers in Agent Banking. It serves more than 2.0 million social safety net (SSN) beneficiaries through its Agent Banking.
Bank Asia Agent Banking Concept
Agent Banking means providing Banking services to the Bank customers through the engaged agents under a valid agency agreements, rather than Teller/ Cashier. Agent is the owner of an outlet who conducts Banking Transactions on behalf of the Concerned Bank.
Agent banking, in contrast to other branchless banking, is largely driven by an exclusive specialized agent model. This could be due to initial investment requirements to set up an outlet: An outlet in agent banking is exclusive for Bank Asia and distinctly branded by various permanent marketing collaterals and point-of-sale materials (PoSMs). This requires 10-15 times higher investment than is needed for a typical mobile financial service agent outlet. This model focusses on the three stakeholders bank itself, banking agents and customers.
Agent Banking Model in Bangladesh
Permissible Model
Bank-led
Unit Agent
Master Agent & Agent
Banking Outlet
Support Service Provider
Permissible Services
1. Cash deposit and cash withdrawal.
2. Inward foreign remittance disbursement.
3. Disbursement and repayment of loans.
4. Collections of bills/utility bills.
5. Collection of insurance premium.
6. Payment of retirement and social benefits.
7. Payment of salaries.
8. Transfer of funds.
9. Balance enquiry.
10. Generation and issuance of mini bank statements.
11. Collection of documents in relation to accounts.
12. Collect account opening forms, loan application forms, credit and debit card applications.
13. Monitoring and recovery of loans and advances sanctioned by the bank; and
14. Any other activity as Bangladesh Bank may prescribe from time to time.
Agent Eligibility
Agent should be exclusive
Agent should have fixed setup
Agent should not have any criminal record
Agent should not be loan defaulters
Agent should be financially capable
Agent must have a good reputation in the command area
A public-private partnership, or PPP, is a contract between a governmental body and a private entity, with the goal of providing some public benefit, either an asset or a service. Public-private partnerships typically are long-term and involve large corporations on the private side. Popular in many European countries, PPPs have gotten off to a relatively slow start in the United States, but they are increasingly used for large-scale infrastructure and public works projects. Most of the PPP projects in recent decades have been extremely successful. The high-occupancy toll lanes project in Virginia of the United States is a good example. Governments and private companies increasingly recognize the benefits of sharing resources for a common cause. As a result, PPPs are evolving in both developed and emerging markets.
Bangladesh Post Office (an attached department of the Ministry of Post and Telecommunication, Bangladesh) and Bank Asia Limited signed an MOU to expand the financial services to the citizens delivered by both of these organizations. The agreement has immense symbolic and functional value.