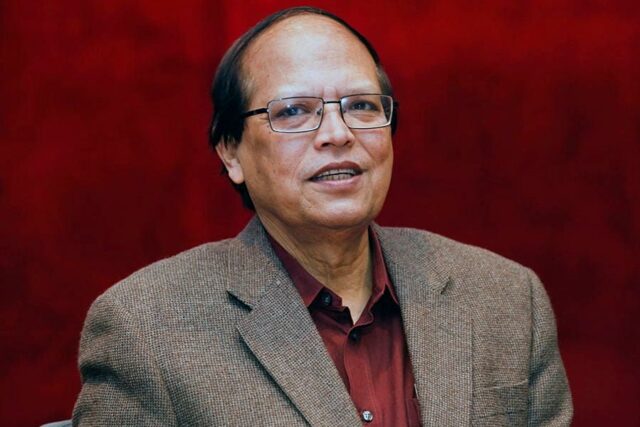 Professor Dr. Atiur Rahman, popularly known as the Banker of The Poor and a Green Governor, is a many time awarded central bank governor with a human face. As a life-long campaigner for inclusive development, Dr. Rahman has demonstrated his commitment to empowering the poor and the disadvantaged both as a teacher and a regulator during his checkered career.
Dr. Atiur Rahman was appointed as the 10th Governor of the Bangladesh Bank on May 1, 2009, and served it for about seven years till March 2016.
Dr. Rahman has been a renowned economist in his varied roles as a University Professor, researcher, banker, and leader in the pro-poor, environment-friendly, and gender-sensitive development paradigm. Prior to his assumption of the office of the Governor, he was a Professor at the Department of Development Studies (2006-2009), University of Dhaka, and Chairman of the Board of Trustees of Shamunnay, a center for excellence in development research in Bangladesh. He is currently an honorary Professor Of Development Studies and Bangabandhu Chair Professor at the University of Dhaka.
He also served as the Chairman of the Board of Directors of Unnayan Shamannay, a non-profit organization for research, development, and cultural learning. His previous roles also include Director of Sonali Bank, the largest commercial bank in Bangladesh, Chairman of the Board of Directors of Janata Bank, the second-largest commercial bank in the country, and a long tenure as a Senior Research Fellow at the Bangladesh Institute of Development Studies (BIDS).
He conducted various research works on economic development and published extensively on the micro-finance revolution and inclusive finance in Bangladesh. For many years, Dr. Rahman also steered the Credit Development Forum (CDF), an apex body constituting seven hundred plus Micro Finance Institutions in Bangladesh as its Chairman. He has been a known public face advocating for more humane development, including pro-poor participatory budgeting. He is considered an authority on matters related to the participatory budget-making process in Bangladesh.
He was the first to introduce mobile banking in Bangladesh and specifically said how he kept the female garments workers in mind while planning for mobile banking. Achievements during his tenure include the creation of the National Payment Switch of Bangladesh; introducing automated check clearing for banks in Bangladesh using local currency cheques; starting mobile and agent banking which lets people carry out banking transactions via SMS (text messages) or apps; establishing the Bangladesh Electronic Funds Transfer Network (BEFTN), which is a system of transferring money from one bank account directly to another bank without paper money ever changing hands; and installing the Bangladesh Automated Clearing House (BACH), which permits rapid electronic inter-bank transfers within the country with automatic adjustment of accounts. He also initiated Real Time Gross Settlement (RTGS) system in Bangladesh Bank. In addition, he started digitization of credit information bureau and green banking in Bangladesh. He served the Advisory body of the UNEP Inquiry on Designing Sustainable Finance during 1914-15.
Born in 1951, in a small village in Jamalpur district, Dr. Atiur Rahman studied at Mirzapur Cadet College for his secondary and higher secondary education, followed by his undergraduate and graduate studies at the Department of Economics of the University of Dhaka where he obtained his B.A. (Honors) and M.A. in Economics, achieving academic distinctions at all levels.
He was awarded the Commonwealth scholarship and went to the School of Oriental and African Studies (SOAS), University of London, to pursue his M.A. and Ph.D. in Economics (1983). His Ph.D. thesis "Peasants and Classes" published later as a book by the Oxford University Press, New Delhi and Zed Books, London, is an acclaimed reference book in development research. Subsequently, he was awarded a Commonwealth Development Fellowship at the University of Manitoba in Canada (1989), a Ford Foundation Post Doctoral Fellowship at The University of London (1991-92), and a Visiting Research Fellowship, at the Institute of South-East Asian Studies, Singapore (1998-99). He was also a visiting/adjunct professor in a number of universities, both at home and abroad.
Besides, was a trustee of a number of socio-cultural organizations, including Biswa Sahitya Kendra and Monajatuddin Smriti Sangsad. He is currently serving as a Chair of the Board of Dhaka School of Bank Management, BIBM and as well as the Chair of the Executive Council of Center for Research in Advance Studies on Arts and Social Studies at the University of Dhaka. He served as Project Director / Team Leader on 22 international and 58 national projects related to socio-economic development and participated in 75 international and around 250 national workshops. He also served as the General Secretary of Bangladesh Economic Association and as a life member of Asiatic Society, Bangladesh and Bangla Academy.
Dr. Atiur Rahman is a champion of the indigenous development paradigm rooted in the Philosophy of Rabindranath Tagore that has a strategic thrust on agricultural and rural development for the predominantly agrarian and rural Bangladesh. He is an eminent expert on poverty alleviation and one of his major research areas is poverty alleviation of char (shoal) dwellers.
Dr. Rahman has also distinguished himself as a popular newspaper columnist on poverty, public expenditure, economic development, public welfare, and other socio-economic issues. His published books total 65, of which 20 are in English, and the rest are in Bangla. Besides, he has published many papers in national and international journals. He achieved many awards for his outstanding contribution to society, including the prestigious Indira Gandhi Gold Plaque from Asiatic Society, Kolkata, Guci International Peace Prize from Guci International Foundation based in Manila, Regulator with a human face from Dhaka University, and Bangla Academy Literary Award. He was awarded as the Best Governor by both the Banker, a subsidiary of the Financial Times, and the Emerging Markets, a subsidiary of the Euromoney in 2015 for his stunning performance in financial inclusion.
Dr. Atiur Rahman is a highly valuable asset to Bangladesh and the world as well. He is a living legend and the inspiration of thousands of hearts; the pride of Bangladesh. He and his wife Professor Shahana Rahman, a famous pediatrician and the Pro-Vice-Chancellor of Bangabandhu Sheikh Mujib Medical University, are blessed with three precious daughters: Arno, Orchi, and Prokriti.