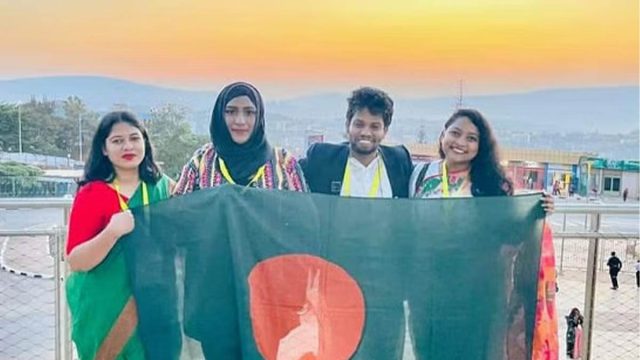 The Women Deliver 2023 conference, a significant global gathering focused on advancing gender equality, took place in Kigali, Rwanda, from July 17 to 20. Attended by 6,300 participants in person and joined by an additional 200,000 online visitors, the event showcased a resounding commitment to women's empowerment and the pursuit of gender parity on a global scale.
This platform provided an exceptional opportunity for youth from around the world to advocate for their envisioned policies and solutions. Eminent young leaders hailing from Bangladesh, who not only hosted pivotal discussions but also represented the Global South, played an instrumental role in enriching the conference's dialogue.
One such exceptional individual is Nowshin Mehzabin Chowdhury, a recipient of accolades for her work in social entrepreneurship and activism. Expressing her sentiment, Nowshin noted, "Being part of this global space and knowing my voice was truly heard was an incredibly empowering experience."
Her initial engagement with the conference was in 2016 as a sponsored young delegate, where she was inspired by the charisma, dedication, and values of the young leaders present. Reflecting on her recent participation, Nowshin described the conference as a landscape brimming with possibilities. She conveyed, "It felt like stepping into a city of boundless opportunities where a united goal was pursued through diverse approaches to attain equality, equity, and sustainability for all."
During the conference, Nowshin actively engaged in discussions related to youth-led labor market assessments and community mentorship for adolescent girls and young women. Her session, titled 'Shifting Power to Adolescent Girls and Young Women', hosted by USAID and FHI 360 HIV prevention, allowed her to champion Bangladeshi examples while advocating for localized perspectives that underscore youth involvement in policy formulation.
Tanjila Mazumder Drishti, presently serving as the Regional Lead for Asia at BRAC International, brought her decade-long experience in international development to Women Deliver 2023. Tanjila's perspective resonated with the conference's commitment to emancipation through collaborative interventions with both public and private partners. Her panel, 'Transformative Education Approaches for Out-of-School Girls in the Global South', delved into the multifaceted challenges impeding education for girls in regions like the Global South.
Tanjila highlighted the conference's choice of Rwanda as a location, emphasizing its capacity to facilitate candid discussions about challenges faced by people of color and representatives from the Global South without being overshadowed by colonial narratives. She stated, "The conference's location enabled authentic conversations that shed light on our challenges from our own perspectives."
Another remarkable presence at the conference was MD Sohanur Rahman, a Bangladeshi climate activist and advocate renowned for his contributions to environmental justice movements. Having already laid significant groundwork within vulnerable youth and marginalized communities in rural Bangladesh, Sohanur arrived prepared to contribute extensively to the global effort against climate change and for gender diversity.
Sohanur shared insights into local initiatives and policies during the panel 'Spaces, Solidarity, and Solutions'. The panel focused on addressing inequality within Bangladesh and the disproportionate impact of disasters on marginalized communities. He emphasized the importance of amplifying the voices of those lacking representation, as it fosters development and encourages their participation in policy-making.
Both Sohanur and Nowshin underscored the conference's thematic focus on encompassing cultural and religious perspectives in discussions around gender, sexuality, and abortion rights. They identified this emphasis as pivotal to driving conversations within political spheres and dismantling societal taboos.
Tanjila drew inspiration from the conference's innovative approaches to education for girls in the Global South. She envisions leveraging the momentum from Women Deliver to empower marginalized communities within Bangladesh. She conveyed, "While one conference cannot address all challenges, Bangladesh has emerged as a beacon of development and economic independence, moving beyond the 'colonized basket case' narrative."
The global exhibition held during Women Deliver 2023 featured Bangladesh's representation through Brac, a non-governmental organization dedicated to empowering communities across Asia and Africa. Nowshin and Tanjila lauded the organization's presence and expressed hopes for increased Bangladeshi representation in forthcoming conferences to elevate the nation's international standing and foster global partnerships.
Read more from the section: Perspective