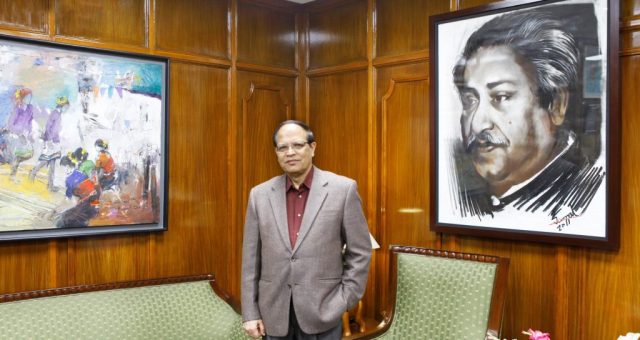 First Published: November 22, 2020


Dr. Atiur Rahman
Bangabandhu Chair Professor
Dhaka University
Former Governor
Bangladesh Bank
Amidst a global battle against a pandemic-fueled recession, even in the heart of Bangladesh, resilience shines. Lives and livelihoods hang in the balance, but courage prevails. In an exclusive exchange, we delve into the insights of eminent economists and Prof. Dr. Atiur Rahman, former Governor of Bangladesh Bank, on the nation's economic resurgence.
The InCAP: The world economy is in a deep recession due to COVID-19. In such a situation, how do you analyze the economic status of Bangladesh?
Dr. Atiur Rahman: Bangladesh is indeed a contrarian in this struggle for global economic recovery. The recent IMF World Economic Outlook put Bangladesh as the best performer in South Asia and fourth in Asia. It is rated as the sixth fastest-growing country in the world.
Many observers were puzzled when they looked at this outlook as Bangladesh is going to surpass India in per capita GDP index, which was 40 percent lower than its giant neighbor just five years ago. This fast catching up by Bangladesh with its neighbor is not a fluke. It reflects a long journey that Bangladesh has been undertaking right from its inception, cashing its indomitable fighting spirit. Its early investment in social development, including education and health plus nutrition, paid it well. While the life expectancy of an average Bangladeshi was at least two years less than an Indian in 1972, the figure has gone up by at least two years more than its average neighbor by now. The infant mortality, maternal mortality, hunger index, fertility rate, immunization level, access to housing, sanitation, schooling, primary health, nutrition, mobile financial services, and a host of other indicators are all better off.
All these social indicators must have roots in the economic performance of the country. And thus, the IMF projection is only a confirmation of this reality. We have been pursuing a dream of realizing 'Sonar Bangla', the golden Bengal. I am happy to see that Bangladesh is on the track of that dream project even during this pandemic. The ADB projection is even more optimistic. The stunning macro-economic stability provided by the lower fiscal deficit, external debt-GDP ratio, robust balance of payment, and stable foreign exchange rate with growing foreign exchange reserve gives enough room for moving courageously with huge liquidity injection, and public borrowing during this COVID-19 situation tells a lot about the inherent strength of Bangladesh economy.
The fantastic performance of agriculture, exports, and remittances are the pillars of this unusual growth story of Bangladesh. Our achievement in providing electricity to all is yet another milestone in our economic development. There are many other areas of our success. The success story of Bangladesh is yet to be told. Only small portions of this 'another' Bangladesh have started revealing of late.
How optimistic are you regarding the economic progress of Bangladesh?
Dr. Atiur Rahman: The recently released 'World Economic Outlook' by the IMF predicting Bangladesh to be the fastest-growing economy in South Asia with a likely GDP growth rate of four percent as against nearly 10.5% contraction of the Indian economy has been a talk of the town in recent days.
Moreover, it has been projected to be fourth in the whole of Asia and sixth in the global growth rate in 2020, defying all odds of the ongoing economic recession induced by the COVID-19 crisis, which is thought to be the steepest in living memory. So far, so good. What has, however, startled the keen economic observers of the sub-region that the per capita GDP of Bangladesh may overtake that of India, which was at least 40% higher just five years back. Given the size of the economy, which is now three hundred billion USD plus (mind it was only 8 billion USD in 1972), unlike smaller economies like the Maldives and Sri Lanka, this may have created some ripples in the policy landscapes in South Asia.
While I am not so surprised by this projection itself, which comes from the most conservative of all the development partners of ours, I feel a little perturbed by the kind of reactions that have been reported in the media on both sides of the border. This was inevitable if you look at the long trail of Bangladesh's development journey right from its inception. Around this time, Bangladesh was dumped as a 'basket case' or 'test case of development' by the international commenters. Despite the demonstrated capacity of rising from nothing to its present level utilizing the indomitable 'fighting spirit' of the hardworking and entrepreneurial people of Bangladesh, the observers tend to miss the point when they hover around the latest milestone.
Which three sectors will you prioritize in pushing the economic development of Bangladesh?
Dr. Atiur Rahman: First, of course, the multi-faceted rural economy with cereal, fishing, poultry, livestock, and horticulture. Also, the non-farm sector, which provides more rural income than farm income, should continue to get the required finance and logistics support.
Second, export-led manufacturing, including RMGs, Leather, Jute, and agro-processing products, should continue to get the priority. This sector employs most of our younger labor force, including females.
Third, the remittances must be made further easier to flow without any hassle for the earners who make great strides in difficult circumstances. They must be treated well in the airports and given well-deserved consular plus travel-related services. The better-off remittances providers must be given better options for becoming new investors in Bangladesh under the FDI category.
In addition, they must have priority access to Special Economic Zones so that they can flourish as investors with all the services they need.
What changes should be made in the banking sector in Bangladesh in a new normal condition?
Dr. Atiur Rahman: The central bank and the banking sector have played a highly supportive role during this pandemic. The stimulus packages given by the government and implemented by the banking sector proved so crucial in making recovery so fast and inclusive. The banking sector should really continue to work for many and not for a few.
The vested interest groups have somehow made a regulatory capture and put the sector in great jeopardy with accumulated non-performing assets. The rules and regulations of the banking sector ought to be further eased for the lower portion of the social pyramid who must get more credit and support from the banking sector. The top ones who are mostly manipulating and bending the rules must be dealt with more forcefully to stop making the banks vulnerable with their insider tradings and flights of capital.
Better governance in the banking sector with a stronger role for the genuinely independent directors can be the right recipe for bringing back order in the banking sector. The central bank must be made a truly strong regulatory body without feeling any pressure from any quarter. The continued support for further digitization of the banking sector with adequate safeguards against cyberattacks could take it to a new height. The complimentary support to fintech can as well improve the quality of financial services, as already demonstrated by our early investment in mobile financial services.
You are considered as a leader and mentor. You are the inspiration of thousands of hearts. Please say something to them.
Dr. Atiur Rahman: Stay engaged. Never lose heart. Be entrepreneurs instead of always looking for jobs. Give jobs to others instead. Enhance better digital literacy and work for the digital economy. You are our future. Bangladesh has come a long way. Don't let it go down. Contribute your part in making Bangladesh more ethical and green. Skill yourselves to run a fast-moving Bangladesh. Hold high the moral values and let women participate in all economic and social activities without fear and favor. They can do their bit without any extra support if the governance and social environments are up to their expectations.
Let us all move in a caravan to fulfill the dream of achieving 'Sonar Bangla', which I think is within your reach.
To acknowledge more Cover Stories, Please Click Here!