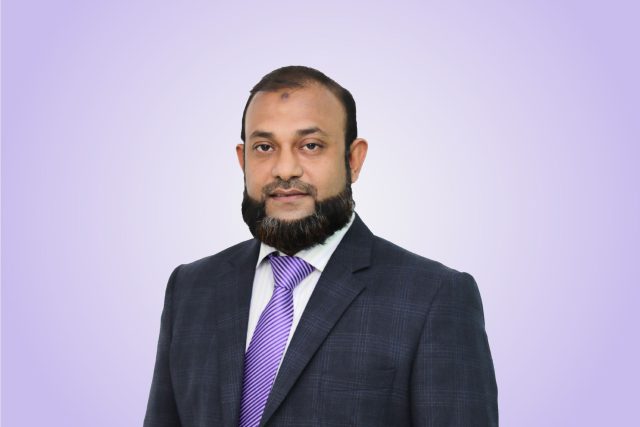 Nazmul Hossain Shahin, SPHRi, GPHR, CKPIP
Head of HR
Pandughar Group
Mr. Nazmul Hossain Shahin is a seasoned professional with a wealth of experience in the field of Human Resources. Serving as the Head of HR at Pandughar Group, he is at the helm of strategic talent management and organizational development within the company. With his dedication to fostering a culture of excellence and his deep understanding of HR practices, he plays a pivotal role in driving Pandughar Group's success. His commitment to nurturing talent and ensuring a harmonious work environment makes him an invaluable asset to the organization.
Let's learn about his journey.
The InCAP: Mr. Nazmul Hossain Shahin, please share your professional and academic peregrination for our readers!
Mr. Nazmul Hossain Shahin: I am an ex-Cadet of Rangpur Cadet College and DU alumni. Started my career 22 years ago with a local conglomerate in the HR Department as an Executive. During this journey, I worked with a few local and multinational organizations. Prior joining with Pandughar I worked with Concord Group as the Executive Director – HR, prior to that I worked with Genex Infosis Ltd. and Holcim Bangladesh as Head of HR and DGM – HR respectively. 
At the beginning of my career, I did my PGDHRM from IPM and stood First Class First. Few years back I acquired SPHRi & GPHR, two most prestigious HR credentials of the globe from HRCI.
Can you please describe your approach to aligning HR strategies with the overall business goals of Pandughar Group?
We follow a 5-step method for aligning the HR strategies with the business goal of the organization. First of all, we do a need analysis to understand the requirements. Then we translate the business strategies into HR priorities so that the HR thoughts into actions are aligned with the business operations. At the same time, we try to make sure the People strategies support the business functions for contributing to the bottom line of the organization. While implementing any HR process we engage our people from the beginning. Finally, after implementing we evaluate the strategy and make adjustments, if required.   
How do you stay updated on the latest HR trends and best practices, and how do you incorporate them into your HR department's operations?
Every three years I need to renew my SPHRi and GPHR certifications through giving exams or earning credits. HRCI designed this credit earning a round the year learning process. Therefore, I am to attend various learning activities of HRCI like attending webinars conducted by global HR leaders, reading some recommended books, taking part in various discussion boards, making some innovative HR projects and so forth. In course of participating in these numerous activities, I came to know about the current global HR trends. Apart from this, we have big HR community in our country also. I also take help of this community to understand the local HR best practices.
To incorporate any change in my organization I focus more on cultural and people integration rather than the system integration. So that the change becomes a successful and sustainable.    
Mr. Nazmul, Could you share an example of a successful talent acquisition strategy you've implemented recently, and the impact it had on the organization?
Talent acquisition is the base line for developing a wining workforce. You have to have future-fit acquisition process for selecting the best fit for your organization. I have implemented this kind of strategy in my current and previous organizations. In one of my Ex-organizations, we were struggling to find out the right people who will be culturally computable with organization beside being technically sound. After trying few options, we introduced Psychometric Assessment in our selection process to understand the People VS Task perspectives of the candidates. This helped us selecting the Organization-fit candidate.
What methods do you use to measure and improve employee engagement and satisfaction within Pandughar Group?
We have our own method for managing employee engagement perspectives. We call it AAI method. The framework consists of three pillars; Ask, Act & Improve. In the Ask phase we try to identify the level of engagement &/or areas of improvements through surveys, employee forum, suggestions scheme and various other mechanisms. In the Act phase we analyze and design the measures. And in the Improve phase we implement the solution and measure the progress.
How do you handle conflict resolution and foster a positive workplace culture among employees?
We prefer to resolve conflicts in a collaborative manner. We try to imbed moral values in the mind of our employees so that they can understand and relate the organizational values while discharging their responsibilities. To me, conflict is good as long as it does not harm the work culture and gives a positive end result. Conflict between two people indicates that they are thinking about the matter but their thought process / observation might be different. Upon discussion / constructive debate they can always come to a conclusion. We try to cultivate this culture among our employees.
Mr. Nazmul Hossain Shahin, please say something to the readers!
I strongly believe that our country is blessed with enormous people resources. Our people are working successfully at home and aboard. Our Govt. has taken lot of initiatives for developing this human resources. Our organizations have to have believe and trust over our people.
Quick Chat With Nazmul Hossain Shahin
The most outstanding achievement of your life as of now:
One of my Ex-organizations became the winner of Top Place 2 Work in the Asia Region by Contact Center World. They got this award in 2 consecutive years which gives me an immense pleasure.
The greatest philosopher in your view:
Prophet Muhammad (SM).
Your Icon:
Mashrafee Mortuza, former captain of Bangladesh cricket team.
Name the most influential books you have read:
সাজঘর by Humayun Ahmed.
Your greatest fear:
Natural disaster (earth quake, tsunami etc.)
Best piece of advice you've received:
This is the high time to build yourself – My mentor.  
You in only three words:
Humble, Honest, Open to learn.
The InCAP: Thank you, Mr. Nazmul Hossain Shahin! It's a glittering conversation with you!
Mr. Nazmul Hossain Shahin: My pleasure! Wish you all the best! Thank you.
To read more about Professional's stories, Please Click Here!