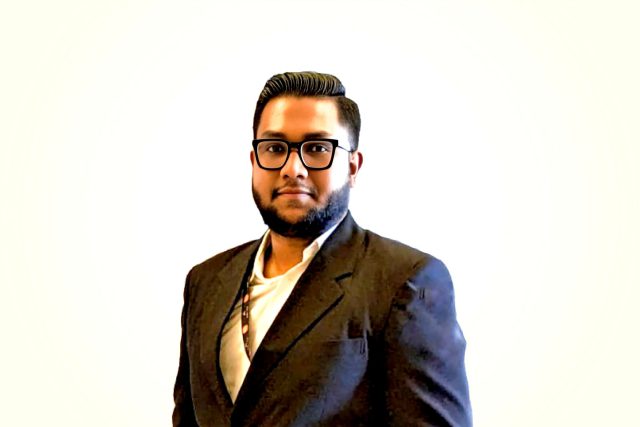 Tanveer Uz Zaman
Marketing & Partnership Lead
Amaya Industries – Authorized Distributor of Xiaomi
Mr. Tanveer Uz Zaman is a dynamic leader and the Marketing & Partnership Lead at Amaya Industries, the trusted Authorized Distributor of Xiaomi. With a keen eye for market trends and a passion for innovation, he brings a wealth of experience in forging strategic partnerships and driving marketing initiatives that propel Amaya Industries to the forefront of the technology industry. His dedication to delivering Xiaomi's cutting-edge products to customers is unparalleled, making him a key player in shaping the future of the industry.
Let's learn about his journey.
Mr. Tanveer Uz Zaman, please share your professional and academic peregrination for our readers!
My professional journey has been marked by a passion for continuous learning and growth. I earned my Bachelor's degree in Business Administration, with a focus on Marketing, from Independent University, Bangladesh (IUB). This academic foundation provided me with a solid understanding of business principles and marketing strategies.
Following my studies, I did an internship from renowned private commercial bank The City Bank Ltd. and then I worked in Quantanite which is a multinational BPO company. I embarked on a career in marketing, starting as a Digital Marketing Executive at AppleGadgets Ltd. Currently, I work as a Marketing and partnership Lead for Amaya Industries.
In parallel, I have pursued continuous professional development. I am excited to bring this blend of academic knowledge and practical experience to contribute effectively to any role or project I undertake.
Can you provide an overview of your experience in marketing and partnership management and how it has prepared you for this role at Amaya?
Throughout my career, I have accumulated valuable experience in marketing and partnership management that I believe aligns perfectly with the requirements of the role at Amaya Industries.
In my previous role as a Marketing personal at AppleGadgets Ltd., I worked in a dynamic team in developing and executing comprehensive marketing strategies. These strategies encompassed digital marketing, content marketing and social media campaigns, resulting in a significant increase in online brand visibility. This hands-on experience honed my skills in crafting and implementing effective marketing initiatives.
Additionally, I have a proven track record of forging strategic partnerships. At AppleGadgets Ltd., I initiated and nurtured collaborations with key industry players, driving revenue growth by 30% through these partnerships alone. I am adept at negotiating mutually beneficial agreements, which, I believe, would be instrumental in expanding the network and market presence of Amaya Industries.
What specific strategies have you implemented to successfully increase brand awareness and market share in your previous positions?
In my previous positions, I have implemented a range of strategies to boost brand awareness and market share. These have included developing and executing targeted marketing campaigns, optimizing SEO and content marketing efforts, forging strategic partnerships with complementary businesses, and leveraging social media influencers to expand our reach. Additionally, I have closely monitored key performance indicators (KPIs) and customer feedback to refine strategies continuously, ensuring they align with market trends and customer preferences.
Mr. Tanveer, Amaya Industries operates in a competitive industry. How do you plan to differentiate your brand and products from the competition?
I plan to differentiate our brand Xiaomi and its products by focusing on a combination of innovation, customer-centricity, and effective storytelling. This involves regularly introducing unique product features or improvements that address customer pain points and provide real value. Additionally, I will ensure that our marketing and branding efforts clearly communicate our brand's unique selling propositions and emphasize the benefits customers can expect. By staying attuned to market trends and delivering exceptional customer experiences, we can set ourselves apart in a competitive landscape.
Can you describe your approach to creating and managing marketing budgets? How do you ensure cost-effectiveness and ROI?
My approach to developing and managing marketing budgets begins with a thorough examination of previous performance and future objectives. I prioritize channels and campaigns when allocating resources to ensure a balanced distribution. I closely monitor campaign success in real-time to guarantee cost-effectiveness and ROI, making data-driven adjustments as appropriate. Regular spending audits and continuing vendor agreements aid in cost optimization. Furthermore, I prioritize investments in strategies and channels with a favorable ROI, connecting the budget with revenue creation and growth goals.
How do you approach market research and analysis to identify new opportunities and potential challenges in the industries Amaya Industries operates in?
My strategy for conducting market research and analysis is multifaceted. To begin, I collect significant industry data, competitive insights, and consumer trends. This aids in the identification of upcoming opportunities and potential obstacles. To stay current, I also regularly participate in industry forums, attend relevant conferences, and build a network of industry specialists. I hope to create a holistic understanding of the market by merging quantitative and qualitative data, allowing Amaya Industries to make educated decisions and seize new possibilities while limiting future problems.
Mr. Tanveer Uz Zaman, please say something to the readers!
I am thrilled to connect in this vibrant forum dedicated to the world of marketing. It is my utmost belief that whether you are a seasoned professional or just starting your marketing journey, this forum is a platform to share knowledge, exchange ideas, and foster innovation.
Marketing is a fast-paced industry that thrives on teamwork and ongoing learning. We will look at the newest trends, analyze industry difficulties, and come up with creative solutions. This forum is where you may ask questions, exchange experiences, and motivate one another.
I am looking forward to engaging in thought-provoking debates, getting new insights, and together creating the future of marketing. Let us make this forum a source of inspiration and information sharing.
Quick Chat With Tanveer Uz Zaman
The most outstanding achievement of your life as of now:
Marketing & Partnership Lead of Amaya Industries – Authorized Distributor of Xiaomi.
The greatest philosopher in your view:
Prophet Muhammad (SAW).
Your Icon:
Philip Kotler.
Name the most influential books you have read:
Permission Marketing: Turning Strangers into Friends and Friends into Customers by Seth Godin.
Your greatest fear:
Failure.
Best piece of advice you have received:
Believe in yourself.
You in only three words:
Passionate, Responsible, Hard-working.
Skill Set
Hard Skills: Campaign Management, Lead Generation, Creative Direction.
Soft Skills: Problem Solving, Effective Communication, Leadership.
Prayer For The Human Civilization:
May today there be peace within. May you trust your highest power that you are exactly where you are meant to be. May you not forget the infinite possibilities that are born of faith. May you use those gifts that you have received, and pass on the love that has been given to you. May you be content knowing you are a child of God. Let this presence settle into your bones, and allow your soul the freedom to sing, dance. It is there for each and every one of you.
The InCAP: Thank you, Mr. Tanveer Uz Zaman! It's a glittering conversation with you!
Mr. Tanveer Uz Zaman: My pleasure! Wish you all the best! Thank you.
To read more about Professional's stories, Please Click Here!