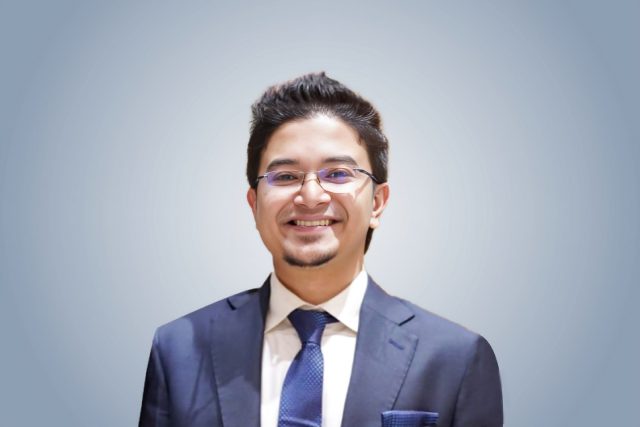 Md. Khaled Shahriar
Chief Operating Officer
VUMI Bangladesh Limited
Md. Khaled Shahriar is an esteemed professional with a distinguished career in the corporate world. With a wealth of experience spanning several years in the industry, Mr. Shahriar has demonstrated exceptional expertise in strategic planning, operations management, and business development. His visionary leadership has played a pivotal role in driving VUMI Bangladesh Limited's success and growth in the competitive market.
Mr. Shahriar's dedication to fostering innovation and ensuring the highest standards of service makes him a respected figure in the business community.
Let's learn about his journey.
The InCAP: Mr. Md. Khaled Shahriar, please share your professional and academic peregrination for our readers!
Mr. Md. Khaled Shahriar: I currently hold the position of Chief Operating Officer at VUMI Bangladesh Ltd., a unique and much-needed Bangladeshi EdTech company renowned for its dynamic collaboration between industry and academia. My journey with VUMI began in December 2021 when I joined as the Head of Operations, being the first recruit to kickstart this venture. With the invaluable guidance of a highly intuitive board of directors and the enthusiastic support of a young and dedicated team, I had the privilege of establishing and shaping the entire business.
My professional journey spans a decade and has undergone several distinct phases. It all began during my academic years at North South University, where I pursued a Bachelor of Business Administration (BBA) degree. During my university life, I nurtured a deep passion for entrepreneurship, particularly in the automobile industry, and was running my own import-based automotive parts business. This passion led me to secure my first job immediately after graduating, at Nitol Niloy Group as a Key Account Manager (KAM) for TATA Industrial Vehicles.
Within just one year, my career took an unexpected turn when I joined Alliance Capital Asset Management Ltd. as a Management Trainee Officer (MTO). My transition to the investment banking field was a significant challenge, especially given my background in marketing. Despite these hurdles, I persevered and eventually achieved a promotion to the position of Assistant Manager. However, I recognized that there were certain knowledge gaps in the financial industry that needed addressing for my long-term career development.
To bridge these gaps and enhance my skill set, I made the decision to pursue an MBA. Opting for an international program, I completed my MBA at the University of Canada West in British Columbia, Canada. This experience abroad not only improved my academic and professional skills but also exposed me to a multicultural environment that reshaped my vision.
Upon my return to Bangladesh in early 2021, I entered the second phase of my career. My perspective evolved significantly during my MBA thesis research on Canadian Business Automation Startups, sparking my deep interest in the startup ecosystem. Eager to explore this newfound passion, I joined Dana Fintech Limited as a Strategic Partnership Manager. Witnessing the depth and vibrancy of the Bangladeshi startup ecosystem during my tenure at Dana Fintech further fueled my enthusiasm.
Eventually, I made the transition to VUMI, embarking on another exciting chapter in my professional journey. Both Dana Fintech and VUMI offered valuable experiences and unique challenges, but my unrelenting passion for understanding the very roots of the startup ecosystem inspired me to embark on my own entrepreneurial journey. In addition to my role as COO at VUMI, I co-founded two tech-based startups with a team of equally ambitious and entrepreneurial individuals.
One of these startups, Pyramid Innovations Limited, was established in April 2023. Pyramid focuses on HR-Tech and is currently in the preoperative phase. We are diligently working on creating the first Applicant Tracking System (ATS)-based recruitment platform integrated with remotely proctored pre-employment tests. Our goal is to complete the product development and optimize our MVP by mid-2024.
As for my other venture, TripNest Limited, it's focused on the travel industry and is intricately intertwined with technology. Currently, we're in the process of formalizing the business structure. Our dedicated team is gearing up to kickstart the development of our tech platform in October of this year, with a modest-scale launch planned for early 2024.
My career journey has been a dynamic and enriching one, marked by diverse experiences, continuous learning, and a passion for innovation. I look forward to the future with enthusiasm, eager to make significant contributions to the technology and business landscape in Bangladesh.
Can you briefly describe your journey and experience in the EdTech industry, leading up to your role as COO at VUMI Bangladesh Limited?
I vividly recall the initial conversations I had with one of VUMI's founders, Khaled Mahmud. Those early calls were like steppingstones, guiding me through their grand vision and elaborate plans. It wasn't long before I found myself shuttling to IBA (Institute of Business Administration) on numerous occasions to engage with the core team of idea founders. Eventually, I had the opportunity to sit down with a formidable team of investors, a process that took almost two months from the initial interview. Sitting across the table from seasoned corporate leaders in Bangladesh's biggest industrial tycoons, their discerning eyes analyzing my every word and expression, I couldn't help but feel a sense of curiosity, even though nerves were not at the forefront of my emotions. What became evident rather quickly was that they weren't in search of just any manager; they were seeking THE manager, someone who would wholeheartedly embrace their dream and meticulously structure the business.
And so, my enchanting journey with VUMI began that day, marking me as the first recruit for this ambitious undertaking—a mission to transform the e-learning landscape in Bangladesh by pioneering the nation's first licensed virtual university.
The inaugural year of my VUMI journey was dedicated to intensive market research, the quest for the perfect product-market fit, and yes, the inevitable path of making several valuable mistakes along the way. These initial challenges served as the crucible in which our vision took shape, and our strategies were refined.
In contrast, the second year brought a different set of tasks into focus. It was a time when we labored tirelessly to craft and construct the ideal Learning Management System (LMS) tailored specifically to our needs. As a result, VUMI now boasts a state-of-the-art LMS infrastructure, poised for launch at the dawn of 2024.
The prospect of witnessing countless trainees harnessing our platform to hone their skills is a source of immense anticipation and excitement. The role I have assumed in this endeavor underscores my commitment to making a profound impact on the education landscape in Bangladesh.
As I continue forward on this journey, I embrace each challenge and opportunity that arises. My partnership with VUMI has been and continues to be a beautifully transformative experience, one that holds immense promise for the future of e-learning in Bangladesh.
What strategic planning have you implemented during your tenure as COO that is different from other EdTech startups in the market?
VUMI sets itself apart from other dominant Ed-Tech startups in Bangladesh through its distinctive vision, target audience, business model, and social impact. Unlike its competitors, VUMI aspires to become Bangladesh's first Virtual University, a process that involves rigorous market feasibility testing and full transparency with regulatory authorities like the UGC. This endeavor, much like the lengthy process of securing a digital banking license in the country, is complex and unpredictable in terms of success. Nevertheless, VUMI has approached this licensing challenge with meticulous strategic planning and execution. Notably, VUMI operates with a flat organizational structure, fostering collaboration among founders, investors, directors, management teams, and employees as a cohesive unit. Simultaneously, the company is actively launching industry-oriented skill development live-online courses and developing recorded modules for its Learning Management System (LMS). VUMI has deliberately maintained a low profile in the market as it focuses on building its core infrastructure. It plans to gradually introduce branding and promotional efforts once it achieves smaller milestones. The goal is to remain relatively unnoticed in the initial stages and eventually make a significant impact when the time is right.
Mr. Khaled, Can you share examples of successful collaborations or partnerships that you've initiated or overseen in your role as COO?
I have consistently sought out and established valuable collaborations for our company, with two particularly notable ones being with The Bangladesh Garment Manufacturers and Exporters Association (BGMEA) and the Bangladesh Youth Leadership Center (BYLC).
In July 2022, VUMI Bangladesh Ltd. and BGMEA formalized a Memorandum of Understanding (MoU). This partnership aimed to enhance the skill sets of executives within the Ready-Made Garment (RMG) sector through targeted learning initiatives. The collaboration involved offering customized training programs to BGMEA member factories, focusing on improving employee capabilities in areas such as professional communication, negotiation, presentation, grooming, and more.
Another impactful collaboration was forged with BYLC, focusing on skill development programs for young individuals and the co-creation of youth leadership initiatives. VUMI also solidified partnerships with prominent RMG industry players like Urmi Group and Team Group, serving as their authorized training partner.
In your opinion, What measures have you taken to enhance customer satisfaction and retention at VUMI Bangladesh Limited?
I am continuously trying to place a strong emphasis on enhancing customer satisfaction and retention through various strategic measures. As a response to our highest customer demand, we are introducing recorded courses alongside live online offerings, aiming to provide greater flexibility to learners. We also conduct an in-depth course and instructor survey right after completion of each live course and heavily redesign the next course according to the feedback. Each survey also consists of independent mentioning of every customer's preferred course that VUMI can design, and I am glad to claim that so far, we have designed a total of 4 courses just based on this survey itself. Our company is also heavily investing in website improvements for a user-friendly experience and a newly developed completely bilingual website will replace our current website within months.
Mr. Md. Khaled Shahriar, please say something to the readers!
To all my readers, I wholeheartedly encourage each of you to venture beyond the confines of your homeland. Be it for travel, work, or education, immersing yourself in a foreign setting is a gateway to profound learning and a diverse, multicultural experience. The act of stepping out of your comfort zone enables a transformation that not only expands your horizons but also sharpens your cognitive abilities and nurtures your critical thinking skills in ways you may never have imagined.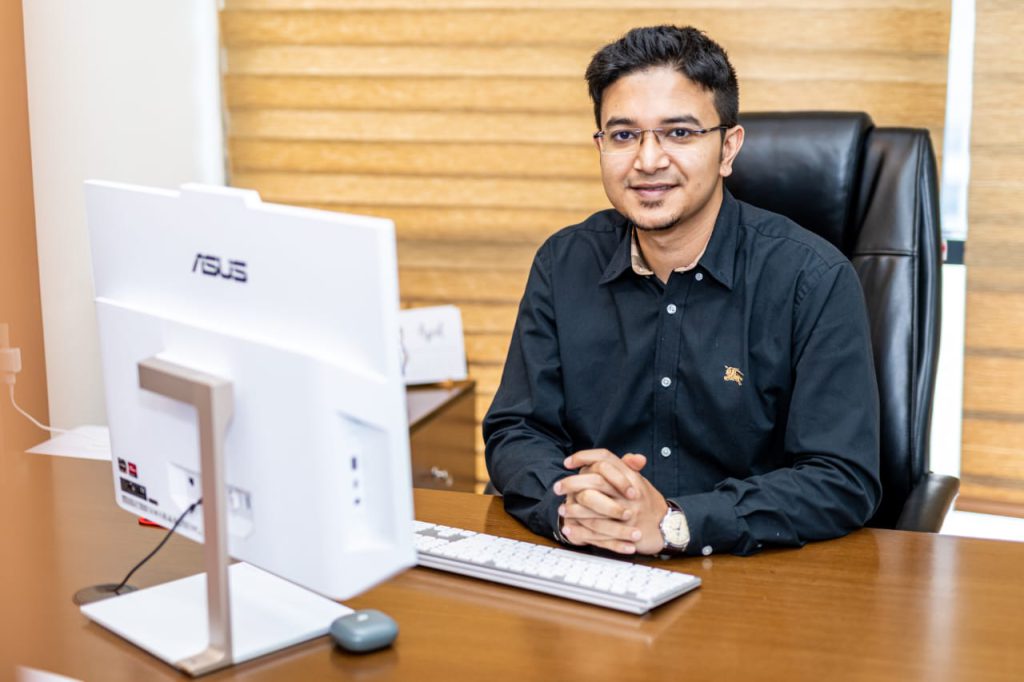 Quick Chat With Md. Khaled Shahriar
The most outstanding achievement of your life as of now:
Attaining the courage and morale to step into the field of entrepreneurship with minimal bootstrap investment in hand fighting against all the odds.
Your Icon:
Kevin O'Leary.
Name the most influential books you have read:
Blitzscaling: The Lightning-Fast Path to Building Massively Valuable Companies Book by Chris Yeh and Reid Hoffman.
Your greatest fear:
Losing the craving for challenges in work while getting used to a comfortable life.
Best piece of advice you've received:
"If a proud man makes me keep my distance, the comfort is that he keeps his at the same time."
You in only three words:
Visionary, Responsible and Patient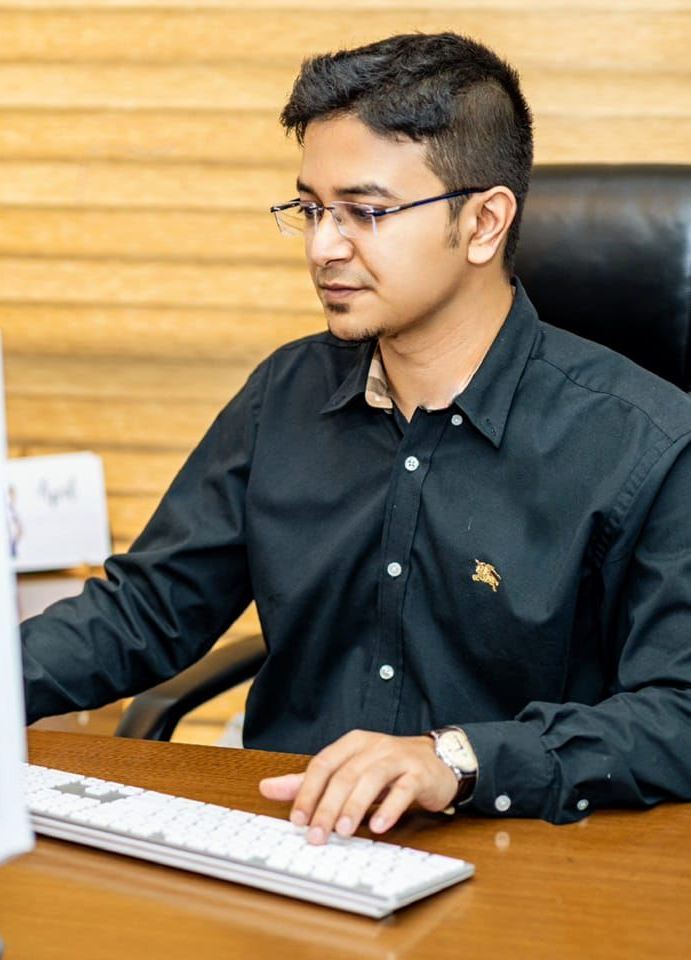 Skill Set
Hard Skills: Business Management, Financial Planning & Fund Management, Salesmanship & Relationship Management, Branding, SEO, Talent Management.



Soft Skills: Delegation & Empathy, Teamwork & Leadership, Problem Solving & Critical Thinking.
Prayer For The Human Civilization:
Understand and uphold human dignity.
The InCAP: Thank you, Mr. Md. Khaled Shahriar! It's a glittering conversation with you!
Mr. Md. Khaled Shahriar: My pleasure! Wish you all the best! Thank you.
To read more about Professional's stories, Please Click Here!