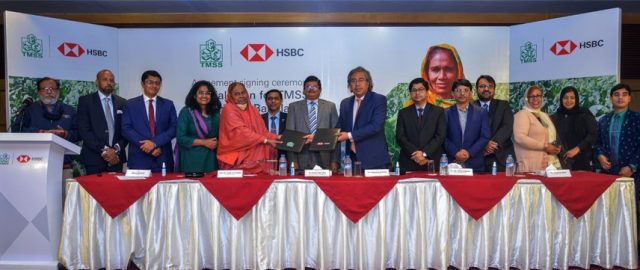 For Thengamara Mohila Sabuj Sangha (TMSS), one of Bangladesh's major microfinance institutions, the Hong Kong and Shanghai Banking Corporation (HSBC) has developed the country's first Social Loan Principles (SLP)-based financing. Best part for Bangladesh is that HSBC Introduced Bangladesh's First SLP-based Financing.
The bank and the microfinance organization recently signed an agreement. Md Mahbub Ur Rahman, chief executive officer of HSBC Bangladesh, was present when Hosne Ara Begum, founder and executive director of TMSS, and Shaikh Md Salim, executive director of Bangladesh Bank Bogura office, exchanged signed agreements of the sale, according to a press release.
The SLP, released by the Loan Market Association and the Asia Pacific Loan Market Association, intends to enable and support economic initiatives that address social issues and challenges. "Agriculture, cottage, micro, small and medium firms, women entrepreneurs, and green financing are all critical for a sustainable economy and fulfilling the Sustainable Development Goals. The Social Loan from HSBC is in line with these goals," Salim explained.
"We are happy to work with HSBC to contribute to Bangladesh's social development, and we are confident that this relationship will be a watershed moment in the country's development," Hosne Ara remarked. "This is part of our commitment to global sustainability," Mahbub Ur Rahman added.
To read more Financial articles, Please Click Here!