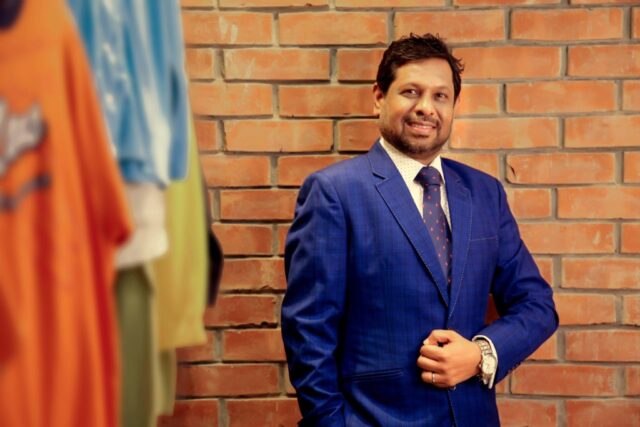 One wing of The InCAP team have been working for some days, and they have tried to keep abreast of the current affairs and the ins and outs of Bangladesh Ready-made Garment Industry. The team is very apt at analysis, and their inquisitive mind leaves no stone unturned. They strongly believe in the mantra, 'where there's a will, there's a way', and their spirit was high enough to find a man who can represent the RMG sector of Bangladesh.
Finally, the team found the mighty soul – Mr. A.R.M. Shahidul Haque Apu, Director of Renaissance Group, who can be compared only to a luminary, a bright shining star, for whom they're looking for so many days.
Renaissance Group is an immensely well-known and recognized group in the RMG sector of Bangladesh, and Mr. Apu is none but an innovative and influential director of this renowned company. He is very young, but his expertise and knowledge outweigh his age. He has spoken about Bangladeshi RMG Industry and his business career as well. His sense of cognition and the striving story of his life made the team spellbound.
Mr. Apu came from a small town of the northern part of Bangladesh, Lalmonirhat district. His childhood dream was to be a businessman in his life. He completed his academic education from Rajshahi University. Then he started his career in 1998 as a 75 USD – salaried employee, and now he is the craftsman to provide jobs for hundreds of thousands of people amid Bangladesh and abroad.
We are presenting some magnetic parts of the discussion with Mr. A.R.M. Shahidul Haque Apu. Let the merit doors open and read.
The InCAP: Mr. Apu, it's a great pleasure to have you on the set of The InCAP. Greetings and Welcome from the entire team.
A.R.M. Shahidul Haque Apu: I'm really feeling honored to be here. Thank you all.
We must say you are one of the prominent leaders of that sector what leads Bangladesh economy. You have already set an example on business philosophy. We are very keen to know about your career peregrination.
Well! I completed my graduation and post-graduation in Marketing from Rajshahi University in 1998. I then joined Sejong Limited, a Korean company in the EPZ. I quit that job and joined BEXIMCO Group for a short period of time. Then I worked for Texas Group, which is now well-known as Aamra Companies. After having some years of job experience, I started my business in 2004.
Md. Shahriar Alam (Hon'ble State Minister, Ministry of Foreign Affairs, Government of the People's Republic of Bangladesh) and I started the business with only two rented embroidery machines, on a very small scale. Gradually we developed our company 'Anam Clothing Limited' and here's our 16 years of the business journey, you see!
You've said that you started your business with two rented embroidery machines; please tell us the story behind your success scenario.
In my childhood days, I wrote down in my diary what I wanted to be when I would grow up. I wrote it that I wanted to be a businessman, I was in class VII then. Since then, I longed to be a businessman. I started my career in Embroidery Unit in a garments industry and was going well with that job. Then suddenly, there came an opportunity for me. I met Mr. Shahriar Alam and expressed my interest in the business. At that time, I came to learn that someone wanted to let two embroidery machines. With no hesitation, I hired the machines and started my business with the help of Mr. Shahriar Alam.
It's quite an unconventional dream as a Bangladeshi to be a businessman, interesting! Was there any specific reason?
I didn't expect to be a doctor or an engineer as I wasn't that a brilliant student at my thought. In our time, highly meritorious students could aspire for a doctor or an engineer as their career.
Now I want to tell you the real thing; I knew it very well that a businessperson can create jobs for people that don't possible for other professionals. That thought came into mind strongly and on because I didn't want to live a standard life alone, I want to live with my surroundings. I am enjoying to carry the responsibility of feeding and taking care of people. I get pleasure when I find myself helping people in their needs. This feeling is blissful, and it attracts me to be a businessman!
Which period do you consider the turning point of your career and life as well?
My turning point, I must say, was to work as a chief of the embroidery unit in a small garment factory. Although it's not a big company and it's a low-paid job, at least not a handsome salary, but it opened the door for me to learn a wide range of things that I probably couldn't learn if I joined a big company, or focused on MNC. I always want carte blanche in my work.
I got the chance to work as a chief that it opens the immense possibilities for me and then I decided not to work under somebody whether it's a giant company or any multinational company.  The decision worked well, and it changed my lot actually. That's my turning point of life.
One more thing I need to clarify, I don't mean that people shouldn't work under seniors. If they don't work under some highly experienced bosses, then how could they learn about work. I only want to mean that position, as a chief, suited with my mindset very well.
Usually, a fresher is given a junior and minor position, but you're very exceptional. Your first job was a chief position, very vital post. Why were you given that position?
I don't know. I really don't know why Mr. D. B. Kim took me as chief for that company. I don't know why they thought I could perform that job. I worked as chief, but I didn't consider any work as major or minor, I rather consider them as my work, my duty. My position was chief, but I sometimes worked even as a peon when it's needed. I did all types of work that actually benefited me the other way. I got lots of experiences from that job. If I avoided the petty jobs, I think, I wouldn't have learned that much. That's my realization today.
What was your biggest challenge regarding your business life? And how did you overcome that?
You know, capital is the first requirement for every business. I didn't have money at the time when I started my business. That's my biggest challenge to start a business with empty hands.
I couldn't start my business if Mr. Arfan Ali, the then Banani branch manager of Bank Asia (Presently: President & Managing Director of Bank Asia), did not come forward to help me. He helped me a lot. I must admit that I overcame that challenge for that time only because of him.
You have achieved enormous success in life. How does it feel Mr. Apu?
I don't think I have become that much successful yet, but I'm happy with my present situation. Most of us can earn money, but they can't enjoy their life. I'm glad to let you know that I'm enjoying my life exceedingly and I'm happy in every aspect of my life. I love my profession, and I'm enjoying it so much. I perform every job with 100% attention, whether it is big or small.
Now come to the context of young Bangladeshis, we can see many dichotomies over here. Most of them want to be an entrepreneur but they cannot succeed. What is your advice to these young folks?
In my opinion, confidence is the first requirement to start anything. It can be business or anything you want to commence. If I ask my mind about any job or business whether I am able to do it or not and if I get the answer 'Yes', then I must consider it that I'm able to do it. Nothing can hinder my way. Another thing, every business has risk. You have to have the mentality to take the risk, and don't try to avoid that risk. There must come some obstacles, criticisms on your way, but you have to remain stable and stick to your aim. I think the most essential qualities one need to be an entrepreneur are – Sincerity, Honesty, and Concentration. If you believe you have these qualities in you, then you're the right person to be an entrepreneur.
A massive number of entrepreneurs are growing in Bangladesh, but many of them are dropping out of the box within years. What do you say about this problem? Who is responsible for this? Entrepreneurs or the state?
The country is obviously responsible for some issues, but ultimately, the entrepreneurs are accountable for the dropout. 'A bad workman blames his tools'- the proverb, I think, is very true and applicable for our entrepreneurs. Whenever we fail, we don't take the responsibility on our shoulder rather we complain against the state as if the government were responsible for everything we do. Every country has some limitations. We are a new nation, and our working system is quite new. It takes time to develop a nation, improve the system, and improve the development process. Government's rules and regulations in our country are not against the businessmen. We must overcome the obstacles on the way to our success. The most reason for dropping out is – The extreme lack of patience. We all read the story of 'Robert Bruce and Spider' but unfortunately we have a minimal intention to apply that lesson in real life.
I say to my mind if I could follow the right path the good-hearted people followed in their life. One cannot fix everything in just one click. That can be possible only in imagination, but it's not possible in reality. The game of life is totally different!
What's your specific advice to the young entrepreneurs.
Be entirely honest with work.

Be patient in any situation.

Long-Term planning is required. Nothing good can be achieved without a good plan.
Personally, as a business individual, will you stay with the new entrepreneurs?
Obviously! My door is always open to them. Anytime!
That's great! Okay, now we are interested to know about the Renaissance Group.
Renaissance Group is a big enterprise. Md. Shahriar Alam (Hon'ble state minister) is the Chairman, and Naymul Bashar Chowdhury is the Managing Director of this group. Now we have 18 factories in the entire group. Ishwardi factory is our recent achievement. It's a green project. We already have got the LEED Certificate. I personally want to focus on this project, and I can assure all our customers that it's one of the best factories in Bangladesh. Undoubtedly we are offering the best practice, best environment and best facilities in the country.
How's your company helping out the local community?
Obviously, we're helping the local community. We are very sincere to employ local people. 10-20% of people are being benefited in our Gazipur factories as the number of local workers is very small. 60-70% of local people of Ishwardi are relying on the factory for their livelihood. Other people are also being benefited from these factories as a factory creates huge employment and earning scopes to the local community.
Those who want to build their career in the RMG sector, how many opportunities they can expect from here
Good question! A very contemporary and important question, indeed. Gradually educated people are entering into the RMG sector, and we're welcoming them wholeheartedly. RMG industry is now getting automation. A few days ago, we didn't know what Industrial Engineering (IE) is; we were confused about the exact application of Artificial Intelligence (AI) in this field. But now we cannot think even for a day without IE. Automation requires qualified and educated employees. Previously we did most of our work manually, so we didn't need educated people that much. Now we need more educated people. Hence, the scope of graduates and engineers are getting increased every day in the RMG sector.
RMG sector is a massive opportunity for the employment of the lowly educated or illiterate people. Will it be hampered or degraded for the touch of automation?
No, Never. Automation can decrease a slight number of workers, but our industry is getting bigger, and working capacity is getting wider day by day. The uneducated and poor people who are working in our RMG sector are getting practical education, which makes them more qualified even than the educated people who don't have technical knowledge. Actually, they're technically sound and someday this workforce will fill up the employees needed for automation. By automation, we can ensure more production, which means maximization of factories, in those consequence huge employment opportunities, that means no worries for the human workforce.
Do you think these technical educations should be included in the course curriculum of Bangladesh education system?
Obviously! It's already been included in our education system. Bangladesh University of Textiles (BUTEX) is successfully running since 2010. We have a delighted specialized university named BGMEA University of Fashion & Technology (BUFT). Some public and private universities have opened the Industrial Engineering and Fashion Design department as well. Nowadays, the government and the industrialists are more aware of and caring about the environment than any previous days before. Hence the demand for Environmental Science is increasing highly. Every company is now hiring skilled Environmental Scientist or graduates who're trained and well-equipped.
Safe workplace and implementation of the labor law are essential for any organization. We want to know the application of these factors in Renaissance Group?
Our Company is now 14 years old. We have been implementing the labor law and health & safety facilities in our company since its very inception. Moreover, at present most of the companies in our country strictly follow the labor law, environmental issues, and health & safety conditions. Furthermore, these factors are imposed and regulated by our government.
Is maternity leave appropriately given to the women workers in your factories?
Definitely! We provide maternity leave to our women workers with a complete benefit package.
Some factories usually sack their workers to asking for maternity leave. Is there any such occurrence ever took place in your factories?
Certainly not! Not any of our factories, ever! Instead, we reduce the working hours to five to seven hours a day for pregnant women when we know about their pregnancy. We also change the mode of their works, considering their health condition. And I repeat, we provide maternity leave with a complete benefit package. Worker's health condition is our priority.
Is there any sexual harassment policy in your company?
Obviously, we have. We maintain zero-tolerance against any sexual harassment. There is a complaint box in our factory. The compliance manager opens it in my presence, and if the complaint is proved right, then we take the right and immediate action instantly.
What about daycare center in your factories?
Yes, we have a daycare center in our every factory.
This's really exemplary! Well, Mr. Apu, if you were not a businessman, then in which sector you would love to work?
Social Work. I want to do something for humanity, and I believe that it can be done from any media, from anywhere. Medium is not important here; the main theorem is one's will-power to do good to humanity.
Who or what is your driving force?
My driving force is Mr. Shahriar Alam. He always encourages me whenever I face any difficulties. He did it for me in the past and is also doing now. The truth is without him, I couldn't be myself.
One more name I must pronounce here, and he is Mr. Naymul Bashar Chowdhury to whom I'm grateful in all the ways. He's my mighty mentor in this business field. I must say, without him, I couldn't reach here today.
It won't be exaggerating if I say what I'm today is all because of them.
Please tell us about your Personal Social Responsibilities (PSR). How do you help people personally not as an ambassador of the Renaissance Group but as a human being?
Should I tell you that?
Yes! Your words can inspire millions of people.
All right. You know poverty is still one of the major problems in my country. Hundreds of thousands of students cannot afford education here. I try my best to bear some of their educational expenses. I provide them some money from my personal remuneration. I try to help the patients to get proper treatment at the right time. Recently I'm planning to buy some ambulances for my home district, Lalmonirhat. I will bear all the maintenance expenses for those ambulances. This ambulance service will be solely for poor patients of the local area. Very often, poor patients can get proper treatment at the right time for there's no emergency ambulance service in the remote rural areas, and transportation service is not always available.
We know you're from North Bengal district Lalmonirhat. Do you've any plans for your homeland, Lalmonirhat?
Obviously, I have some plans for my motherland Lalmonirhat. It's my birthplace. So, I consider it's my duty to do something for the well-being of my home district. I'm planning to set up an agro-based industry in Lalmonirhat. It can create some business and employment opportunities for the local populace. Very soon, I will start some projects, which are specially designed for the wellbeing of our marginal farmers.
Now come to a crucial point. What is your personal view about the existing business culture of Bangladesh?
There's no unity among the business persons in Bangladesh, especially among the RMG sector. But it's very essential now. Unity among the businessmen can increase our bargaining power. We hardly focus on the necessity of our unity. We all will suffer someday only because we don't have enough integration. We have a severe lack of trade diplomats, and it's a very critical issue.
What are the highly considered threats and problems in the RMG sector?
The most hurdle in our RMG sector, in my consideration, is our cramped bargaining power. It's very frustrating. We must focus and work on our collective bargaining process. Unity and ties among the BGMEA (Bangladesh Garment Manufacturers and Exporters Association) members should be increased. Rules and regulations associated with the compliance should be fixed under some particular principles. Threatening factor is Pricing. We are losing the power of negotiations with the buyers. No negotiation is taking place at all. It's becoming a one-sided market. It's a very crucial concurrent scenario of the RMG sector.
Bangladesh is considered the lowest wage payer country in the world, what do you say?
It's a history now! Once we were the cheapest wage payer when we didn't have enough experience. Now we are forty years experienced industry. We're now supplying the best quality garment products and able to meet every demand of the buyers throughout the world. I think now it would be illogical to term Bangladesh as the cheapest workers market; rather it should be called an "Efficient Workers Market". If you notice you can easily get the proof.
According to the Wage Board, the minimum salary for a garment's worker is now $95 (BDT 8000). Do you think it's an appropriate salary for a worker?
Yes, it's perfect, at least I think so. We should keep it in mind that this is the minimum salary of a worker who is fresher.
A complaint is severally heard that some garments-owners do not pay wages regularly. That's why the workers blocked roads, vandalized, and made different movements. What do you say about this situation?
Well, look at the total number of garment factories in Bangladesh and amid them how many garments have that kind of ill experience! If you do that calculation, you will get the answer. I think all the owners want to pay wages to their workers in time, but they always cannot maintain that for some inevitable reasons. Sometimes factories get involved in trouble owing to shipment delay or cancellation and some other grave problems. On the other hand, sometimes buyers also create difficulties for trivial faults. It generates some unexpected and unnecessary complexities. I think buyers also should be brought under compliance. I hope it will be implemented in the near future.
You've already passed 16 years in RMG Industry. Please share us three bitter experiences in this sector.
We are reducing the prices unnecessarily, which I find illogical. It's very dangerous for the RMG sector. In this way, we are dumping ourselves.

Extreme lack of trade diplomats.

Another bitter experience is the Rana Plaza catastrophe. I still cannot forget the sad memories of those days. Still, it haunts in my mind. 
Now it's time to tell the pleasant experiences and memories of your business life.
I enjoy all my time. All my time is full of pleasure. I especially enjoy our picnic day. It gets a festive mood all the ways. One more thing I must to say that I'm very fortunate and blessed to be a part of the Renaissance Family because we don't believe in any discrimination. We don't believe in disparity; it's the Renaissance Group's usual practice.
Please mention three good signs of RMG sector for which Bangladesh can boom within the next five years.
1. Our experience.
Our employees love their company and workplace from the core of their heart. It's very rare in other countries. This is a very positive side. Employees consider their factories and colleagues as their families. You cannot imagine their devotion, it's unbelievable!

We are advancing every day to a newer extent. No one can stop us from our further advancements.
We are near to end of this amazing discussion. We all know, many people consider you as their business idol. Please say something to them.
My first advice to them is asking yourself what you intend to do. Then focus on how much it'll be fruitful for your business and finally to implement it. Honesty is the most significant part to succeed in life. Without honesty, you'll perish someday. You have to be sincere in your work. You must love your work, whatever it is. You must have respect to all your colleagues and their works as well. You've to change the negative attitude if you have any. You must make commitments to you and stick to it always. Keep analyzing thyself and throw the challenge to yourself, it will push you to go further.
The InCAP: It has been a charming and enlightening discussion, thank you so much Mr. Apu.
A.R.M. Shahidul Haque Apu: Such a pleasure for me. Thank you to all of you.
Quick Chat With Mr. Apu
What motivates you?
When I see the smiley face of our workers, that motivates me the most.
The greatest achievement of your life.
Creation of jobs for people.
Meaning of "Success" to you.
Mental satisfaction.
Name the most influential books you read.
Lalon Samagro

Sanchayita By Rabindranath Tagore

One Hundred Years of Solitude by Gabriel Garcia Marquez
What did you want to be when you were a child?
Businessman.
The best gift you ever received.
My two children. They're priceless gifts to me.
Your greatest fear.
Examination.
Favorite holiday places.
I love Nature the most. In this regard, Sylhet is my first favorite place to roam about. I also love the sea. To quench that thirst sometimes I visit Cox's Bazar.
What's the best piece of advice you've received?
My grandfather always said that it's much more enjoyable to give someone something than to take something from them.
Hobby.
Gardening. I love Bonsai the most.

I love beauty.

Shopping. When I get upset, I walk out of my place and go out for shopping.
One hidden habit of yours that you want to let everyone know.
I don't have any hidden habit now. But I would love to drink condensed milk in my childhood days — that time I wished that I would buy a container of condensed milk every day when I will be a rich man.
Your Icon.
Md. Shahriar Alam (Hon'ble State Minister, Ministry of Foreign Affairs, Government of the People's Republic of Bangladesh)
The most admirable personalities from recent times.
1. M. Naimul Basher Chowdhury
Managing Director, Renaissance Group.
2. Shwapna Bhowmick
Country Head, Marks and Spencer
Bangladesh SO.
3. Md. Arfan Ali
President & Managing Director
Bank Asia.
How do you define patriotism?
To me, patriotism is to follow all the laws of the country and love the people of the country. That's it.
The three things that you cannot live without.
My work, trees, and music.
Describe yourself in three words.
Hard-working, Honest, and Hospitable.
How do you want people to remember you?
I don't have any expectation from people. I will be happy if people whisper that the man was a good man.
Your life's philosophy.
I love people.
I'm fascinated by my surroundings.
I can feel my strong attachment to nature.