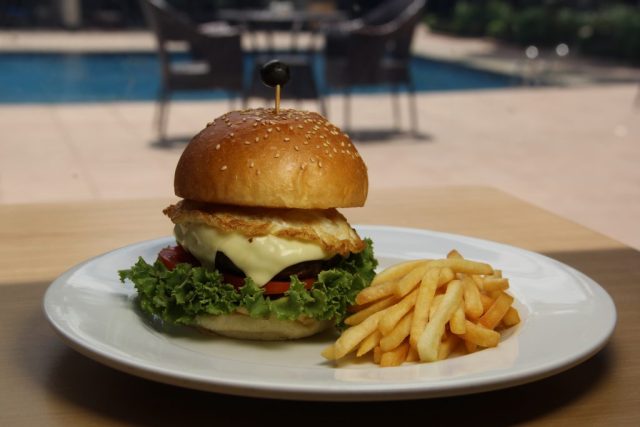 Adjacent to the beautiful swimming pool of Radisson Blu Dhaka Water Garden, Chit Chat is an amazing place to pop in with friends and families to enjoy. While roaming around the hotel's pool, respective guests can indulge themselves with a refreshing ice tea or different flavours of milkshake accompanied by delicious snacks like freshly baked breads and pastries, fresh salads, sandwiches and a wide selection of cakes to explore along with soft music. The article contains Unwind Yourself at Chit Chat of Radisson Blu Dhaka Water Garden.
The tantalizing menu has an array of tasty items for the patrons to choose from, such as Chicken Sandwich (BDT 1150++), Pool Shine Club Sandwich (BDT 1450++), Garden Fresh Salad (BDT 690++), Tom-Yam Soup (BDT 850++), Free Range Chicken Burger (BDT 1650++), etc. Moreover, tastebuds can also have a bite from the dessert section, which includes Chocolate Eclairs (BDT 445++), Lemon Tart (BDT 345++), Baked Cheesecake Pastry (BDT 395++), and many more.
If you are looking for a light brunch, then you can try out the Grilled Vegetable & Cheese Sandwich (BDT 790++) or add some twists to your brunch menu with Lavish Fish & Chips (BDT 1450++) and Mushroom Cream Soup (BDT 750++). Of course, nothing can beat the feeling of having a delectable, satisfying lunch. The Chicken Paratha Roll (BDT 650++), served with French Fries, and one succulent Australian Beef Burger (BDT 1650++), containing melted cheddar cheesy goodness to go if you have a friend with you. A Fresh Lemonade (BDT 325++) can add a nice flair to the meal, and a Café Latte (BDT 385++) for after, to give a nice finishing touch.
Although you cannot have enough of their mouth-watering Aroma Chicken Nuggets (BDT 1100++), the cafe will still expose you to a variety of wraps & sandwiches with a series of hot dishes and savories to go about the day. If you cannot think of a meal without a dessert served at the end, then you might want to pamper yourself with a Chocolate Sludge (BDT 345++) or a Pistachio Opera Slice (BDT 345++) for the sake of your sweet tooth and a nice Instagram-worthy shot.
To get in the mood for freshness, a Greek Fresh Salad (BDT 890++) or a Flavored Chicken Cashew Nut Salad (BDT 1250++) will give you a boost of energy with exuberance in any part of the day. Besides the scrumptious croissants and luscious flaky pastries, the cakes here also have the heart of most customers. Their best-selling cake items like Blueberry Cheese Cake (BDT 3000++), Chocolate Cake (BDT 2600++), Red Velvet Cake (BDT 2600++), Vanilla Cake (BDT 2600++) etc. are sold almost throughout the day.
The deli café opens its door to its customers at 10:00 am and remains open until 11:00 pm. Chit Chat has its uniqueness, located in the middle of the city, making you feel that you are in a resort setting with the traffic-congested city of Dhaka. The charismatic ambiance spreading the rich aroma of the food items and the friendly, smiling staff make this deli café a perfect atmosphere to chill and hang out all day. All prices are subjected to a 12.5% Service Charge and 15% VAT.
To read more Press Release, Please Click Here!