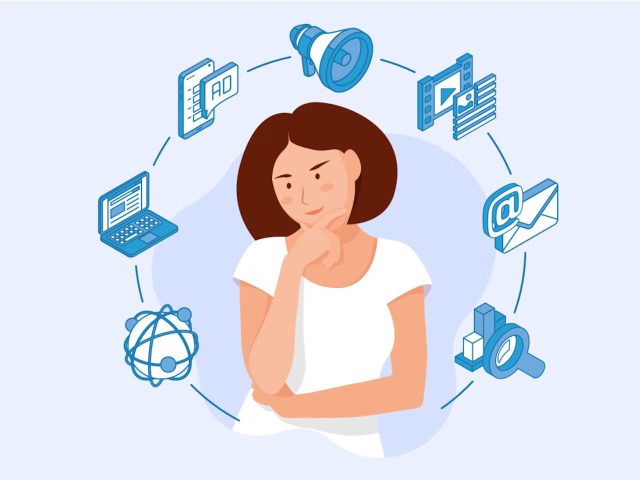 Consumer behavior refers to how a customer interacts with your brand before or after making a purchase decision. Consumer behavior is how someone acts or feels after watching an advertisement. Although different customer groups respond to ads differently, they generally behave the same towards the brand after watching the advertising. It mainly depends on a company's structure, message, and branding in the advertisement. It's critical to comprehend how people make purchases. You may create advertisements using the guidance given by their behavior.
How Do Advertisements Impact Customer Behavior?
As we promote goods and services, advertisements influence consumers. Depending on the topic or structure we select, people are aroused when they encounter our marketing materials. These are some typical responses from consumers to advertisements.
While advertising's main objective is to inform the public about your business, depending on how well it is presented, it may also amuse the audience. Like TV shows and movies, they captivate viewers and get them invested in your work. The entertainment value of TV shows is enhanced by advertising, which either makes the viewer laugh or feels something.
The same is true for online advertisements, which are so fascinating that internet users may mistakenly believe they are not adverts. Some advertisements even get viral because they amuse the audience. They will share your promotions if they believe them to be interesting to watch.
According to a Statista poll, 60% of respondents believe that TV commercials are the most exciting type of advertising. Online commercials are the least entertaining, except those on social media. Just 38% of individuals who were polled think they're pleasant. This proves that effective advertisements can engage viewers even though they know that the firm only uses them to advertise its goods.
Consumers get more familiar with a brand with regular exposure through advertisements. The consumer will often know a brand from an ad they have seen. With commercials that help them reach their target consumers, new companies may compete against more established ones. Existing businesses, however, regularly run advertisements to keep their products relevant to customers.
If consumers watch an advertisement, they link it to a particular brand. This will pique their interest in the company's goods or services. Google and Ipsos MediaCT conducted a collaborative experiment to determine if search advertising increases brand awareness. After watching the advertisement, 14.8% of 800 U.S. consumers associated a test brand with a specific term.
Develop Confidence And Trust
People may be convinced to try a product after seeing the advertising. It may increase their faith that the good or service would ease their problems. New products use advertisements to win over customers who have not demonstrated value. Advertisements highlighting new product offers or varieties may restore customer faith in the brand.
To increase consumer confidence in a brand, other advertisements use customer testimonials. It's a common technique in medical items, including marketing for pharmaceuticals. Pharmaceutical companies must persuade customers of the value of their offerings. As a result, consumers worldwide are trusted by 66% of advertisers, according to a Nielsen poll.
Editorial advertisements offer the same confidence level, such as those seen in newspaper stories. Regarding ad forms, offline promotions are more trustworthy than internet advertisements. Just 48% of respondents believe in internet video advertisements, compared to 63% who trust TV commercials.
Clearly Portray The Advantages of The Product
Complex new-to-market goods and services advertise the advantages of their offerings in their advertisements. For instance, advertisements from startups whose solutions address a particular issue detail how their solution might streamline a challenging procedure. Advertisements simplify the benefits that a product will provide to its target audience.
Instead of long movies, provide a brief and straightforward presentation about the aspects of the product to assist customers in grasping the advantages it may offer them. They make it simple for customers to determine how a good or service will solve their issues. Instead, create a little film with subtitles that highlights the critical aspects of your product.
67% of food product buyers want to know what ingredients are used in the food they purchase. So, before buying, parents conduct product research. And 68% of these parents think that to get the most out of their purchase, they want advertisements would teach them something new.
Customers respond differently to advertisements that use a variety of forms, media, and messaging. Depending on the emotions being displayed, it may either have a beneficial or harmful impact on someone. For example, consumers are more favorable toward a brand when they see humorous or lighthearted advertisements. On the other hand, specific promotions may harm customers when they deal with delicate subjects like racism, political views, and the like. Usually, they will associate the company creating the advertisement with their feelings and perceptions.
A University of Southern California infographic showed that 31% of advertising strategies featuring emotional content were successful. About half of the 16% of effective advertisements with logical content falls into this category.
Many businesses and people need to have a better impression of ads. They support the pull advertising model and think that commercials assist businesses in selling goods that customers do not require. With "pull" advertising, people actively seek out the goods and approach the company. Nevertheless, businesses shouldn't cease promoting in this quick-paced environment. Companies need to advertise and encourage customer buy reactions to flourish and prosper in this competitive market.