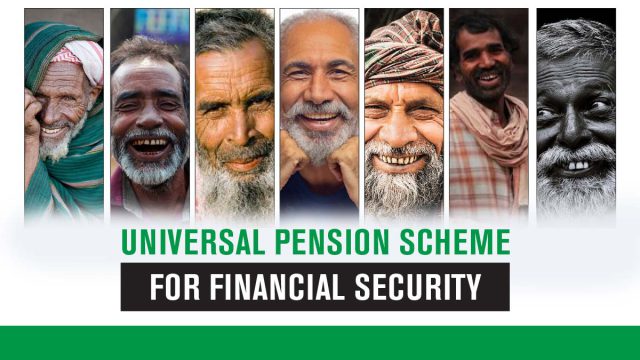 The Bangladesh government has unveiled the highly anticipated universal pension scheme, aiming to encompass all citizens aged above 18 within its coverage. This initiative seeks to establish a comprehensive social safety net for the growing elderly population, offering a monthly stipend to cater to their daily expenses.
Eligibility Criteria
All citizens aged between 18 and 50, including expatriate Bangladeshis, are eligible to benefit from this scheme. In a notable departure from the current practice limited to government, semi-government, or autonomous organization employees, private sector employees will now be included in the pension scheme.
Variety of Schemes
The newly introduced pension framework consists of four distinct schemes—Progoti, Surokkha, Somota, and Probash—designed to cater to citizens from various walks of life.
Progoti Scheme: Designed for private company employees, both workers and owners are eligible to participate.
Surokkha Scheme: Intended for informal sector workers like farmers, rickshaw pullers, laborers, artisans, and fishers.
Somota Scheme: Geared towards low-income individuals living below the poverty line, as determined by the Bangladesh Bureau of Statistics.
Probash Scheme: Open to Bangladeshi citizens residing abroad, requiring a prescribed foreign currency deposit.
Registration Process
Participation in the pension scheme involves online registration through the National Pension Authority's website (upension.gov.bd). Expatriate Bangladeshis lacking national identity cards can apply using passport information. A unique ID number, donation rate, and monthly submission date will be communicated via email and mobile notifications.
Monthly Contribution and Benefits
Expatriate Bangladeshis can enroll in the Probash scheme by making monthly contributions of Tk 5,000, Tk 7,500, or Tk 10,000 for 10 years, yielding pensions of Tk 7,651, Tk 11,477, and Tk 15,302 respectively.
For the Progoti scheme, monthly installments of Tk 2,000, Tk 3,000, or Tk 5,000 lead to pensions of Tk 3,060 after a decade.
Under the Surokkha scheme, monthly payments of Tk 1,000, Tk 2,000, Tk 3,000, or Tk 5,000 result in pensions of Tk 1,530.
The Somota scheme involves a monthly installment of Tk 1,000, with participants contributing Tk 500 and the government covering the rest, yielding a pension of Tk 1,530.
Pension amounts vary based on contribution term and installment size.
Deposits and Loan Options
Contributions can be made via mobile financial services, online banking, credit/debit cards, with expatriates utilizing credit/debit cards. Monthly, quarterly, or annual payments are permissible.
Participants can access 50% of their pension scheme deposits as a loan for purposes such as medical treatment, house construction, repairs, or a child's marriage. The loan must be repaid in 24 installments, including applicable fees.
Pension Continuity and Nominee Benefits
Pensioners continue receiving benefits until death. If a depositor passes away before turning 75, their nominee will receive the monthly pension until the original depositor would have reached 75.