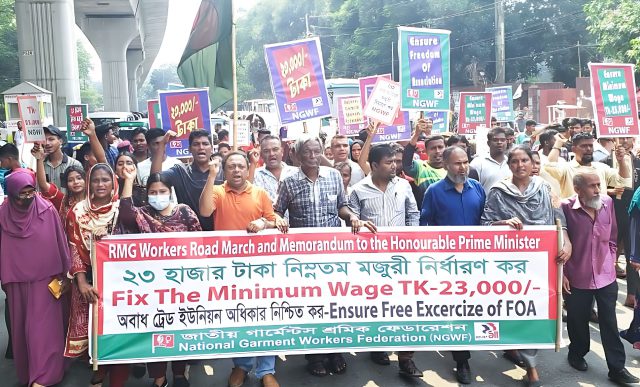 After more than 11 days of protests by Ready-Made Garment (RMG) workers demanding a minimum wage of Tk 23,000, the wage board is poised to unveil a new salary structure today, marking a significant development in the ongoing labor unrest.
State Minister for Labour and Employment Ministry, Begum Monnujan Sufian, shared the eagerly awaited news during a press briefing on Thursday, revealing that the new salary structure would be disclosed at the sixth round of the wage board meeting, scheduled for today.
One key highlight from the State Minister's announcement is the possibility of introducing ration cards for RMG workers. This initiative aims to empower workers to access essential commodities at more affordable prices, thereby improving their living standards.
While the exact minimum wage amount remains undisclosed at this time, Md Siddiqur Rahman, the owners' representative on the board, shared that family cards would be initially provided to workers, along with the anticipated salary increase. Subsequently, workers will be issued ration cards, further enabling them to purchase necessities at discounted rates. However, the specific figure for the minimum wage remains undisclosed as of now.
Nazma Akter, president of Sammilito Garment Sramik Federation, expressed her support for the government's efforts in providing family and ration cards to RMG workers, deeming it a commendable initiative.
Sirajul Islam Rony, the workers' representative on the board, anticipates the announcement of the new wage structure today but did not comment on the precise amount.
Faruque Hassan, president of the Bangladesh Garment Manufacturers and Exporters Association (BGMEA), emphasized the need for a swift resolution, given the losses suffered by the sector due to the recent labor unrest. Demonstrations by workers demanding a salary hike in Konabari areas of Gazipur have also added to the urgency of the situation.
The official announcement of the new minimum wage for RMG workers will bring an end to the prolonged labor unrest and mark a significant development for the sector. Industry stakeholders eagerly await the decision to restore stability and ensure the well-being of the RMG workforce.