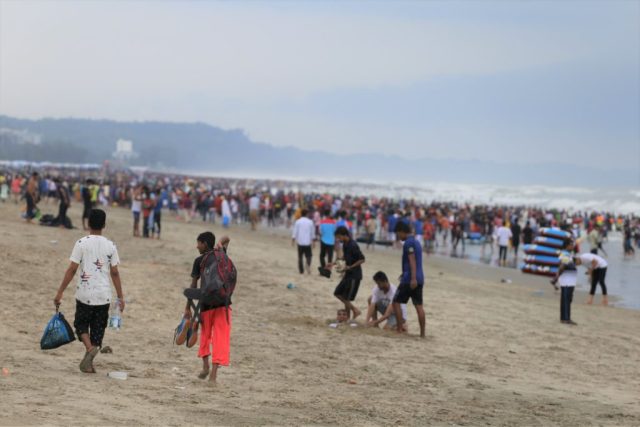 As they try to recover pandemic-induced losses partially, hotels and resorts in tourist areas across Bangladesh are doing brisk business thanks to the long holiday granted most industries during the current festival season centering on Eid-ul-Fitr. According to tourism industry sources, the busiest days were the first four days following Eid on May 3, 2022, and they forecast solid business in the coming days. As a result, even though it was the off-season, most hotels and resorts had occupancy rates of over 90% for a holiday. Winter in Bangladesh is the prime tourist season, which runs from November to mid-April. So, Bangladeshi Hotels Doing Brisk Business Amid Eid-ul-Fitr.
The General Secretary of the Cox's Bazar Hotel-Motel Owners Association said, "This is the off-season for Cox's Bazar, but the business has been great." 
Cox's Bazar, the country's top tourist destination, has attracted many visitors with its 500 hotels, motels, resorts, and 2,000 food outlets. Grace Cox Smart Hotel's Chief Executive Officer, Rashed Mahmud, stated that his hotel had 100 percent occupancy in the first four days after Eid. The hotel has 70 rooms, with nearly half of them being booked even on Eid day.
"With this kind of response from guests, it can be inferred that the whole month of May, especially in the holidays, will see good business as many have already started making bookings," Mr. Mahmud added. Moreover, resorts in other divisions of Bangladesh also welcome many visitors during the Eid festivities. For example, during the Eid holidays, the Palace Luxury Resort in Habiganj district, built on 150 acres of land and has 100 rooms and 32 villas, was almost filled.
Joseph Gomes, General Manager of the resort, said, "Compared to the festival seasons during the last two years of the pandemic, our business was good. We are now in the pandemic's recovery phase, and the pace of the recovery is pretty speedy."
Md Abdullah Al Kafi, Managing Director at Meghmati Village Resort in Mymensingh, said the prolonged length of this year's Eid holiday propelled domestic tourism. As a result, the village concept-based resort's occupancy rate was almost 100 percent, which also markets organic food.
According to Kafi, the pandemic halted domestic tourism for the past two years, but people rediscovered Bangladesh's beauty this time around. For example, the Bhawal Resort and Spa in Gazipur's Executive Director, Pradip Sanyal, said 90% of their rooms were booked for the last few days surrounding the Eid festival. Mermaid Beach Resort's operation head (in charge), Md Jahirul Islam, claimed business over the Eid season exceeded their expectations by 80%.
The Nokkhottrobari Resort in Gazipur's Finance and Accounts Manager, Nitai Chandra Sutradhar, reported that 22 of the 29 rooms available on May 4, 5, and 6 were booked. Despite the flood of visitors, hotel and resort owners suffer from pandemic-related losses. "The business that we lost in the last two years may never be covered," he added.
The Bangladesh Outbound Tour Operators Association estimates that around five lakh Bangladeshis will go to India during the Eid holidays this year. Aside from that, many people are likely to travel to the Maldives, Thailand, Nepal, and Dubai. According to a recent survey conducted by the Bangladesh Bureau of Statistics (BBS), Bangladeshis prefer to travel to India over Saudi Arabia, Malaysia, and Thailand.
"We have seen that many tourists went outside the country during this Eid, especially to countries that provided visas and improved the facilities suitable for the new normal," said Kamrul Islam, General Manager (Public Relations) of US-Bangla Airlines.
To explore more articles from Business Cloud, Please Click Here!