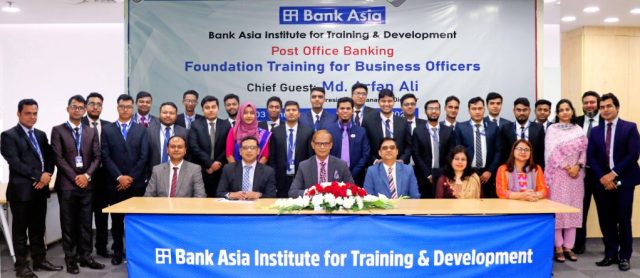 The Foundation Training Course for the newly appointed Business Officers of Post Office Banking Department of Bank Asia Ltd. was completed on 11 January, 2022 as Bank Asia organized foundation training course for the development of business officials.
25 Business Officers attended the training course, which was held at Bank Asia Institute for Training & Development (BAITD) in Lalmatia, Dhaka.
Mr. Md. Sazzad Hossain, DMD & COO, Bank Asia Ltd., was present in the closing ceremony of the course. Among others, Mr. Quazi Mortuza Ali, Head of Post Office Banking, and Ms. Krisna Saha, Head of Lalmatia Branch, and other officials were present in the ceremony.
Bank Asia's vision is to have a poverty-free Bangladesh in the course of a generation in the new millennium, reflecting the national dream. They aim to build a society where human dignity and human rights receive the highest consideration and reduce poverty.
Training is extremely important to Bank Asia in order to improve employees' knowledge and abilities. Hence, they follow their path with a slogan of 'For A Better Tomorrow.'
To read more about Press Release, Please Click Here…