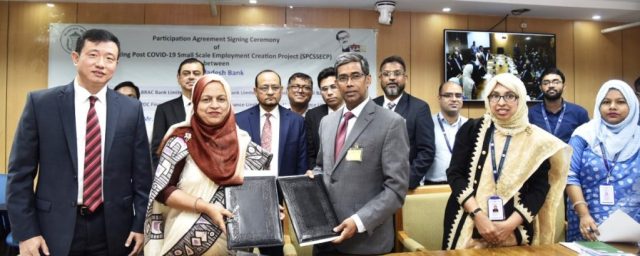 Bank Asia signed a participation agreement with Bangladesh Bank for a refinancing facility under the "Supporting Post COVID-19 Small Scale Employment Creation Project" (SPCSSECP) on 24 May 2022. Mr. Abu Farah Md. Nasser, Deputy Governor, Bangladesh Bank, was the Chief Guest, and Mr. Dongdong Zhang, Principal Financial Sector Specialist, Asian Development Bank (ADB) was the Special Guest at the signing ceremony. Ms. Nurun Nahar, Executive Director of Bangladesh Bank, and Mr. Md. Arfan Ali, President & Managing Director of Bank Asia Ltd., signed the agreement from their respective sides. Mr. Md. Shaminnor Rahman, Head of MSME and Agri Division, and Mr. Samiul Anam, AVP, Head of CMSE, Channel Banking of Bank Asia, were also present.
Under the agreement, Bank Asia will finance the targeted vulnerable groups such as returning migrant workers, unemployed/underemployed youth, and rural entrepreneurs with a particular focus on women entrepreneurs at a minimum interest rate under the SPCSSECP refinance fund of USD 150.00 Million by the ADB.
To read more financial articles, Please Click Here!