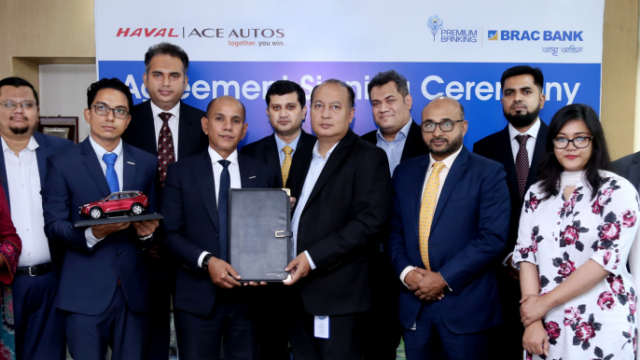 BRAC Bank announced an agreement with Ace Autos, the authorized distributor of China's Great Wall Motor Company's Haval sport utility vehicles (SUVs) in Bangladesh. According to a press statement issued on May 8, 2022, the bank's "Premium Banking" customers would receive a three-year or 100,000-kilometer guarantee when purchasing SUVs. The article contains BRAC Bank Introduced Extra Benefits For Premium Clients.
BRAC Bank will also lower loan interest rates by 0.5 percentage points and processing expenses by up to 0.50 percentage points, amounting to Tk 15,000 in total. The Memorandum of understanding (MoU) was signed on April 27 at BRAC Bank's head office in Dhaka by Md Mahiul Islam, Head of Retail Banking, and Azharul Islam, CEO of Ace Autos.
Abu Sayem Ansari, Head of Premium Banking; AKM Tareq, Regional Head of Dhaka Central and Rajshahi Region; Monirul Islam Rony, Head of Retail Lending at BRAC Bank, were present at the signing ceremony.
To read more Financial articles, Please Click Here!