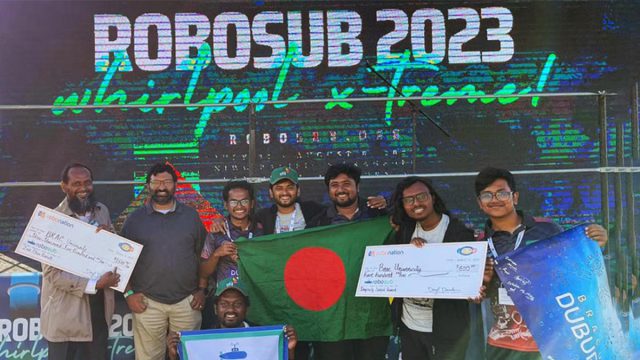 BRACU Duburi, a talented team representing Brac University from Bangladesh, achieved a stellar second overall position in RoboSub 2023, the highly acclaimed international student competition organized by RoboNation. In a remarkable feat, the Bangladeshi team also received the prestigious Ingenuity Special Award, known as the Judges Best Team Award.
RoboSub, renowned as one of the largest student competitions for autonomous underwater vehicles (AUVs), brought together over 34 international teams from countries such as Singapore, India, Canada, and the US to tackle diverse challenges and complex tasks, emulating real-world underwater exploration, seafloor mapping, and sonar localization. In this year's fierce competition, the National University of Singapore secured the coveted first place, while the University of Alberta attained third place overall.
The grand finale of RoboSub 2023 took place on August 6 in San Diego, California, US, where the BRACU Duburi team emerged as first runners-up, wowing the audience with their autonomous underwater vehicle, BRACU Duburi 4.0. Powered by cutting-edge machine learning technology, the BRACU Duburi AUV demonstrated autonomous underwater navigation and data collection capabilities. The vehicle's ability to analyze the collected data for rescue missions and water pollution reduction solutions garnered high praise from the judges.
A cohesive team of around 50 dedicated student members led the charge for BRACU Duburi in this year's RoboSub competition, with A.T.M. Masum Billah Mishu as the adept team lead and Md Mahfujul Haque serving as the efficient vice-team lead. S.M Minoor Karim, Nazmul Haque Omi, Shaownak Md Ibne Shahriar Talukder, Partho Protim Sarker Joy, Samia Abdullah, and Umama Tasnuva Aziz excelled as subteam leads, while Mahdi Uddin Ahmed, Soumik Hasan Shranto, Md. Musfique Billah, and Md Shazzad Hossain Chowdhury contributed significantly.
The remarkable achievements of Team BRACU Duburi were further enhanced by the valuable guidance of their team advisor, Dr. Md. Khalilur Rahman, a prominent Professor from the CSE Department at Brac University. Working in tandem, Sayantan Roy Arko and Md Nayem Hossain Saikat, esteemed research assistants from Brac University, served as co-advisors, contributing their expertise to the team's success.
Reflecting on the team's triumph, Md Mahfujul Haque, the enthusiastic vice-team lead of BRACU Duburi, shared, "The feeling cannot be expressed with words. After countless sleepless nights, this was a dream we are seeing in reality." He emphasized that surpassing prestigious universities like the University of Alberta and Cornell University in the competition showcases Bangladesh's ability to compete at a global level.
RoboSub 2023 serves as a significant platform for aspiring innovators and engineers to showcase their underwater technology prowess and problem-solving skills. Team BRACU Duburi's outstanding performance has not only brought immense pride to Bangladesh but has also reaffirmed its position as a worthy contender in the global arena.
Read more from the section: Perspective