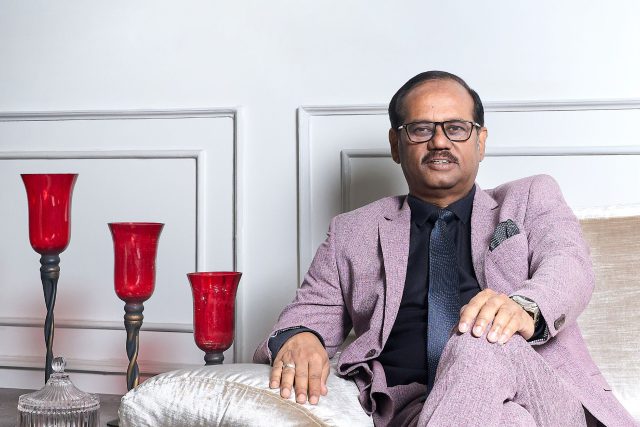 First Published: March 5, 2023
Mr. Shahidullah Azim
Managing Director
Classic Fashion Concept Ltd
Vice President
Bangladesh Garment Manufacturers and Exporters Association
Enter the remarkable Mr. Shahidullah Azim, the embodiment of perseverance and triumph in the challenging realm of business. As a Bangladeshi businessman, entrepreneur, and philanthropist, he has been instrumental in shaping his country's economic and social progress. From modest beginnings, toiling in his brother's buying house, Mr. Azim charted a course of greatness, establishing the esteemed Classic Group—a diversified conglomerate with interests spanning textiles, garments, real estate, and hospitality. Driven by an unyielding entrepreneurial spirit, acute business acumen, and a profound sense of social responsibility, he has propelled the growth and development of Bangladesh's textile and apparel industries. His extraordinary accomplishments have garnered accolades and admiration, serving as a beacon of inspiration for aspiring entrepreneurs and business leaders worldwide.
The InCAP: Mr. Shahidullah Azim, would you please share your journey of becoming the Managing Director of Classic Fashion Concept Ltd.?
Mr. Shahidullah Azim: After completing my study, I started my career at my elder brother's company named "Shah Safari buying house," one of Bangladesh's leading buying houses. From there, I learned about all the technical and commercial apparel-related things. After that, I started my own buying house back in 1991. During that time, I worked for some big brands, such as German brand Lidl, U.S.-based brand Alan Haddad, Spotlight, ILC Incorporated Ltd, etc.
From 1991-2004, I worked with more than 70 apparel manufacturing companies in Bangladesh. In 1999, I established 12 line manufacturing garments, "Classic Fashion Concept Ltd, and 8 lines in its sister concern Coastalino Attires Ltd." to support our customers with sampling. Initially, we used to manufacture shirts, nightwear, and trousers. Your significant customers were Walmart, LiDL, Kenneth Cole, Loblaws, etc.
I was the president of a few social clubs in Dhaka, such as all community club limited, the Gregorian club determined, etc. I have been attached to BGMEA for the last 16 years. From 2009 to 2013, I performed my duty as a director of the BGMEA. After that, I was the vice president of the BGMEA board from 2013-2015. In 2021, I was again elected vice president of the BGMEA board. Therefore, from 2021 to now, I have been doing my duty as an office bearer of BGMEA.
What potential do you perceive in the RMG industry, and how will they help Bangladesh's economic development?
One of the main pillars behind the impressive development of Bangladesh is Readymade Garments (RMG) industry. Over the 40 years, the industry continuously contributes to the country's GDP, foreign currency earnings, job creation, women empowerment, poverty alleviation, and so on, driving Bangladesh towards becoming a prosperous nation. Despite many difficulties faced by this sector over the past years, it has successfully carved a niche in the world market and continued to show robust performance.
Our sector's resilience has enabled us to achieve the second highest RMG exporter's medal in the world and make "Made in Bangladesh with pride" a worldwide famous logo. Over the 40 years journey, we have achieved extraordinary growth of USD 45.71 billion in export and have many more opportunities ahead of us if we can be tapped correctly. Achieving excellence in product diversification and value addition is one of the critical opportunities for RMG Factories from Bangladesh. With only a 6.37% share of the global market, Bangladesh occupies a small portion, and we have substantial untapped potential ahead of us. We have opportunities in the EU and USA, as well as in emerging markets.
Despite being the second largest apparel exporters in the world, 80% of our garment exports fall within the price range of 15 dollars per KG, and only 20% of the exports get a price above the 15 dollars range. Leaping from essential items to high-end products, driven mainly by a shift from cotton to noncotton, is a time-befitting challenge and opportunity for us. We have an immense opportunity to attract local and foreign investment in the backward and forward linkage for expanding the value chain, given the investments being made by our government in infrastructure development and mega projects, including 100 SEZs. More investment means more business, export, and employment, which will ultimately increase our industry's contribution to Bangladesh's economy.
In 2018, Human Rights Watch documented sexualized threats from factory managers and supervisors against Bangladeshi female garment workers. Mr. Azim, please tell us about your initiatives to resolve this issue in Bangladesh.
The RMG industry of Bangladesh employs 4 million workers, where more than 60% are female in the age range of 18-30 years. Since they spend most of their time inside the factory, ensuring their safety and well-being are very critical for the factories. To keep the workers free from any harassment, most of the factories have taken the initiative of establishing an anti-harassment committee. As per Honorable High Court Verdict, BGMEA issued a circular to its member factories to form an "Anti-Harassment Committee" in every factory. The BGMEA Monitoring team is visiting the factory to look into the matter.
According to the BGMEA anti-harassment survey report 2020, the complete factory that formed the anti-harassment committee visited factories, where a few factories received complaints from their workers. And the harassment reported was scrolled for breaking the factory rules as per "A Survey Report on the Garment Workers of Bangladesh" published by the Asian Centre for Development in 2020 shows that the workplace misconduct faced by female workers is as low as 1.5. Regarding the number of cases, only 10 out of 656 female workers in the survey reported it. Besides factories have elected worker Participation committee & Welfare committee who take care of any abusement.
As an apex body, BGMEA initiated and signed MoU with Moner Bondhu to organize an awareness program at the factory level on "Better Mental well-being, sexual harassment at workplace and improving productivity" with a particular focus on women workers. Under the ILO project on "Promoting Social Dialogue and Industrial Relation in the Bangladesh RMG sector (SDIR)," BGMEA trained 476 persons from 56 factories in the areas including; Grievance Handling (8 batches), Best HR Practices (6 sets) and Supervisory Skills (3 sets)
BGMEA, in collaboration with BRAC, has initiated a training program on "Safeguarding training on Gender-Based Violence & Workplace harassment" to develop a harassment-free workplace and promote workplace safety. Initially, the program will run through 40 RMG factories. The training will be provided to the top and mid-level management. BRAC and BGMEA collaboration will scale up the project. Achieving gender equality and women's empowerment is crucial to keep Bangladesh's current development pace. Keep this in mind, and empower women through education and training. Around 90 young garment workers are pursuing higher studies at the Asian University for Women with their employers' support. This shows the dedication of the industry to be gender-neutral.
We have noticed that Bangladesh has become a popular place to buy denim products because of the country's rapid production times, backward solid linkages, and affordable prices. Do you think it is helping Bangladesh to keep up its leadership in the world market?
Undoubtedly, denim is one of Bangladesh's most prominent sectors in the RMG industry. In the early 80s, we started this industry with a few products and only 12000 dollar exports. Today, we have become the 2nd largest RMG exporter in the world, and we can proudly say that Bangladesh is the largest denim import source for both Europe and USA in the world. Currently, Bangladesh holds 22.64% shares of total denim imported by the USA.
According to OTEXA, the USA imported 943.70 million dollars of denim garments from Bangladesh in 2022. During the past ten years, USA's denim import from Bangladesh has grown by almost 8.49% annually. On the other hand, the EU's denim import from the World was 4.21 billion dollars in 2022 (Jan-Oct), whereas the share of Bangladesh was 30.49%. EU's Denim import from Bangladesh has grown by 5.77% annually compared to 2011 & 2021. It proves how much the denim industry of Bangladesh has progressed in the past decades.
We currently have 40 denim fabrics manufacturers' mills where the annual production capacity is 28 million meters of denim fabrics which is 40 % more than five years ago. Currently, more than 370 readymade garment factories produce denim items. Variations have come in denim products over the past decade. Previously, Basic Blue Denim was used to be manufactured; now, we can apply different effects on color, fit, size, wash, trims, and products. As a result of all these value additions, we can create high-value products. In addition, modern technologies, such as waterless dying and Ozone washing, are being used to manufacture denim, reducing water use.
Besides, Bangladesh has the highest number of Platinum LEED-certified denim mills and garment factories. These will all be enough to keep up our leadership in the global denim market.
According to preliminary data issued by the Export Promotion Bureau, readymade garment (RMG) shipments from Bangladesh climbed by 16.61% to $3.366 billion in the first month of fiscal 2022–23 (July–June) compared to exports of $2.887 billion in July 2021. Do you anticipate that in 2023, exports will exceed the target rate significantly?
We have already completed seven months of the current fiscal year 2022-23. During July-January of FY 2022-23, our RMG export reached 27.41 billion dollars. As per the export promotion bureau, during the mentioned period, our export target was 26.17 billion dollars, which means we are 1.24 billion ahead of the targeted amount. If we analyze the single month's export data, we have achieved more than 4 billion dollars in the last three consecutive months, which is encouraging. It only reflects how committed and resilient we are, the support we are getting from our workers, and the confidence our valued customers have in us.
Yet, there are challenges behind such an impressive growth picture. The ongoing crisis caused by the Russia-Ukraine conflict has created turbulence in the global economy, especially its spurring inflation in our major markets. New orders have also fallen in most of our factories. As a result, many factories have already reduced their production hours.
But I believe that with the support of the government, we will overcome the situation with the all-out efforts of our manufacturers, buyers, and workers. And if the current growth continues in the coming months, definitely our exports will exceed the target of 46.80 billion dollars for the fiscal year 2022-23.
In Bangladesh, most merchandisers lack that degree of concentration, organizational abilities, and teamwork. Mr. Azim, please tell us how they will overcome these problems.
There is a massive gap between the skills produced by our educational institutes and the demand by the industries. The industry–academia linkage is essential because our growth depends on our ability to move to diversified products which require complex skills. The job market has to be ready with the skills necessary to meet contemporary production techniques, product sophistication, and fashion trends. Excessive concentration in a few skills makes diversification difficult.
At the same time, the academic programs should be complemented with real-life training. Often, a person who received a classroom education needs to perform better in a real-life atmosphere. Moreover, classrooms usually need to be adequately equipped with laboratories. So the linkage between industry and academia has to be drawn by changing the conventional way of education; we need to integrate more practical education.
From BGMEA, we have also taken several initiatives. One such initiative is the internship program at BGMEA which we will start soon. To meet the rising demand, BGMEA University of Fashion & Technology (BUFT) was set up in March 2012 and dedicated to developing human resources for Bangladesh's readymade garment and textile sectors. Every year, several many graduates from BUFT join this industry. We have also created the opportunity for the 90 female workers to pursue their studies at the Asian University (AUW) for Women. Among them, 40 girls have completed and joined the industry in different positions. We will cooperate with AUW to facilitate the enrolment of 500 qualified females working in RMG factories in Bangladesh within the next few years.
To improve skills and connect a bridge between the industry and updated technologies that are being used across the globe, BGMEA also established a "Centre of innovation, efficiency, and OSH." In this center, we will focus on newer avenues of enhancing our competitiveness through efficiency improvement and cost optimization.
According to the survey, most female garment industry employees have back discomfort, eye stains, malnutrition, respiratory issues, and essentials like bone difficulties and complicated pregnancies. What steps do you plan to take to protect the health and safety of female industrial workers?
In the last decade, the industry has made significant progress in ensuring workers' health and well-being. Most of our factories currently maintain health care centers, eye care facilities, daycare centers, fair price shops, and so on within the premises. Many also run schools, hospitals, and other charitable initiatives for the community and employ physically challenged people. A few factories also run 'mini fire brigades' for themselves and the neighborhood.
Many garment factories are arranging awareness generation programs for their workers regarding menstrual hygiene, reproductive health, family planning, and other related matters. Alongside females, the male workers and supervisors also participate in those training and awareness programs, which makes the programs more effective. Furthermore, BGMEA has collaborated with the Health, Nutrition, and Population Programme of BRAC on the health and nutritional well-being of RMG workers. Research revealed that female factory workers suffer from chronic diseases, particularly anemia. Under this initiative, a study will be conducted to know the current nutritional status of RMG workers. Besides, various supplements and vitamins will provide to address nutrition gaps.
Besides, BGMEA, in collaboration with UNFPA, has run a project titled- "Promotion of reproductive health, gender equality and women's empowerment in the RMG sector. BGMEA is working with SNV Netherland Development for worker Health Safety, Family Planning, and Eye Treatment and providing free medicine. A tripartite MOU has been signed between BGMEA, Engender Health & DGFP, under which about 145 factories are getting family-planning commodities and awareness-resigning. At present, all of our health centers are receiving contraceptive items from the government and distributing them free of cost among the workers.
Besides, BGMEA's 12 health centers provide primary health care facilities and medicines free of cost. The centers also run awareness programs on HIV/ AIDS, tuberculosis, reproductive health, and the use of contraceptives.
The method of producing clothes is currently getting more automated to meet the growing consumer demand, cut down on errors, and keep production costs down. Do you plan to implement AI in our garments industry?
In the 4th industrial revolution era, automation in the production supply chain is becoming crucial to achieving a sustainable export ecosystem. Automated technology adaptation is now inescapable. However, Bangladesh's RMG industry is still at the beginning of automation, while some factories are trying to adopt it. Knitwear is a significant subsector of apparel export in Bangladesh. Automation in knitwear manufacturing started long back, particularly in flat knit (i.e., sweater) manufacturing with the emergence of jacquard knitting.
Currently, knitted fabrics are significantly produced by automatically operated circular knitting machines. At the same time, the use of technologies like laser-cutter, sexbots, 3D printers, etc., has been observed in garment manufacturing.
Some factories use technology like IOT to analyze sewing motion, radio-frequency identification RFID for production and inventory tracking systems, innovative dying systems, automatic dosing systems, intelligent garment measurement systems, finishing roll QC systems, mobile apps for QC, etc. In addition, automated screening tools are being used to detect organic and zero hazardous chemicals, which reduce water and energy consumption.
Besides, factories also use different cutting-edge technologies and auxiliaries to make the processes and finishing jobs smoother. For example – low liquor ratio dying machine, ozone wash, use of organic chemicals, laser printing, waterless dying, etc. All these technologies make the production processes leaner and cleaner and give an extra edge to the industry's competitiveness in the long run.
Mr. Azim, what new developments do you want to see in Bangladesh's RMG industry?
In the last fiscal year 2021-22, we crossed a milestone of 40 billion dollars, encouraging us to set USD 100 billion export target by 2030. In just the concluded year 2022, our RMG industry has developed a new landmark Of US$ 45.70 billion worth of export in a single year.
Apart from exports, in the past few years, we have quickly transformed our manufacturing into a responsible undertaking – in all respects – whether caring about social norms or the environment. We continuously improve and catch up with the valued standards and norms. As the apex association of the garment industry in Bangladesh, the BGMEA has taken a series of initiatives under its Sustainability Vision 2030 which aims to reduce 30% of carbon emission of sustainable raw materials, 50% reduction of groundwater usage, 100% use of ZDHC chemical usage, 30% reduction of energy usage, 20% use of renewable energy and 30% reduction of deforestation. The 'Race has fixed these targets to Zero' GHG emission, SDGs, and National Priority Indicators (NPIs) of the Government of Bangladesh. With all these efforts, we are striving to secure more business.
In the future, we must focus on diversification in products, fabrics, and markets. In addition, we must focus on value addition, technological upgradation, innovation, and design development. Currently, new innovative ways of production are being used in the factory, such as auto-trimmers and up-cycling to reduce waste, alongside 3D virtual imaging to cut down on physical sampling.
To acknowledge more Cover Stories, Please Click Here!