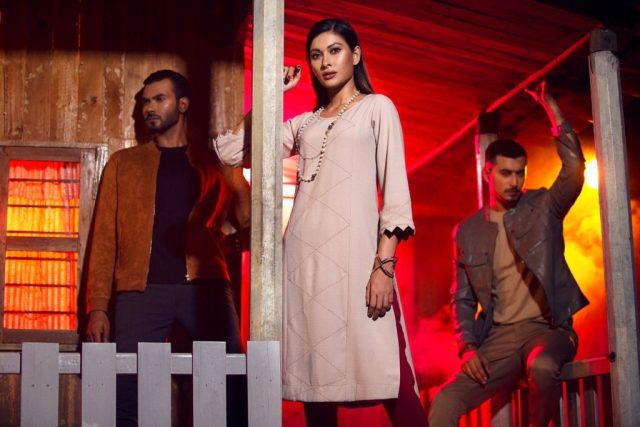 The rise of Cat's Eye on the fashion map of Bangladesh is like a comet. Indirectly Pearsons can be equated with meteors; The beginning was resounding, but the end was abrupt. As a result, 40 catastrophic years have passed like Cat's Eye comet.
In the early 1970s, a young Bangladeshi couple, studying from Canada, made a fuss at the Green Supermarket to satisfy their hunger. The name is 'Gitbitan.' Today, the dreamer with a capital of only BDT 54 thousand has left millions of money.
So let's start with the story of Cat's Eye. It began its journey with the goal of enticing customers with cool, comfortable, and trendy designs. The overwhelming response prompted them to open the store, which initially only sold designer clothes for men. The two people can be someone's neighbors, friends, or unknowingly tied to the heart and independent. At that time, they were committed to sharing life. As wonderful as it was for both families, it was no less exciting for them! Because the girl was only 18, she had just achieved the Secondary School Certificate (SSC). And the boy is in the second year of Bachelor Degree of Arts in English. Then they migrated to Canada. For ten years in a row, they learned the basics of fashion retail together. Then he came to the country and used that experience to become a milestone for the fashion industry, and they became a pioneer of change—has brought freshness in men's fashion. With 24 stores throughout the city, the brand has become a pioneer of lifestyle and clothing trademarks in the country over the years.
They are Saeed Siddiqui Rumi, Chairman of Cat's Eye, and his wife, Ashrafun Siddiqui Dora, managing director. "Cats Eye is the story of a fantastic collaboration. My husband, Rumi, has been in charge of the products and design since the beginning, while I manage the business. We collaborate and make decisions as a team", Ashrafun Siddiqui Dora stated. The organization has already been transgressed. They have left the responsibility of running the organization in the hands of newcomers. Even so, owning one is still beyond the average person's reach. They have expressed the chemistry of Cat's Eye's Success and that are Brand, Commitment, and Relationship.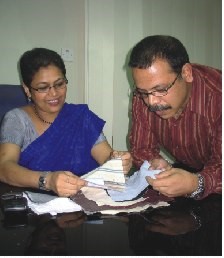 Regarding maintaining brand promise from the beginning, Rumi said, "To break the stereotype of middle-class men and make his 'I' visible through clothes. That is to say, giving the right contemporary dress as much as possible is both 'trendy and sophisticated. That's why we tried to provide the quality shirts which were for 20 dollars each at that time abroad, but, we are providing those quality shirts for two or three dollars each in Bangladesh to get out of the traditional shop interior and sales system and get the buyer accustomed to the world. As a result, it didn't take a long time for Cat's Eye to become a famous brand."
While interviewing them, Dora explained, "In 1979, my husband gave me a beautiful cats' eye locket, a gemstone with intense planetary energies, which I treasured." "As a result, the name Cats Eye came to me instantly, and, the rest is history." Mr. Saeed Siddiqui stated, "a strong relationship had been established with the buyers to keep the brand promise. The pleasure is that people feel when they see me and recognize me not only in the country but also in this far away country is indescribable." He also added, "to earn the buyers' trust, we have gained the buyers' trust in low-quality products with an emphasis on design, quality, and affordability. All this has been our unique selling point."
It is worth mentioning that Ashrafun Siddiqui planned to establish Cat's Eye as a retail brand. However, the goal they set in Green Road in the '70s did not materialize. On the contrary, their demand was often swallowed up by consumer demand. So he moved from Green Super Market to Mansur Building on Elephant Road, which is still Cats Eye's house. They did not need publicity for this. They did not have that ability then.
Back then, in Canada, Saeed Siddiqui worked for the Canadian fashion brand named La Shato. He later moved to Shoe Brand Aldo, a subsidiary of the company. At the same time, Ashrafun Siddiqui used to work at Holt Renfrew. Saeed Siddiqui was frustrated because his favorite brand La Shato was shut down in 2021 due to Corona's inability to cope. However, he assured that Cat's Eye Fashion House will always be there no matter what happens.
"What's more, working in two brands was like studying at university," Saeed added; "that's where I learned the ins and outs of running a retail brand. As a result, I have become a better marketing worker."
In addition to that, first, Cat's Eye's main focus was men's fashion because of the lack of suitable clothes for men in Bangladesh, so they chose only men's clothes from its beginning. Later, it has expanded its branches and also categories in parallel with success. The first outlet was built in Dhaka, then in other districts. Cats Eye has also played a pioneering role in setting up a garment factory for the local market in Dhaka. At first, it was not difficult to bring tailors from different parts of the country to Dhaka.
However, after four decades, especially in the face of the Corona era, Saeed Siddiqui felt that they should have had a more business attitude. Because, like retailers around the world, they are in danger. He said that we needed to have an export-oriented branch for this. He regrets not being able to take Cat's Eye abroad. There are bitter experiences. There were various obstacles in this case. But, on the contrary, he believes that even if he is satisfied with the sales through e-commerce, there is an opportunity to do better.
Cat's Eye has undoubtedly changed the local fashion of Bangladesh. Men's Club comes in the way of Cats Eye. That was the clubhouse that changed hands a few years ago. Then comes the now extinct lapdance. Then Ecstasy and Tanzim. Many brands like Yellow, Texmart, Trends, Sailor, Rise, Grameen Uniqlo, R Nation, Demand, Solasta, Noah, Sara, Twelve, etc., have come as associates in the readymade garment sector. There are also La Reve, Gentle Park, Dhaka Republic. In addition, we have traditional clothing brands. As a result, the face of this industry has changed in the last 40 years.
Let's not draw the line with that unspoken thing this time. Friends, spouses, business partners, comrades, etc., have given dimensions to their eventful lives. But when a reporter asked, "what is the primary catalyst in this chemistry of relationship?" His short answer is like, "rapid-fire: friendship. After all, we are each other's best friends."
Dora, lastly, offers advice to aspiring fashion entrepreneurs. "Continue to work hard; while you're at it, stay true and focused on your passions. Also, be aware of what others are doing while maintaining your own distinct style because Uniqueness is always noticeable."
That's what magic is all about. The result is impeccable magic. The young couple made it possible. Cat's Eye is a perfect example of this. That is why their slogan is "Cats Eye: redefining fashion over 40 years".
To Raed More About Entrepreneurship Stories: Click Here