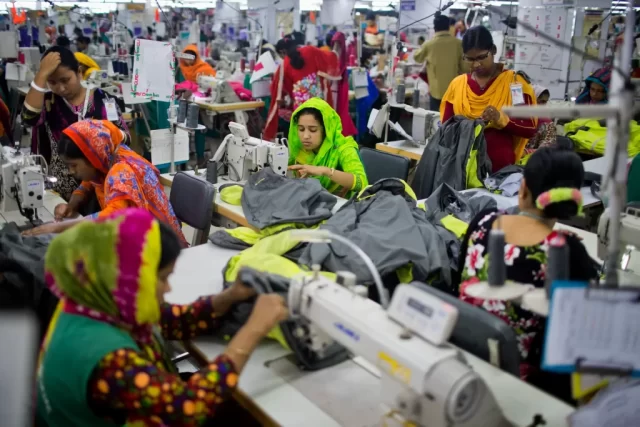 Bangladesh's garment exports have turned around quite well after the COVID-19 Pandemic push. The country's garment exporters are doing well in unconventional and new markets and the traditional markets of the United States, United Kingdom, Canada, and the European Union (EU). Garment exports are growing by more than 10 percent in most unique markets. So, Clothing Exports in Bangladesh overgrowing.
According to the Export Promotion Bureau (EPB), in the first eight months of the current 2021-22 fiscal year, from July-February, Bangladeshi entrepreneurs exported garments worth $421cr to new markets. This income is 23.61 percent more than the same period of the previous year (20202-21). In the first eight months of the last financial year, garments worth $340cr were exported to new markets.
When asked, Mohammad Hatem, Executive President of BKMEA, an association of knitwear owners, said there were problems with China's raw material supply system, including pandemics, for various reasons. That is why their garment exports are declining. Bangladesh is currently the first choice of buyers in importing goods left over from the country. Apart from that, Bangladesh's competitors Vietnam, Cambodia, Myanmar, etc. are also in danger as they are highly dependent on Chinese raw materials.
In the first eight months of the current financial year, Bangladesh exported a total of $2,749cr worth of readymade garments. In addition, $1,375cr went to EU countries, $577cr to the United States, $293cr to the United Kingdom, and $82cr to Canada.
Among the new markets, Japan exported $73cr worth of readymade garments in the last eight months, up 15 percent from last year. In addition, garments worth $56cr have been exported to Australia. It has increased by 9.46 percent. Another new market, Russia's garment exports, is growing rapidly, but the country's involvement in the war with Ukraine has raised fears about what will happen in the coming months. As a result, several international brands, including H&M, have already suspended their business in Russia. In the first eight months, Russia exported $48cr worth of readymade garments, up 35.30 percent from last year.
Shahidullah Azim, Vice-president of BGMEA, an association of garment industry owners, said, "We are slowly taking over the business they left behind. As a result, we expect our exports to increase in all markets in the coming days." He added, "Currently, the demand for synthetic fiber clothing increases worldwide. We're back there. If we want to increase garment exports quickly, we need to increase investment in synthetic fibers. And if other facilities, including tax exemption, are given, domestic and foreign investors will be attracted to invest."
To explore more economical articles, please Click Here!