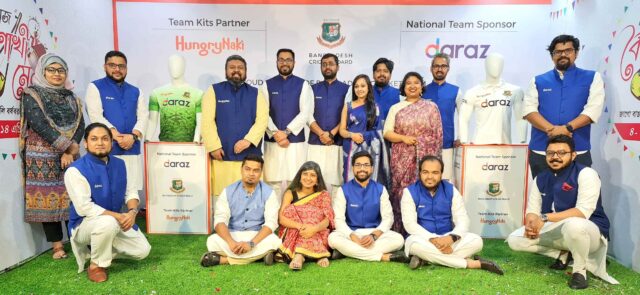 Daraz Bangladesh is the leading online marketplace in South Asia, empowering tens of thousands of sellers to connect with millions of customers. Daraz Bangladesh is part of Daraz Group operating in Srilanka, Nepal, Myanmar, and Pakistan alongside Bangladesh.
Daraz Bangladesh provides immediate and easy access to 20 million products in more than 100+ categories and delivers more than 2 million packages every month to all corners of its countries. As of September 2021, Daraz employs 6000 employees across 64 districts in Bangladesh. The bulk of the employees are part of the logistics team. Daraz has around 40,000 local sellers and has set up 77 hub offices. Daraz has already obtained PCI-DSS and ISO- 9001:2015 Compliance Certification, which demonstrates its quality management abilities.
Daraz Bangladesh is a digital mall, a marketplace, and a community for its customers. It is also a university for entrepreneurs, and every month it educates more than 5,000 new sellers on e-commerce operations. To overcome the logistics challenge in its markets, Daraz Bangladesh has built its own logistics channel specifically designed for e-commerce operations – Daraz Express (known as DEX) – to raise the standards for the industry. Daraz Bangladesh is also helping existing and new logistics providers digitize.
Before being acquired by Alibaba Group in 2018, Daraz Bangladesh was owned and operated by Rocket Internet SE, a European internet company headquartered in Berlin, Germany. Being a part of Alibaba Group, Daraz Bangladesh is proud to carry its part of the mission to 'make it easy to do business anywhere in the era of the digital economy'. As part of the Alibaba ecosystem, Daraz Bangladesh is leveraging Alibaba's global leadership and experience in technology, online commerce, mobile payments, and logistics to drive growth in its markets.
To mark its footprint in the online food delivery business, at the beginning of 2021, Daraz acquired the pioneer of online food delivery platform "HungryNaki" which has reached to 300,000 customers and 4,000 restaurants with the intention to ensure access to basic requirement "food" convenient and easy to the mass population. Currently, HungryNaki operates in 23 zones in Bangladesh and serves a population of 1 billion urban people.
In June 2021, Daraz launched "dWomen", a comprehensive initiative aims to foster a work environment that is diverse, inclusive, and equal. "dWomen" has the objective to take a number of initiatives for instance to organize events, benefits discussion, and arranging online training/webinar sessions for the female workforce with the vision to develop more female leadership at Daraz.
Daraz has many CSR and sustainable projects. "Amar Daraz" is a CSR and sustainable project with the aim of empowering the community through education. "Amar Daraz" has two subsidy projects named "Alok" and "Abha". "Amar Daraz" with "Its Humanity Foundation", launched ALOK School, an educational program, which teaches and educates marginalized children with learning disabilities (ADD, ADHD & Dyslexia). "Amar Daraz" has launched a food project called "Amar Dawaat", with the Obhizatrik Foundation.
The project aims to provide a free snack to anyone who needs it and is unable to pay. Currently, "Amar Dawaat" has 30 shops in 23 areas in Dhaka City, serving 300 people daily. Another project is the Social Enterprise that focuses on the sustainable development of the local handicraft sellers. Menstrual Hygiene Management is another ongoing project of Daraz, where they offer reusable sanitary napkins "Safepad" to the marginalized girls of different communities. This project has been initiated with Youth's Voice.
BUSINESS MODEL OF DARAZ
Daraz acts as a trustee between seller and customer as a Marketplace. Daraz operates an online marketplace and has three revenue streams, namely, commissions on goods charged to sellers, shipping revenues charged to customers, and retail trade. Daraz has a vision to make it the country's biggest single-point shopping platform. A vast variety of products, starting from grocery to fashion, electronic, medicine, stationery, household items, digital products, and many more, are collected from 40k sellers all over the country.
Develop a strong seller base all over the country: Daraz has a very skilled seller acquisition team dedicated to developing a big seller base all over the country for ensuring proper training to raise the standard of the seller and the quality of their services. Daraz has a university to educates 5,000 plus new sellers on e-commerce operations. It also maintains payment cycles of 7-14 days for sellers based on the agreement. A payout is only made after a product is delivered to a customer.
Daraz helps people in becoming an entrepreneur by turning their skills to a commercial value. It has a specialized program, 'Nondini' for women, which is aligned with the Government's women empowerment program.
Ensure excellent customer experience: Customer expectation is a continuously changing thing, and the bar is rising every day. Daraz is trying to match their expectation very fast, and to do so; it is using artificial intelligence based on their shopping or search pattern and guiding customers while they are shopping online.
Recently, Daraz has introduced the Bangla search option for catering to the majority of customer segments who are not well conversant in English. Daraz is working relentlessly and tirelessly to make the platform very effective and customer-friendly to give a comfortable online shopping experience. To endorse this task, Daraz has a motto and a very famous tagline- Happy Shopping!
Daraz has introduced change of mind options for some segments of products. Although it has a very smooth and customer-friendly return and refund policy, however, to enhance customer experience, Daraz is working continuously to improve it further. As part of the new initiative, it has introduced a return collection facility at Dhaka and Chittagong, and it has also increased a significant number of dropping points for customer convenience.
Daraz has a wide range of payment modalities. Customers can pay via cash-on-delivery, mobile wallet, debit/ credit cards.
World-class logistic service: Daraz has a very efficient and dedicated logistic team for providing delivery services. It has one of the biggest warehouses, dedicated sorting centers, and a powerful delivery channel partnering with the country's best logistic partner.
Words from Daraz
CONTINUOUSLY INNOVATE
In our pursuit of excellence, we are always looking for better, faster, and smarter ways to stay ahead of the needs of our sellers and customers – identifying new ways to enhance their experience. We remain humble and never expect that what's good enough today will be good enough tomorrow.
DELIVER ON OUR PROMISE
If we say we're going to do something, we do it. Our commitment to deliver on our promise forms the basis of everything we do at Daraz. It might not always be easy, and we might have to move mountains, but we make it happen. We are known to our colleagues, sellers, and customers as people who can always be counted on.
MAKE IT PERSONAL
We each have our own passions, personalities, and preferences. Daraz is a place where all of us can have the courage to be the best version of ourselves and stand up for what we believe in through a culture of openness. To our sellers and customers, we live to create a memorable and personalized experience that inspires their uniqueness.
GENEROSITY OF SPIRIT
We go beyond our needs as individuals and as a business to positively impact the lives of others. We always consider the opportunity to make a difference in the broader community and how we can support one another outside of our day-to-day responsibilities.