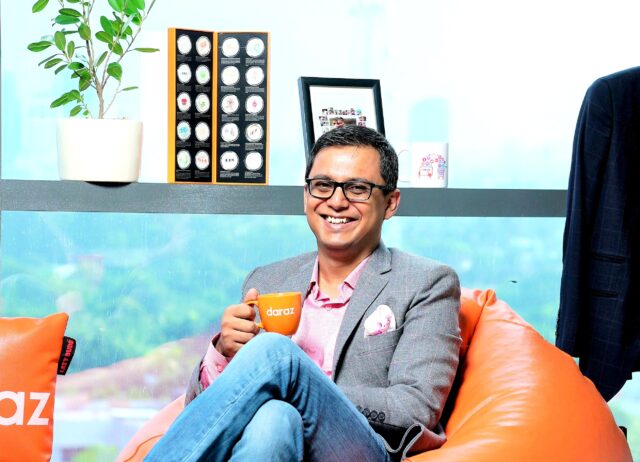 Mr. Rusho, what is your comment on the Digital Commerce Operation Guideline – 2021 provided by the Bangladesh Government? What change should be made for the betterment of Digital Commerce?
A.H.M. Hasinul Quddus (Rusho): Since before the publication of the Digital Commerce Standard Operating Procedure (SOP), there was no direction as to the regular operation procedure of e-commerce organization, it will definitely fill the void, and we welcome this SOP, which we believe will be a guiding force in the coming days. It will also bring a positive impact on the reduction of allegations against e-commerce.
This SOP will help the e-commerce to improve their delivery timeline, return and refund policy, etc., and as such, customer satisfaction will grow, and customer allegations will reduce. E-commerce is a growing industry; technology, business trends, and transformation will evolve over time. To keep up with the growing changes, the existing SOP and the relevant regulations shall also go through scrutiny by the policymakers and the relevant authorities.
You say you have 40,000 sellers. If any of them can't supply quality products to the ultimate consumer, what actions does Daraz take then?
If a seller fails to provide quality products to any of the customers and the customer raises a complaint regarding it, Daraz first ensures that the customer must not suffer any financial loss for the failure of the seller. By using the efficient and swift "Return and Refund Policy" of Daraz, the customer can obtain the required remedy as per the company policy.
Subsequently, Daraz issues a strict warning to the seller in order to improve its service. Provided that, Daraz receives multiple complaints from the customer against a seller and if the performance rating of the seller is not up to the required standard, Daraz removes the products of the seller and blacklists the seller from the platform of Daraz. In addition, we have a seller education program whereby we provide regular training and development guidance regularly to improve their quality and standard of service.
The e-commerce business in Bangladesh is going through a climacteric time due to various reasons. What are the Daraz-Efforts in this regard?
Daraz was acquired by Alibaba with a long-term business plan to establish a sustainable business model along with giving special attention to customer satisfaction. Even before the issuance of the SOP, Daraz developed its own internal policies to ensure the best interest of the customers, seller, and other relevant parties.
In addition, we have an efficient issue resolution team dedicated to resolving customer complaints to give them an incredible experience in online shopping, which in turn enriched customers' experience and assisted us in resolving customer complaints swiftly. This, in turn, established Daraz as a reliable e-commerce organization, and that is why the present critical time has no major impact on Daraz.
What do you think of the attitude of those who shop online in Bangladesh?
A customer who is shopping online for the first time normally shows an impatient and insecure attitude as it takes time for an online shop to build that relationship of trust and faith with the customer. However, once a customer understands the process of purchasing online and regularly receives good service, then the customer becomes more patient and cooperative.
Mr. Rusho, we are attentive to know the new initiatives of Daraz.
Honorable Prime Minister Sheikh Hasina has the goal to form a Digital Bangladesh, and Daraz has been playing a vital role in the implementation to make it a reality by operating an e-commerce platform. We are working on establishing 'wi-fi zone' with access to handsets/tabs around 130 villages for those who do not have mobile phones but want to purchase from an online platform. We intend to expand it to 5000 villages in the coming years aligning with the Government's vision "Amar Gram Amar Shohor".
At present, we have our hub offices in all 64 districts, and our target is to reach every corner of the country. This year we have launched the "Live Product Video" feature for the customers where the seller will describe their products on live to give them more real-time shopping experience. We want to introduce modern technologies and facilities, such as wallet, automated sorting, and packaging, to work towards ensuring excellent customers experience and cashless society and to contribute towards the Government's vision of Digital Bangladesh.
We would like to know from you what the limitations are to the e-commerce business in Bangladesh at present.
First, as e-commerce is a new phenomenon in the trade industry, the sellers and also the customers are still not aware of the process or mode of completing a transaction between the seller and the customer. The sellers are not always substantially trained to provide adequate service. In addition, at times, customers do not actively inspect the description of the products before ordering which results in the customer receiving unsatisfactory products.
Moreover, there is a substantial conceptual gap between the e-commerce industry and the policymakers. This causes unnecessary scrutiny of the new and evolving product lines that e-commerce can offers. However, this can be remedied by maintaining regular dialogue between the policymakers and the e-commerce platform providers. Finally, certain sectors of the industry still require specific laws and regulations. It is necessary to have a set of laws specifically for the e-commerce industry, which will aid to the growth of the business.
What do you expect the e-commerce business to be like in Bangladesh in the next five (5) years?
E-commerce has been trendy in the business scene all over the world for quite some time now, and Bangladesh has been no exception. The trend has been gaining more momentum due to the pandemic bringing physical markets to a halt for a long time. There would be mostly cashless transactions, and e-commerce would be the shoppers' first choice.
Over the coming years, a lot of big things are expected to change in e-commerce. Emerging markets like Bangladesh, India, Brazil, Russia, South Africa are projected to play a massive role in the future of e-commerce. As of August 2021, we have around 113 million internet users in Bangladesh, which means we have an increase in a potential number of customer base. The e-commerce industry has been the 3rd highest foreign-funded sector, and it is forecasted to hit $5 billion by 2025 provided there is a stable internet connection and an easy online payment system.
One of the key growing elements of online business is e-commerce automation which brings a better customer experience. This covers marketing automation to warehousing and beyond. At the present stage, every department or business unit has an element that can be automated to an extent. For instance, supply chain management can benefit from automation software that can schedule inventory alerts for reordering when stock gets low.
Fulfillment of orders is the major part of e-commerce, and for this, across the world, fulfillment centers are getting smarter and more automated. These fulfillment networks are set up to ensure the business are making fast shipping, and they have access to real-time data and also gives visibility to customer from checkout to delivery at doorsteps. In addition to automation, we can leverage the e-commerce platform to bring more revenue for the country by introducing cross-border business that allows the local sellers to display and sell traditional products to foreign buyers. The e-commerce platform must adapt to the global e-commerce trend by breaking geographical barriers to enable local customers to purchase authentic foreign goods from foreign sellers at an affordable price and in a very convenient manner.
Our government and the policymakers are extraordinarily visionary, and they are working relentlessly in improving each and every component of the e-commerce industry to make it a great economic contributor for the country and also to enhance the standard of operations of e-commerce to the international level. Bangladesh is actually on the brink of a digital explosion, and e-commerce is going to lead the way forward.
You are a talented young leader of the new generation. How do you keep your team members keen and motivated?
I hate to micro-manage, and I am a firm believer in empowering the team members so that they can use their full potential when a task is assigned to them. They dive in with full energy to the work, and in turn, they own the work they do. I am very keen to coach my team members and clear roadblocks that hamper day-to-day deliverables. There should always be room to grow through mutual feedback, which I believe creates a healthy mentor-mentee relationship.
A healthy, clean, and pleasant work environment is ensured since they spend almost the majority of their daily time at work. It is important to foster collaboration within the team and to do that, and I ask a lot of questions. I encourage them to challenge any decision, listen to their answers, and, whenever possible, implement their solutions. When required, I provide team members with the training that they need to advance in their careers and to become knowledgeable about the latest technologies and industry news.
In this way, the members of my team will be more valuable to my organization and to themselves when they have opportunities to learn new skills, and this will booster their motivation as well. Lastly, I promote happiness at work, in life, and everywhere. I never criticize failure in my team, and when a member of my team makes honest mistakes, I encourage them to try again. I tell my team to embrace each and every failure with a very happy face and not to focus on the failure rather encourage them to focus on the root cause of such a failure so that we can work together as a team on implementing a turnaround plan. My main message to the team is, "team members are as important as family members, so we work like family".
How do you enjoy your position as Chief Corporate Affairs Officer in Daraz?
Prior to joining Daraz as Chief Corporate Affairs Officer, I had more than a decade of career in the Telecommunications sector, which is a very established industry, and to switch from my very own comfort zone to a completely different sector which is the e-commerce industry was an informed choice filled with excitement, fear, and unforeseen challenges.
I started working with Daraz in June 2021, and this happened to be the most critical time for the e-commerce industry as the whole industry was going through some revolutionary changes. My position demands to have very good negations skills, persuasion tactics, strategical ideas, awareness of local and foreign relevant markets, and all of these I brought with myself to Daraz and utilized to the maximum level to lessen the business operating hindrance. My job is to support the business by nurturing and maintaining both internal and external stakeholders, which I enjoy the most, and e-commerce has actually given me a much wider scope to expand and enhance my portfolio of work.
Every day is a new beginning filled with challenges beyond my expectations and imagination, and for this, I never get tired or bored for a single day. Daraz, alongside its traditional e-commerce, operates the second-largest online food platform, "HungryNaki" which it acquired from HungryNaki.Com Limited at the beginning of this year. It also operates an online pharmacy under the brand name "dPharma", grocery line "dMart" and many more and, as such, expanding its footprints into diversified business. Since my position demands to ensure compliance, promoting goodwill and reputation of the company alongside with stakeholder's management, I find this job to be more rewarding and fulfilling to the goal that I set for myself as a corporate leader.
You are an idol now; say something to the youth amid the world.
To inspire the youth, I will quote the words of the world's most inspirational leader Jack Ma – "Before you're 30, work for a small company, learn passion, learn to dream".
This is what I believed and followed when I started my career in the corporate sector, and I never afraid of "Dreaming Big"!