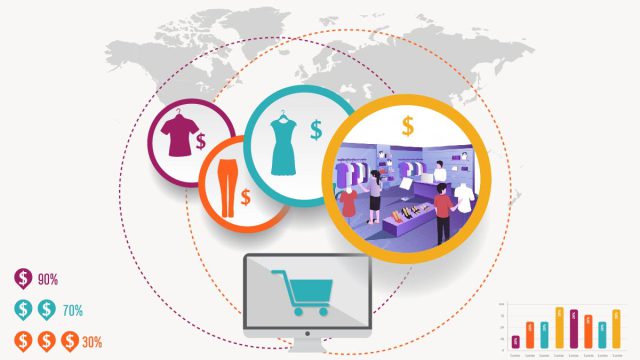 The global apparel market is a dynamic industry that spans a wide range of clothing styles, from casual sportswear to high-end luxury pieces. After grappling with the challenges of the COVID-19 pandemic, the market rebounded in 2021, only to face new obstacles due to high inflation in 2022. Rising production costs and dwindling consumer confidence have created a complex landscape for the global apparel industry. This article delves into key statistics and facts about the global apparel market, highlighting market segments, leading companies, and future projections.
Market Performance and Revenue
In 2022, the revenue of the global apparel market reached approximately $1.53 trillion USD, experiencing a slight decline from the previous year. However, industry experts forecast a resurgence in 2023, with revenue expected to surpass $1.7 trillion USD. Notably, two powerhouse nations, the United States and China, stand at the forefront of apparel demand, outpacing other countries by a significant margin. This commanding presence is mirrored in international trade, as China secured its position as the leading exporter of apparel in 2021, while the U.S. closely trailed the European Union in terms of apparel imports.
Segment Insights
Within the market's diverse landscape, women's apparel emerges as a dominant segment, generating considerably higher revenue compared to men's and children's apparel. The United States exemplifies this trend, with women's apparel contributing an impressive $163 billion USD to the nation's revenue, surpassing the combined revenue of men's and children's segments.
The apparel industry boasts numerous subdivisions, many of which interconnect. A notable example is the thriving second-hand apparel sector, predicted to expand as consumers seek more eco-conscious clothing options. Simultaneously, the luxury market stands as a pivotal player, projected to double in size between 2022 and 2028, reflecting an increasing appetite for premium fashion experiences.
Leading Industry Players
The global apparel market is primarily governed by major players that wield significant influence. A standout name in this landscape is Nike, consistently securing top positions in key financial metrics. Nike's brand value reached a remarkable $110 billion USD in 2022, cementing its status as a leading mass apparel brand. Another prominent contender is Moët Hennessy Louis Vuitton (LVMH), known for its consistent high ranking within the industry. By September 2022, LVMH boasted a market capitalization of $317 billion USD, underscoring its formidable presence.
Additionally, OVS has distinguished itself by ranking among the most transparent fashion companies. A 2022 study evaluated companies' transparency in disclosing supplier information, supply chain policies, and social and environmental impacts. This study underscores the industry's need for greater ethical transparency, as several major companies are still on a journey toward more ethical operations.
The Future Landscape
The global apparel market remains a dynamic and ever-evolving industry, influenced by diverse factors such as consumer preferences, economic fluctuations, and sustainability concerns. As the market continues to recover from the disruptions of the pandemic, industry players are navigating the challenges of inflation and fluctuating consumer confidence. The projected growth in the luxury and second-hand segments reflects changing consumer attitudes and evolving market dynamics.
In conclusion, the global apparel market showcases its resilience through periods of uncertainty, adapting to shifts in consumer behavior and economic conditions. As the industry charts its course into the future, collaboration among major companies, ethical transparency, and responsiveness to evolving trends will likely shape its trajectory.
Here are some links for our readers with valuable perspectives from reputable sources that support and expand on the ideas discussed in this article. Explore and enrich yourself.
Read more write-ups of this author: Click Here
About The Author:
Mirza Rakib Hasan Shovon
Managing Director and CEO
Aristo Tex International
Technet Corporation
ANYVAS
Director
Research & Development
International Corporate Association of Professionals (InCAP)