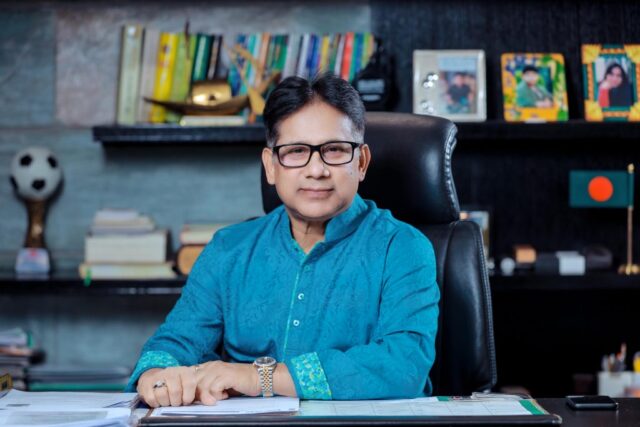 Abdus Salam Murshedy
Member of Parliament
Managing Director of Envoy Group
The InCAP: Mr. Murshedy, you handed over 20 takas to your mother in 1973, which you earned by playing football – we want to know how you were feeling at that time!
Abdus Salam Murshedy: My father was a teacher, and I was the youngest amongst 6 children. It was a measured life, and everything was pretty calculative. In the initial stages of me playing football in the area-based matches, in Khulna, I got paid tk. 20 only. It was my first earning and was huge for me at that time. I handed that over to my mother it was an extremely emotional moment in my life which I shall cherish for the rest of my existence.
Envoy Group, which started in 1984, now represents 40 business enterprises. So how did this magic happen?
I had a wonderful team working with me. Since 1984 when we started, the journey allowed me to meet and work with many wonderful souls that greatly contributed to this growth. Our combined relentless efforts, dedication, strong determination, and leadership played a vital role in our success. Our dream to grow more inspired us, and we left none of the opportunities we are learning for.
What's your plan for your beloved motherland Bangladesh?
I believe that at this point in time, Bangladesh is a successful role model for developing nations, a model for nations showcasing immense potential. I attribute the full credit of this to none other than our Honorable Prime Minister Sheikh Hasina's visionary leadership. As an entrepreneur and an organizer, I have always ensured to brand Bangladesh in the best way possible to the world, now is my chapter as a member of parliament where I intend to do more for my country's people in a more intrinsic manner.
I am greatly dedicated to Football development, as the Senior Vice President of BFF, so that Bangladesh football regains the same glory of its days back in the 1980s, within Asia initially. As an entrepreneur, I see our PM's futuristic visions as the goals we all need to pursue, i.e., the 2041 vision.
An honest and most dedicated leader, and the best head of state, since 1975 onwards, who contributed the most in the reversal of BD from a bottomless basket to an icon of a developing nation, I salute HPM Sheikh Hasina for allowing us the opportunity to showcase Bangladesh so successfully on the world platform. As an MP, I am a public property – the opportunity that I have as MP, I and my wife are working together to ensure that we live up to the expectation of the people in my constituency – I get ample peace in working for the people.
How do you explain your life so far? What is your life philosophy?
I am a workaholic, and anyone knowing Salam Murshedy will know that too. Any industry starting and growing is easier but hard to retain the same success and standards at all times. When I started work, there was immense risk, but the standard I have set now, to maintain that, it takes continued effort. I still work a minimum of 12 hours each day. Hard work has no alternative, and I always believed this.