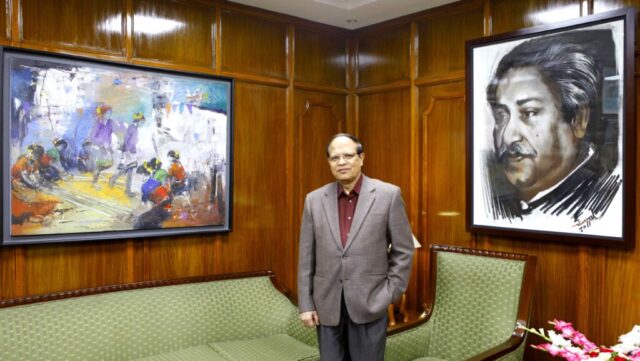 Bangladesh Moves on As A Developing Country
The golden jubilee celebration of the independence of Bangladesh was made even more colorful by the recent news of its graduation to a developing country. The Committee for Development Policy(CDP) of the United Nations gave their final recommendation for the graduation of Bangladesh from the category of Least Developed Countries (LDCs) to that of Developing Countries on February 26 after a five-day evaluation meeting focused on the three indicators of per capita income, human asset, and economic vulnerabilities.
Bangladesh passed in all the three indicators. This was one of the best gifts to the people and leadership of Bangladesh in this difficult time of COVID-19.
This was the second evaluation meeting of the CDP. Bangladesh got the first round of positive recommendations for graduation in 2018, fulfilling all the three criteria. The country got the final nod after fulfilling all the three criteria for two consecutive evaluations. This is an unprecedented achievement indeed. No other country graduated with such flying colors.
Bangladesh will get another five years for preparing itself to park itself formally into the new category of nations. Once in this new category, Bangladesh may have to forego some of the advantages it was getting as an LDC, such as concessional rate of interest from international financial institutions, tariff-free entry of its exports, free access to technology and raw materials for its pharmaceutical companies, grants for both government and non-government organizations, etc.
However, European Union will continue to give tariff-free entry of our exports for another three years and similar facilities for our pharmaceutical products up to 2033.
Despite these challenges, this final recommendation from the UN came at a moment when we are celebrating the birth centenary of our Father of the Nation and as well as the Golden Jubilee of our independence. Nothing could be better than this welcoming news for Bangladesh. This is certainly going to add value to the nation as our image as a stronger nation out if the woods of vulnerabilities will help us enhance our sovereign credit rating.
The cost of private borrowing from foreign sources will go down due to reduced risk factors. The flow of Foreign Direct Investment (FDI) will accelerate in the post-graduation of Bangladesh. The companies who are planning to come out of China and looking for a safer destination with fewer vulnerabilities will park their capital in Bangladesh, which is putting in huge investment in desired infrastructural development and as well as easing of business processes.
It may be noted that Bangabandhu started its journey of inclusive development literally from ashes with negative economic growth. His government was overwhelmed with acute poverty, hunger, natural disasters, often experiencing famines and, of course, hostile, volatile geopolitical externalities.
Defying all these odds, Bangabandhu moved on to rehabilitate and reconstruct a war-ravaged economy with his farsighted balanced, and inclusive policies for planned development. He was always for many and not a few. He was also in favor of an exploitation-free society where the owes of farmers, laborers, and the deprived will be eliminated. Mind it; he was dreaming of a prosperous Golden Bangladesh when the size of the economy was only eight billion dollars in 1972. The savings to GDP ratio was only 3 percent. The investment to GDP ratio was 9 percent. There was not a dollar in our foreign exchange reserve. There was not even a central bank. We had to start everything from scratch.
Braving these challenges, his initiatives for inclusive development were indeed exemplary and subsequently very rewarding. After the initial reconstruction of war-torn infrastructures and establishing regulatory institutions, he went for framing the constitution where opportunities for all were pledged as the fundamental principle of the state. The developmental pledges were aptly reflected in the constitution focusing on free and mandatory education, healthcare, nutrition, and empowerment of women.
Rural development, agricultural revolution, workers' emancipation, right to employment, and citizens' basic needs were pledged as well in this constitution. Agriculture and industry received equal policy attention from Bangabandhu. Indeed, he walked on both legs. Though the country initially opted for state-led industrialization in the absence of private entrepreneurs to manage the industrial units left by the Pakistani owners, Bangabandhu created enough policy space for the development of the private sector, including raising of the investment ceiling for it. He also prioritized education by initiating the Kudrat-e-Khuda education commission to make a broad-based transformation of the human resources by skilling and re-skilling of the workforce. He also instilled moral values in the educational system so that the students learn to respect the farmers and workers who are engaged in physical labor. He wanted to have more golden people to build golden Bangladesh.
The economy started moving faster under Bangabandhu's farsighted leadership, as reflected in the quantum jump of the per capita income. It was 93 US dollars in 1972, which went up to 273 USD in 1975. He took all the measures to have a bumper Aman cultivation that he could not see for himself due to his family members' sudden killing on August 15, 1975. With his sudden departure, the country got derailed from the inclusive development journey, and it took nearly 21 years for his surviving daughter Sheikh Hasina to start the new phase of pro-people socio-economic transformational development journey again.
PM Sheikh Hasina started it well in 1996, but the journey was halted in 2001. After a lot of conspiracies, bloodshed, and struggle, she came back to run the country again in 2009 with her well-articulated campaign for making Bangladesh digital. Since then, Bangladesh is making steady progress in terms of both enhanced growth rate and poverty reduction. The per capita income increased seven times to 2000 USD during the last twelve years or so. And seventy-three percent of this increase occurred during this period. During her current phase of running the country, the average growth rate remained above seven percent except in the last fiscal year for the outbreak of COVID-19. This figure was around five percent in the previous two decades.
The export grew by 98 times during the five decades to nearly 40 billion USD. Two-third of this increase took place in the past twelve years. The remittances more than doubled during this period. The fertility rate came down to 2.1 per eligible couple from six during five decades. The life expectancy went up to 73 years from 47 years during the last fifty years. Both child and maternal mortality declined drastically and nearly halved during the last twelve years. The women empowerment index has significantly increased, and more women are seen in top administrative positions and other spheres of life in Bangladesh. While the female students are increasing significantly at all levels of education, the participation of women in formal employment, including that in the manufacturing sector, has gone up to 36 percent. The main driver of Bangladesh's economy, i.e., the RMG sector, is primarily run by the women workforce. Many women entrepreneurs have been promoted by the central bank and commercial banks besides the supportive role of microfinance institutions and SME Foundation.
The macroeconomic stability has been stunning. Besides the steady rise in remittances and foreign exchange reserves, inflation has remained within the control (5-6 percent). The food production index has surpassed China, Vietnam, and India. The country has witnessed massive digitization of finance with flourishing e-commerce, f-commerce, outsourcing, and mobile financial services. The informal women entrepreneurs have particularly benefited from this wider digital commerce and finance.
Improved education and healthcare have helped develop the human asset and as well as promoted steady improvement in social development indices. The high growth and inclusivity, self-reliance and collaboration, respect for culture, and openness to innovation are some of the hallmarks of the transformative development journey of Bangladesh.
The strong macroeconomic base has been helping in coping with the ongoing pandemic, and Bangladesh has been rightly placed in the group of top twenty countries in terms of the Bloomberg Resilience Index. The business environment has been enhancing gradually, and the speed at which mega infrastructural projects like Padma Bridge, Metro Rail, Rooppur Nuclear Power Plant, Bangabandhu Industrial Park, and other special economic zones plus high tech parks are being implemented even during this period of the pandemic, Bangladesh is sure to make a mark in the mapping of the successful countries in covid recovery.
Braving all the challenges, Bangladesh has come such a long way during the last fifty years, and it is expected that it will continue to move on in the coming years as well. Many opportunities are waiting for us in the post-covid period as well. To seize these opportunities, we ought to invest in people so that we can protect and improve gains we have made in education, health, and social protection to prevent sharp rises in inequalities. Also, we must make greater use of e-governance to ensure efficiency, transparency, and accountability. The current focus on e-learning for efficient development of human resources must continue for building better in the post-covid phase of development. Finally, green growth should be our ultimate objective so that we can have a 'cleaner, greener and safer world' as recently emphasized by our Prime Minister. For that matter, we must prioritize our both public and private resources for low-carbon and climate-resilient growth.
The author is Bangabandhu Chair Professor, Dhaka University
and
Former Governor, Bangladesh Bank.