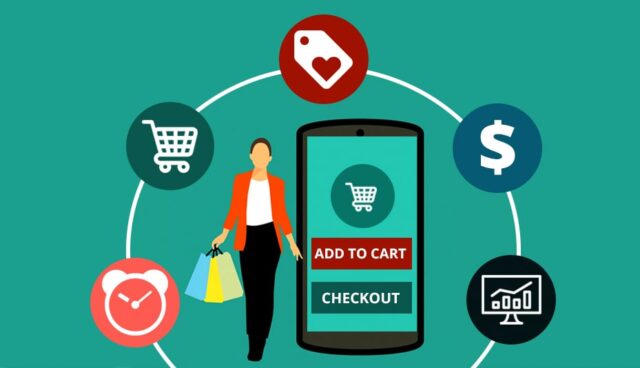 E-commerce websites fuel the advertisement arena for their respective companies. With the introduction of modern methods of marketing, the idea of e-commerce websites has breached the notion of "Commercialization of the internet" and it will not stop.
Shortcuts are there but the extent to which the application of a website amicably enforces business terminologies is slowly gathering pace. The real enforces are the creator of the website, where the agenda takes precedence over everything else.
The way we make up an e-commerce website is the very way we sell or market a product for sale and the measures taken are effective in their efficacy if not in their grass root meaning .
E-commerce in this age has become a lifeline if not the only one in conducting a transaction which is usually a business or a simple delivery or collection of delivery via various sources. Some call them the vendors or others generalize them as the middle man but the effectiveness of the business remains soundproof and intact and with each day the Proof of intactness is gaining the popular vote.
Therefore we must at first understand two things: The importance of e-commerce and how its reflection upon society and its reverence through reception has made this a hot topic of discussion. Here is the list of the top 20 e-commerce websites as of the year 2021:
20. Pinduoduo Inc: It is the largest agriculture-based technology platform in China, serving 731 million active buyers in China. It has created a platform that connects farmers and distributors with the consumers through its interactive shopping experience. In 2019, nearly six hundred thousand merchants sold farming produce through Pinduoduo. In the last year,
Pinduoduo has generated over RMB 1.45 trillion gross merchandise revenue (GMV) with 731.3 monthly buyers and 643.4 active monthly users back in the third quarter of 2020. This company and website have an agriculture-based logistics system that results in fresher food.
19. Americanas.com.br: It is a Brazilian website that sells products ranging from electronic goods to household items to luxury goods. The company had 50 percent of all online retail sales in Brazil. The company resulted as a merger between Americanas.com and Submarino.com.
18. Le Bon Coin: It is a website of small ads based in France. Its economic model is free service for individuals and the connection between local supply and demand. The operating company bears the name LBC France. In 2010, the Norwegian conglomerate Schibsted became the sole owner of the ad site.
They had 13.7 million visitors in 2011 and an annual turnover of over 40 million euros back at that time. Now as of December 31st, 2019 (Latest figures) turnover is 232502200 euros and as of December 31st net profit of 64098400 euros.
17. Wildberries: It is the largest Russian online retailer. It was founded by Tatyana Bakalchuk in 2004 at the age of 24 with her husband while on maternity leave from teaching and the premise was that how difficult it could get sometimes to buy simple things like clothing.
Together with her husband, being an IT technician, helped her open the business and the website. Most importantly the company reined in success in the aftermath of the 2008 financial crisis as foreign companies offload their inventory at a steep discount. Wildberries pulled in 1.9 billion dollars in sales and attracted 2 million visitors daily back in 2018.
16. Tmall.com: Tmall is an open business-to-consumer platform enabling businesses worldwide to reach China's vast and growing consumer market. Tmall has established itself as the destination for quality, brand-name, goods catering to increasingly sophisticated Chinese consumers and is the most visited business-to-consumer online retail seller in China.
15. JD.com: Is China's largest online retailer and its biggest overall retailer, as well as the country's biggest Internet company by revenue. It relies upon its commitment to quality, authenticity and a vast array of offers including fresh food and apparel to electronics and cosmetics. Their service covers 99 percent of the Chinese population and has the knack of providing standard same and next-day-delivery to all their clients.
14. Allegro (Website): This is a Polish website designated towards selling items and 70 million items are sold through this platform monthly. In 2017 they reported having more than 16 million users and over 20 million accounts. QXL Ricardo plc owned this and changed its name to Tradus plc in 2007 and was acquired by Naspers in 2008. In October 2016, Naspers sold the website to Cinven, Permira and mid Europa partners.
13. Avito.ru: It is a Russian classified advertisement website with sections devoted to general goods for sale, jobs, real estate, personals, cars for sale and services. As of January 2019, it had more than 10.3 daily unique visitors. They post more than five hundred thousand ads daily and the total listing amounts to 60 million active listings.
Forbes Russia estimates it to be a 2.4 billion dollar industry.
12. MercadoLibre: Mercado Libre.Inc is an Argentine company incorporated in the United States that operate online market places dedicated to e-commerce and online auctions. It has 174.2 million users in Latin America.
Founder and CEO Marcos Galperin, while attending Stanford University. He got funding from John Muse, co-founder of HM Capital Partners. Additional funding was received from JPMORGAN partners, Flatiron Partners, Goldman Sachs, GE Capital and Banco Santander Central Hispano. Back in September 2001, eBay purchased a 19.5 percent stake in the company and by 2017 eBay opened its first MercadoLibre store in Chile.
11. Etsy: This is an American e-commerce website focused on handmade or vintage items and craft supplies. Some of it include jewelry, bags, clothing, home décor and furniture, toys, art, and as well as craft supplies and tools. The site follows open craft fairs giving the consumer a personal storefront where they can list items up to 0.20 dollars per item.
Etsy has 60 million items in the marketplace and connected 2.1 suppliers with 39.4 million buyers. In 2018 it had a GMS (Gross Merchandise Sales) of 3.93 billion us dollars. It does earn this in three ways: market revenue of 5 percent of final sale value plus 20 cents per item along with payment processors and third-party payment processors.
10. Craiglist Inc: It is an American classified advertisements website with sections devoted to jobs, housing, for sale items, items wanted, community service, gigs, resumes and discussion forums. The company began in 1995 as an email distribution list to friends, featuring local places of the San Francisco bay area. Now they expand all over the world, catering to 700 cities in over 70 countries and is a modern-day phenomenon.
9. Best Buy: This is an American multinational consumer electronics retailer headquartered in Richfield, Minnesota. It was founded by Richard M.Schulze and James wheeler in 1966 and 1983 it was renamed under its current name and has since placed importance in consumer electronics.
It has the latest electronics and is a reliable electronic store. They also give installation and repair on products such as that by DELL, Samsung, Sony, HP, LG and much more.
8. Overstock: The website provides an array of products ranging from bedding, clothes, furniture, jewelry, cars and grommets. They also provide saving and lifestyle-based applications through which we learn and discover ways to save money but also enjoy our savings.
7. NewEgg: It is an American online retailer and its products include computer hardware and consumer electronics. It is based in the city of industry, California. The company was found by Fred Chang, a Taiwanese immigrant in the USA in 2001.
The website offers software for video, educational software, audio, educational software, antiviruses, programming and web development. Newegg has over 3 million products and is a hub for tech junkies and online shoppers.
6. Alibaba: Specializing in many branches of the economy but mainly in e-commerce this company had the largest IPO in the world giving it a market value of 231 billion US dollars. It is the world's largest e-commerce company by large.
The company hosts alibaba.com, Tabao and Tamil market places of the world. Alibaba was found by Jack Ma and 17 of his friends in their Hangzhou apartment back in 1999 and received a 25 million dollar investment from Goldman Sachs and SoftBank. It was initially there for SME's but the company's main aim remains the WTO (World Trade Organization) challenges.
5. Target Corporation: It is an American retail corporation. It is the eighth largest retailer in the United States and is a component of the S&P 500 index. It all began as the Dayton's company of Minneapolis and expanded nationwide and then became a part of the target brand in the 1990s.
The company has found success as a chip-chic player in the industry. The parent company was finally named Target Corporation in 2000 and by 2004 divested its remaining departmental stores. Some of their stores include discount target store target, the hypermarket super target and City target and Target express.
4. eBay: Is American multi-national e-commerce based in SAN JOSE, California. It was founded by Pierre Omidyar in 1995 and since then has become a hub for buying and selling goods, products and devices including online auctions also. They have businesses in about 32 countries around the globe. They maintain business-to-business and customer-to-business sales through their website facilities.
3. Walmart: It is mainly popular in the United States of America and provides home appliances, toys, accessories, sports, gifts, crafts groceries. Walmart provides their customers discount coupons, shipping, and interesting discounts on holidays and specials eves and occasions.
2. Amazon.com: It is a multinational company built in Seattle, Washington, and has a huge e-commerce market around the globe. It is the world's most valued brand and also called "one of the most influential economic and cultural forces in the world". Moreover, it is one of the big five of America's information technology industry along with Google, Apple, Microsoft and Facebook.
It was founded in 2004 by Jeff Bezos and initially was a retailer for books expanding into software, video games, apparel, furniture, food, toys and jewelry. Amazon prime surpassed 100 million subscribers worldwide and by market capitalization, it's the most profitable online retailer second to none.
Amazon is the largest e-commerce website by the measure of scope and breadth and directly employs millions of people making them the second-largest private employer in the United States of America. One other important last point to note is the Amazon web services provide APIs to individuals to governments to have in hand an online cluster of computers available at our very disposals.
1. Shopify Inc: This is an e-commerce company based in Canada and headquartered in Ottawa, Ontario. It is also the name of the proprietary e-commerce platforms for online and retail point-of-sale systems. Payments, marketing, shipping and customer engagement tools are the very few activities carried out by the website of this company.
This company has over 1 million businesses run in over 175 countries and 3.6 million stores run on Shopify. The gross merchandise value for this website indicates that the total sale or monetary value for merchandise sold through a particular marketplace over a certain time frame exceeded 61 billion us dollars as of the calendar year of 2019.
Shopify was founded by programmer Tobias Lütke and Scott Lake in 2004 as an online snowboarding equipment distributor but due to the lack of initial success Tobias Lütke used open-end web application ruby on rails to build snow devils online store and in 2006 it was named Shopify. Their company is listed both on the NYSE and Toronto stock exchange.