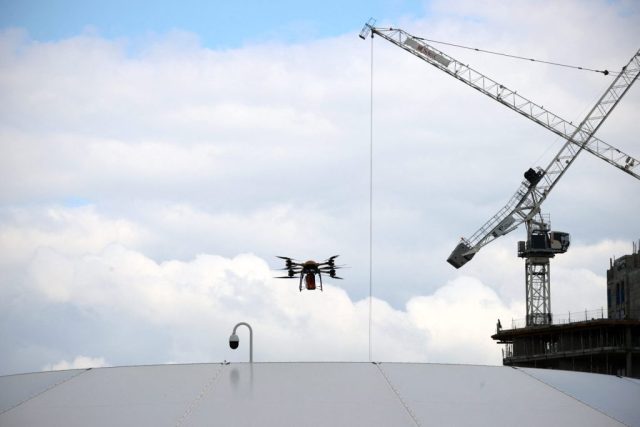 A pop-up urban port for delivery drones and, one day, flying taxis debuted in the United Kingdom, lifting a box of prosecco for a brief celebratory test flight that was hailed as groundbreaking. Proponents hailed Air-One as the first of its type, ushering in a new age of low-emission futuristic air transportation. Air-One is a so-called "vertiport" for drones and future electric vehicles taking off and landing vertically. The article is about UK Hosts World's First Hub For Drones.
The property will be used for a month-long demonstration of the expanding sector in Coventry, a former car manufacturing powerhouse in central England. The six-bottle crate of sparkling wine, weighing roughly 12 kilos, was symbolically lifted from the launch pad during the initial flight. According to Ricky Sandhu, founder and executive chairman of Urban-Air Port, the British firm behind the vertiport venture, the commercial drone used Malloy Aeronautics' T150, on loan from its day job doing logistics for the British military is the largest ever to fly in such an urban environment.
"You're standing at the world's first fully functioning vertiport," he told the crowd of hundreds, which included the start-25 up's employees and government sponsors. "This is a fledgling industry, but it's now starting to take some real speed," Sandhu added. "We're all used to change, but we always underestimate the rate of change, and things are changing fast." Urban-Air Port has spent the last year planning for its Coventry display, where it will demonstrate ground infrastructure for autonomous delivery drones and air taxis expected later this decade.
The Air-One facility near the city's train station intends to demonstrate how an integrated hub for the devices can work in a congested urban context and how it can act as a mini-airport for future vertical lift-off travel. Similar demonstrations are planned at the additional UK and global places in the following months, with a goal of more than 200 such locations globally. They're made to be quickly erected and disassembled, and they employ on-site hydrogen fuel cells for "zero-emission generation," according to the business. The firm claims to have received orders totaling £65 million, with projects in the United States, Australia, France, Germany, Scandinavia, and Southeast Asia.
To explore more articles, Please Click Here!