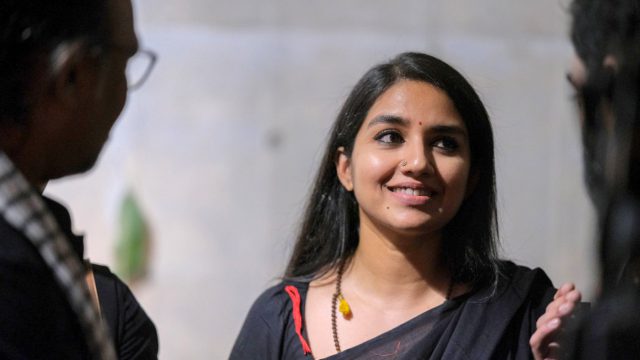 In the bustling world of entrepreneurship, where profits often take precedence, there shines a beacon of purpose-driven creativity. Faiza Ahmed, a multi-faceted luminary, stands as an artist, fashion activist, and vegan chef. Her journey is one that transcends the ordinary, where entrepreneurship is not just about making money but is driven by a deeper philosophy.
The Gift of Inspiration:
Rubaba Dowla, Country Managing Director at Oracle for Bangladesh, Nepal, and Bhutan, discovered Faiza Ahmed's work through a unique gift – an exquisite white cotton shari. Upon closer inspection, Rubaba found that the entire garment was adorned with an excerpt from a poem by Rabindranath Tagore, presented like calligraphy.
The concept intrigued Rubaba, and this fascination led her to Atma Bala, Faiza Ahmed's first stand-alone fashion show in Dhaka. It was here that she found herself not just captivated by the unique sharis and dresses but also by the profound philosophy underpinning Faiza's work.
Faiza's commitment to a lifestyle that harmonizes with the world's relentless tempo, and her devotion to people, culture, and the environment, left an indelible mark on Rubaba and all those present.
A Higher Purpose in Every Facet:
Architect Mustafa Khalid, founder of Dhaka Gallery, shared a similar sentiment at Atma Bala. He praised every facet of Faiza's work as a testament to a higher purpose. Mustafa highlighted the minimalism woven into every aspect of the event, from the music to the food to the colors and lighting. He noted, "What sets Faiza apart is her incorporation of this philosophy into every aspect of her life."
One such facet is Faiza's culinary endeavor, Shanchayita – a vegan kitchen where "compassionate flavors dance harmoniously with philanthropy." Mustafa Khalid pointed out that Faiza extends the boundaries of her philosophy, striving to cultivate a consciousness of veganism while allowing people to indulge in delectable experiences.
The Quest for Authenticity:
In a recent interview, Faiza stated, "I connect with the right people through my philosophical standing for a sustainable lifestyle, and not being in a market-driven race. Most people follow the mass trend, yes. But they still have the subconscious urge to lead a more authentic life."
Faiza's philosophy centers on sustainability and resilience. Her creative journey began in 2013 with the establishment of Manas, a fashion brand that pays homage to craftsmanship and cultural fusion.
Her art and designs focus on sustainability and celebrate the intimate aspects of womanhood. She emphasizes contributing to society for a meaningful cause rather than seeking fame. From the inception of Manas to the present day, Faiza has remained steadfast in her ethos, refusing to work with imported fabrics due to their environmental toll.
She expressed, "I am aware of how fashion is prone to carbon emission and what kind of devastating impact it can have on the climate. These are the things I always keep in mind while designing clothes."
Faiza's commitment to ethical practices extends to collaborating with NGOs that promote local artisans, ensuring a holistic approach to her endeavors.
Cultural Roots and Entrepreneurial Awakening:
Faiza's journey to entrepreneurship was shaped by her deep-rooted love for culture. A Fine Arts student at Dhaka University, she began her career as a product designer for a European Union project in 2003, eventually transitioning to interior design.
Her inspiration to found Manas came from a realization that many young people were disconnecting from their cultural roots. She wanted to bridge the gap between Western and local cultures, combining her love for literature and nature in her work.
Manas, her fashion brand, embodied this desire. It started with a modest collection of sharis crafted for her own wardrobe, but it truly took off when she wore a hand-loomed cotton shari inscribed with lyrics from Guns N' Roses to a concert. The response from her friends and onlookers was enchanting.
A Compassionate Journey Towards the Future:
Faiza's philosophy emphasizes the virtue of "slow and steady." She sees her mission as a gradual and purposeful journey that cannot be rushed. She refuses to be part of the rat race of success that involves trampling over others.
Her mission is to nurture relationships with the artisans she collaborates with, ensuring a gentle, meaningful, and inclusive path forward. She cares deeply about those she works with, particularly the artisans, and this slow pace is included in her plan.
Faiza employs a spectrum of eco-friendly techniques, from blocks and hand-print designs to recycled fabrics, khadis, and hand-loomed cotton. While she acknowledges that her work cannot be entirely free of environmental impact, she strives to minimize her carbon footprint and environmental damage.
Reviving Lost Culture Through Manas:
One of the significant inspirations for Faiza's work is the legacy of Bangladesh's Liberation War heroes. She believes that similar to the unity of vision, dreams, and passion that led to victory, if the philosophy of Manas touches people, large-scale change can come about. She envisions a future where hand-loomed sharis and dresses, such as muslin, khadi, and Monipuri clothes, are no longer confined to museums but become part of everyday life.
Faiza's dream is to revive these forgotten elements of Bangladesh's culture and make them integral to our mainstream lifestyle. In her unique journey, she exemplifies that entrepreneurship can be driven by a deeper philosophy, one that seeks to create a positive impact on society and the environment while preserving cultural heritage. Faiza Ahmed's Manas is not just a brand; it's a movement towards a more sustainable, compassionate future.