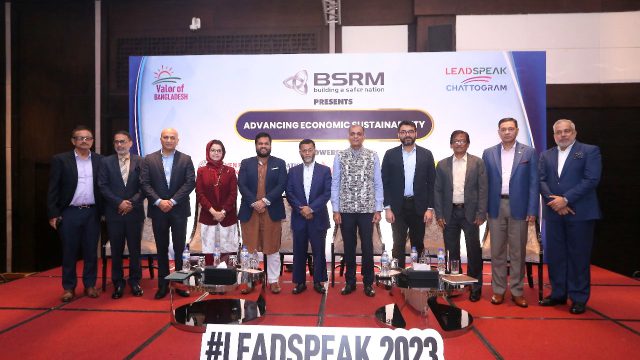 Business leaders today urged for an integrated roadmap to achieve a sustainable economy in Chattogram, known as the commercial capital of the country.
The district currently contributes over $100 billion to the country's economy, accounting for 25% of the total economy, they said, adding that the district has the potential to contribute even more.
They made the remarks at a programme titled 'Lead Speak Chattogram, Advancing Economic Sustainability' held at Radisson BLU, Chattogram Bay View on Monday evening. The event was organised by Valor of Bangladesh, a dialogue platform.
Ameir Alihussain, the managing director of BSRM, a leading steel producer in the country, spoke as a panel discussant at the programme.
He mentioned that several large-scale projects have been implemented to enhance Chattogram's infrastructure. However, he noted that the city has yet to reap the full benefits of this infrastructural development due to a lack of integration and coordination.
He also emphasised the importance of developing auxiliary connectivity within the district to maximize the impact of these projects. Alihussain also proposed an integrated framework and a roadmap for the economic sustainability of Chattogram.
Sayed Mohammad Tanvir, managing director of Pacific Jeans, another panel discussant, highlighted the diversified industries in Chattogram that collectively contribute USD 100 billion to the country's economy, with the RMG sector accounting for USD 12 billion. He noted that the RMG sector in the country originated in this district in the late 1970s. Despite favorable geographical advantages, the sector did not grow as expected in Chattogram and has since shifted to Savar and Gazipur areas near the capital. Tanvir emphasized the need for utilities and policy support to revitalize the growth of the RMG sector in the district.
Jahirul Islam, managing director of PHP Ship Recycling Yard and director of PHP Family, stressed that different industries require distinct frameworks and policy support to thrive. He emphasized that with clear requirements, decision-making becomes more straightforward. He also highlighted the importance of technological transformation in advancing the economic sustainability of Chattogram.
The program, hosted by Najmus Ahmed Albab, executive director of Valor of Bangladesh, and moderated by Suraiya Zannath, lead management financial specialist of the World Bank, also featured insights from Nasir Uddin, managing director of Lanka-Bangla Securities, and Dr Abdullah Al Mamun, a professor of Chattogram University's Management Department.
Keynote presentations were delivered by Meer Sajed-Ul Bashir, Advisor of Maslin Capital Limited, and Raihan Shamsi, Chairman and CEO of Devo Tech, who also serves as Treasurer of Valor of Bangladesh. Anis A Khan, Chairman of Valor of Bangladesh, delivered a welcome message through a video.