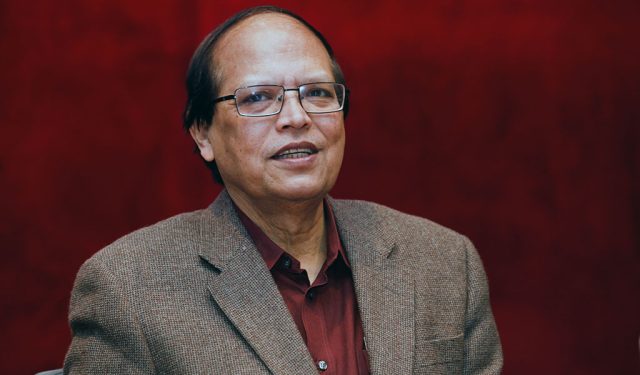 Former Governor of Bangladesh Bank, Dr. Atiur Rahman, has been awarded the Rabindra Award introduced by Bangla Academy. It was announced on December 19. However, the awards will be officially presented on December 24 at the 44th Annual Meeting of the General Assembly of Bangla Academy.
Dr. Atiur Rahman is an honorary Professor of the Department of Development Studies at Dhaka University. He also served earlier as a Professor in this Department. He is now Bangabandhu Chair Professor at the Department of History of the same University. In addition, Professor Atiur Rahman is also the Chair of the Executive Committee of the Center for Advanced Research on Arts and Social Sciences of this University. He is popularly known as the "Poor Peoples' Economist" and a "Green Governor" for his leadership in eco-friendly financing.
Rabindranath Tagore's ideas of socio-economic development have always been important in his research. He is currently the President of the National Rabindra Sangeet Parishad and the Vice President of Chayanat. He has written a total of 65 books and published numerous research papers. His written, edited books include Peasant's and Classes, Socio-Economic Background of Language Movement, People's Liberation War, Sheikh Mujib Another Name of Bangladesh Culture and Economics, and Rabindra's Thoughts – Poverty and Progress.
On the occasion of Mujibarsha, two of his books titled "Nandonik Bangabandhu" and "Bangabandhu's Political Economy" will be published from Bangla Academy. The legend received Best Central Bank Governor Asia and Pacific 2015 (Financial Times), Gucci Peace Prize, Indira Gandhi Gold Memorial, Sheltech Award, and Bangla Academy Literary Award. Atiur Rahman was awarded the Lifetime Achievement Award in 2016 for his research on Rabindranath's socio-economic thought and action.
Dr. Atiur Rahman has been named the winner of the Rabindra Award 2021, Inam Al Haque won the Meher Kabir Science Literature Award 2021, Sirajul Islam won the Sahityik Mohammed Barkatullah Essay Award 2021, Sukumar Barua won the Mazharul Islam Poetry Award 2021, Tasikul Islam Raja won the S'adat Ali Akhand Literature Award 2021 and Saumitra Chakravarty won the Halima-Sarfuddin Science Literature Writer Award 2021. Among other, Prof. Momtazuddin Ahmed Play-wright Award has been introduced this year.