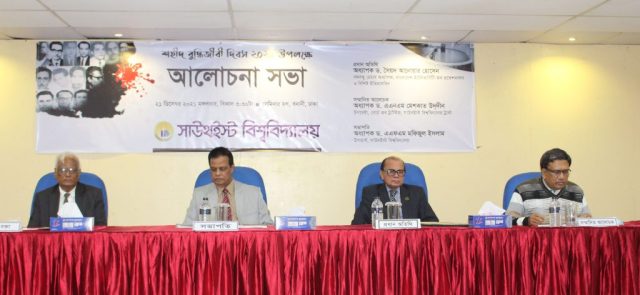 Southeast University (SEU) observed Martyred Intellectuals Day with due solemnity on the campus. Discussion program was held at 3:30pm with Vice Chancellor of SEU, Prof. Dr. AFM Mafizul Islam in the chair on 21 December 2021 while Prof. Dr. ANM Meshquat Uddin, Adviser to BoT, SEU Trust was discussant. Prof. Dr. Syed Anwar Hossain, Bangabandhu Chair Professor, Bangladesh University of Professionals (BUP) & Historian addressed in the program as Chief Guest. He said, Intellectuals guided us during the Liberation War. We will have to put as much history as possible in the textbooks in order to keep the memories of the martyrs alive among the new generations.
Prof. Dr. M. A. Hakim, Dean, School of Arts & Social Sciences, SEU delivered the Welcome Speech. Among others, Members of BoT, Registrar, Deans, Chairmen, Faculty Members, and Officials attended the program. Students also attended the program through FB live platform.
A few days back, on 19th December, Online Freshers' Reception & Orientation Program of the newly admitted students for Fall Semester 2021 of Southeast University (SEU) was held on 19 December 2021. Admission Fee for Spring Semester 2022. Besides, up to 100% scholarship is available in 11
different categories.