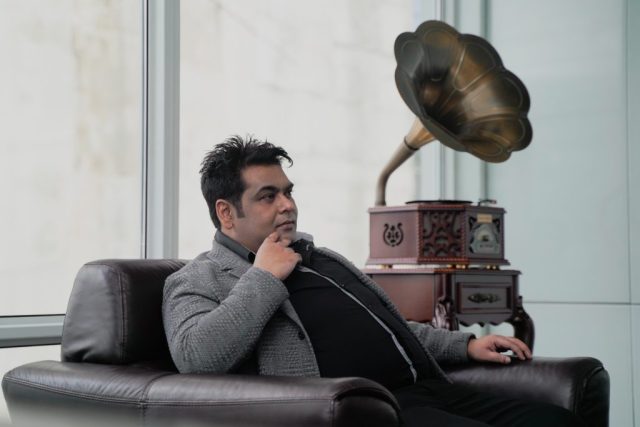 Tanvir A. Mishuk
Founder & Managing Director
Nagad
One of the pillars of Digital Bangladesh's goal is to digitalize the financial industry. It is an area where Nagad has made essential contributions. Nagad, a Bangladeshi digital financial service, provided several features and conveniences to Bangladesh, all of which were the invention of Tanvir A. Mishuk, the company's Founder and Managing Director. As a result, Nagad became a lifeline for the economy, even during the pandemic's worst days. Mr. Mishuk has become the face of digital payment in this world region, where traditional banking is difficult to come by. Despite all obstacles, he pushed Nagad forward, bringing it to the forefront of customers' minds.
Indeed, he is the torchbearer of digital financial inclusion, initiated the digitalization of the postal department of Bangladesh, and initiator of the second wave of FinTech in Bangladesh. The business magnate, sprightly investor, innovator, and philanthropist aimed to address the country's needs and aid in reconciling economic inclusion and equality for the world. A phenomenal work experience of 16 years, starting from small-scale businesses to high-rise corporate brands at home and abroad, has reached him to a high peak.
He has engaged in multiple endeavors throughout his career to date. First, he is involved with Nagad, which has become the fastest-growing digital financial service in Bangladesh and aims to promote financial inclusion and curb inequality. It's most significant achievement is revolutionizing Bangladesh postal service, a 150 -year old entity. Nagad has acquired 62.5 million customers within three years for Nagad since its launch in 2019 and made dealings worth billions of dollars.
What's more, being proud of yourself is just another way of having a strong sense of self-worth. Mr. Mishuk takes pride in making Nagad, the fastest growing FinTech Company in the world that has acquired 62.5 million active users making mobile finance the easiest way to send or receive money, make payments, pay bills and get government assistance from anywhere-anytime. Of all the things that most inspire him, the remarkable ones are the country's financial inclusion, making life easier and onboarding unbanked people, and innovation through electronic Know Your Customer (e-KYC).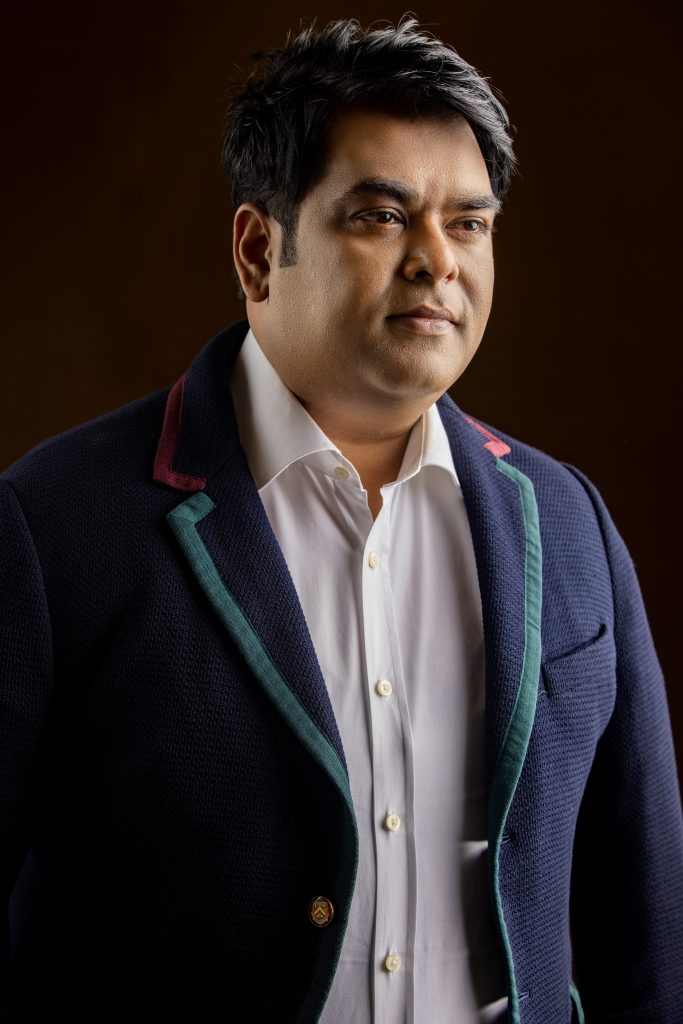 Despite achieving such success in life, he is a very humble person who allocates his free time and wealth to doing well for other people and philanthropy. Furthermore, in spite of such a hectic schedule, juggling multiple organizations from the upper hierarchy, he manages to balance out his work and family life. He is a happily married father of one and makes sure to give enough time to the upbringing of his child and family. Being a doer who has gone through phases of struggle and hardship, Tanvir A Mishuk makes sure to spend time with his interests and further aspirations.
As the son of a freedom fighter, he always devoted himself to the betterment of the country's common people, mainly for the hard-to-reach category, and trying to innovate something to ease their lives. Nagad is an innovation of that kind that has ensured digital service even in the hut of an edged widow in the remotest part of the country. Many reputed international organizations also awarded him for his state-of-the-art innovations.
Hence, let's explore his extraordinary journey through an exclusive interview where he shares his long experiences, obstacles, success, gratitude, and aspirations with us:
Cogitation of Work
The InCAP: Mr. Tanvir A. Mishuk, heartiest congratulations as you have been named 'Fintech Personality of the Year 2022' and also Nagad received 'Most Innovative Digital Financial Services Brand 2022'! What does this award mean to you? Please tell us the journey behind it.
Tanvir A. Mishuk: The impact we have brought to the country's FinTech industry is largely based on our innovation toward incepting new services with the positive outcome that Nagad brought changes to the FinTech industry of Bangladesh. Therefore, we believe that our innovation journey has made it possible to achieve such awards. Following our innovations, Nagad introduced e-KYC (electronic Know-Your-Customer). KYC was one of the biggest challenges in Bangladesh because of data authenticity issues.
However, the digitization of this industry largely depends upon e-KYC. We had conducted a market survey and traveled the length and width of Bangladesh for six months, from Teknaf to Tetulia, Jaflong to Shyamnagarm before launching Nagad. We attempted to comprehend the people's requirements. We realized at that point that we wouldn't get very far in our aim until we could allow users to establish accounts by validating their identity in the lowest amount of time possible. We were adamant that no paper forms be used and that an electronic client registration system should be implemented. This became our first priority, and within a few days, we devised a system that beautifully fit our aim.
On this ground, Nagad introduced e-KYC to onboard customers from day one of its launch on March 26, 2019, when Prime Minister Sheikh Hasina was inaugurated. To date, we have six crores and 25 lakh customers who are digitally verified. We run e-KYC under two processes. Likewise, the smartphone is mandatory for this service. But in this modern era, it has been found that less than 50% of people in Bangladesh use smartphones. So it was our greatest fear that many people could go out of our digital services.
As a part of our digitization drive, we invented another option for those who do not have access to smartphones. By dialing *167#, customers can register for a Nagad account, that we are calling digital KYC. As all the mobile phone users are biometrically verified in Bangladesh and we just used this verification for opening Nagad account with the consent of users and taking prior permission of the telecom regulator, the easiest way to open a financial account. We take pride in saying that this digital KYC is the first-ever digital service in the world. For such exceptional innovations by Nagad, Bangladesh as a country received recognition many times globally. We have received an award from World Information Technology and Services Alliance (WITSA) as well. These two had been possible for our success. Also, these two innovations reduce the cost of doing business and enhance financial inclusion, and that also helps us to offer the cheapest offers to the customers.
It's not only me, but the banking regulator, Bangladesh Bank, also has acknowledged our innovations and issued a guideline for e-KYC based on our innovation, and all the banks, mobile financial service providers, and other financial institutions also copied it and reduced their cost of doing business as well. So my satisfaction part is here – I can at least do something for my country to start the process of the digitalizing financial industry.
People want to know, how did Nagad come to exist?
Though there was a mobile financial system (MFS) in the country, the service was minimal scale, and accessing this service was very costly. Moreover, that service was only used for local remittance at that time. And I thought the country was just missing the opportunity and were not using the full potential of the mobile technology. Although the latest technology aims to facilitate people's lives, certain challenges were seen, including e-KYC and the cost of cash transactions.
For instance, it was quite strenuous as the cost for each transaction would cross the expected expense, such as for BDT 1,000, the total transaction might charge up to Tk 30, including its Tk 20 as cashout charge and Tk for send money charge, which is costly. Here, we, Nagad, focused on such challenges and took initiatives like market research, survey, and many innovations to mitigate those existing issues. This brings us to 2017; a summit took place in England where Bangladesh participated, and I was there as well. During the summit, I took the opportunity to pitch the idea of Nagad to the Post and Telecom secretary of Bangladesh, and he instantly liked the idea of introducing Nagad. Later, we had several on-off discussions. Then, in 2018, after Mustafa Jabbar became the Posts and Telecommunications Minister, he called us to know about the idea of Nagad. Once he heard about the e-KYC, he advised us to launch it as soon as possible. Hence, we started working on developing Nagad, and on March 26, 2019, Prime Minister Sheikh Hasina inaugurated Nagad in Bangladesh. This is how we kicked off our journey with the hand of our Prime Minister, Sheikh Hasina.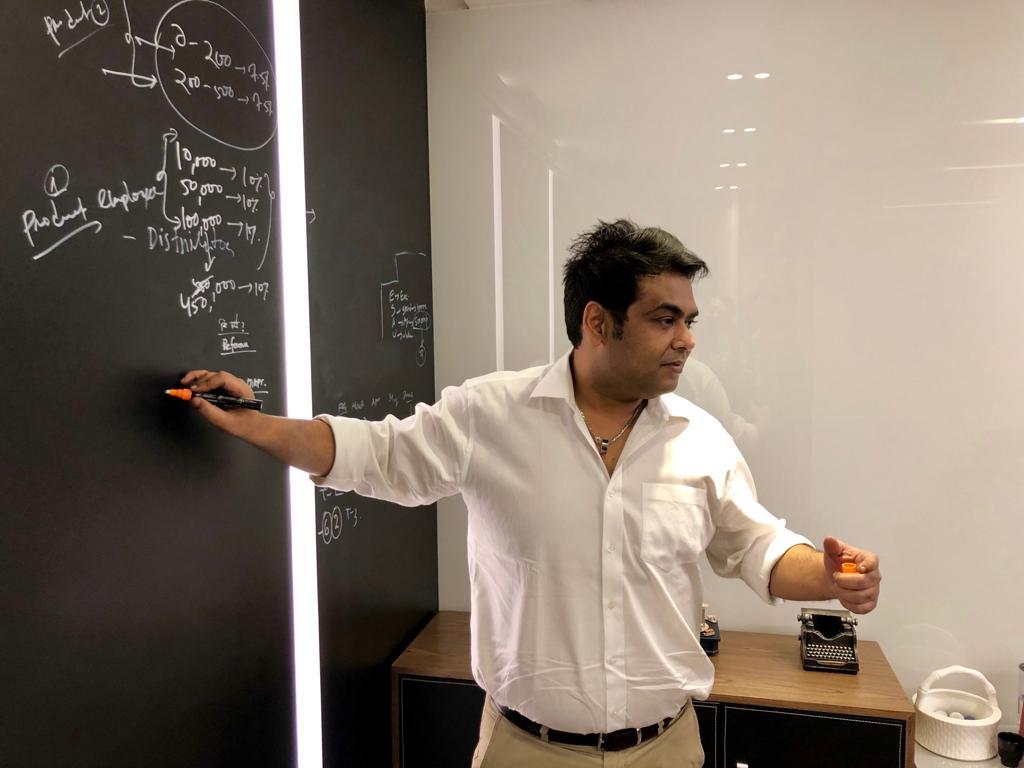 In addition to that, I saw the local invention amused Prime Minister Sheikh Hasina on the inauguration day. The inauguration was, of course, a dream comes true for me, but there was something more that I will never forget. The Prime Minister herself opened an account using the technology and inaugurated the service by sending Tk 10,000 to Hon'ble Minister for Posts and Telecommunications Mustafa Jabbar's account. The Prime Minister then took out Tk. 10,000 from her purse and gave it to me as a gift. I have kept that Tk. 10,000 as a treasure. That money will remain a blessing from the Prime Minister for as long as I am here and Nagad remains.
What new trends are you adopting in this competitive market as one of Bangladesh's leading digital finance companies to help you stand out? What do you think about the competition?
The market was not competitive when Nagad entered it; it was a monopolistic market where only one player-controlled everything despite many licenses. Here comes the role of the regulatory board to make the market competitive enough so that it becomes practicable. As part of Nagad's initiative, we have been offering zero charges for sending money, which pushed the top career to do the same for its users, though they were charging Tk 5 to Tk 10 for each transactions. It is rational that sending money from one to another should not charge any money as it stays with the same MFS Company.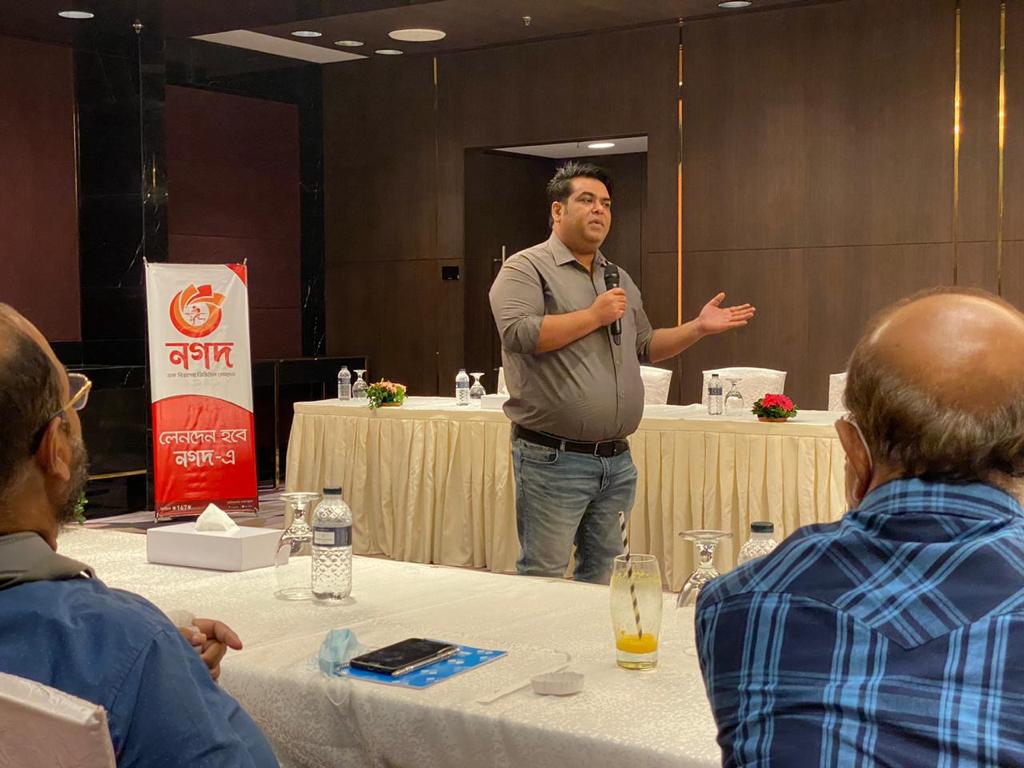 Furthermore, it is noticeable that the existing market player introduced services; as such, up to five numbers are free for sending money, whereas the new MFS companies have already made sending money free. In addition, Nagad has introduced a policy where bill payments are made free, unlike the existing market player, as they were charging Tk 35-40 for bill payments. Coming to the cash out, Nagad determined Tk 9.99 for cash out of each Tk 1000. And following our attitude toward mitigating the cost, the other player has also somewhat reduced cash out charge. We believe that we have created such market competition and are optimistic that with the support of the regulatory board, we could create a competitive environment in the market where Nagad will be a leader.
Mr. Mishuk, what mysterious reasons helped Nagad to grow quickly?
It was an open secret that introducing digital innovation and friendly services would take us to the next level as people eagerly waited to shift their usage. In addition, if we move forward according to our plan, we would be able to change the whole ecosystem from top to bottom. Our innovation, affordability, and focus on customer experience have boosted our position this far.
We also got a favor from the COVID situation, but it wouldn't be possible without making our service affordable and accessible. So people also easily understand our intention – easing people's life is the first priority and business the second – and they have accepted us, to me it's the reason behind.
Another initiative that helped us to put another feather in our cap is bringing the unbanked people to the banking system. We are proud of this as the financial inclusion crossed more than 50 percent. We aimed to make those people's lives easier to keep money in their mobile wallets who used to keep their money under their pillows. And it happened!
As the youngest top executive in the MFS industry, you have long experience in building companies and financial market development. So what are the biggest lessons from all those years?
I have been working with digitization for a long time. Prior to becoming the found and Managing Director of Nagad, I worked on facilitating the international calls for Bangladesh and showed the government that we could earn revenue through the latest technology. I believe that if one can solve the problems, they can easily do business, and their company growth will remain sustainable.
I have always been passionate about what I want to do is solving problems and easing people's lives throughout my life. From this aspiration, I always focused on working on my own task and never paid heed to what others say about me.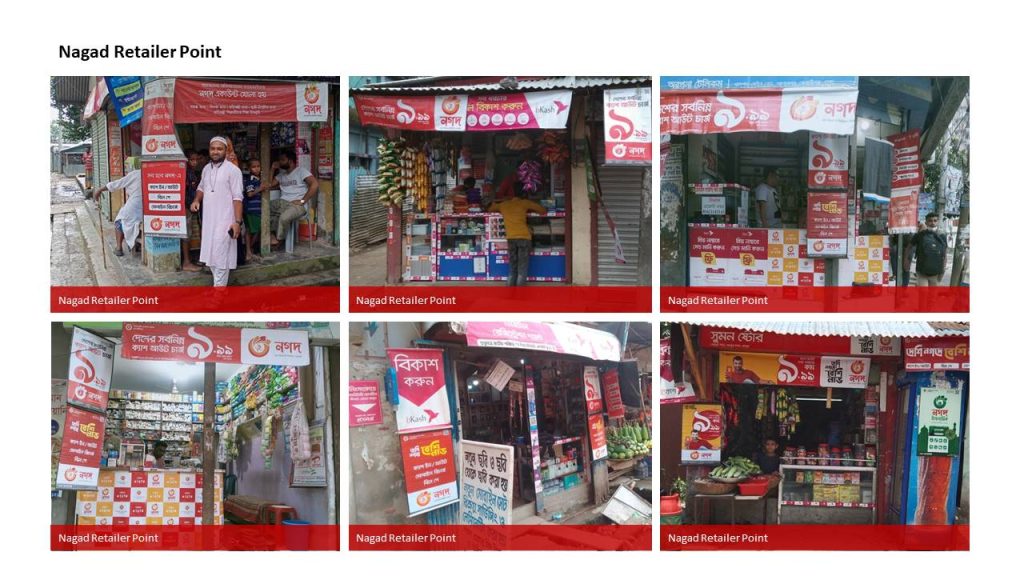 To give an example of how I overcame challenges and lead toward the goal, I would mention the day of Nagad's launching; I came to know that all of our banners and festoon and others were disappeared. Nagad spent more than Tk 87 lakh on these advertising materials. News of attacks and threats against our retailers and distributors kept coming from all around. However, losing 87 lakh in a day could not stop me as I had the sheer will and hope that we will thrive in the market because we are into solving problems always.
Nagad is thrilled to have attained the milestone of Tk 953 crore transactions in a single day in less than three years of advancing innovative endeavors. What figures do you want to see by the next year?
We never focus on figures or amounts; instead, we emphasize solving problems and easing people's lives in every possible way because if we could do that properly, achieving such figures won't be a big issue. To become the market leader, we are always paying heed to the ways of solving problems.
Speaking of growth, Nagad achieved Tk 100 crore worth of transactions per day after the 11 months of our launch. Later, it took 10 months to achieve the Tk 200 crore worth of transaction milestone. From that stage, in less than two years, we have reached to a transaction worth of more than 800 crores. At present, on average, we have transactions over Tk 750 crore every day, which is boosting day by day. We are very hopeful that this number will be double within a short period of time.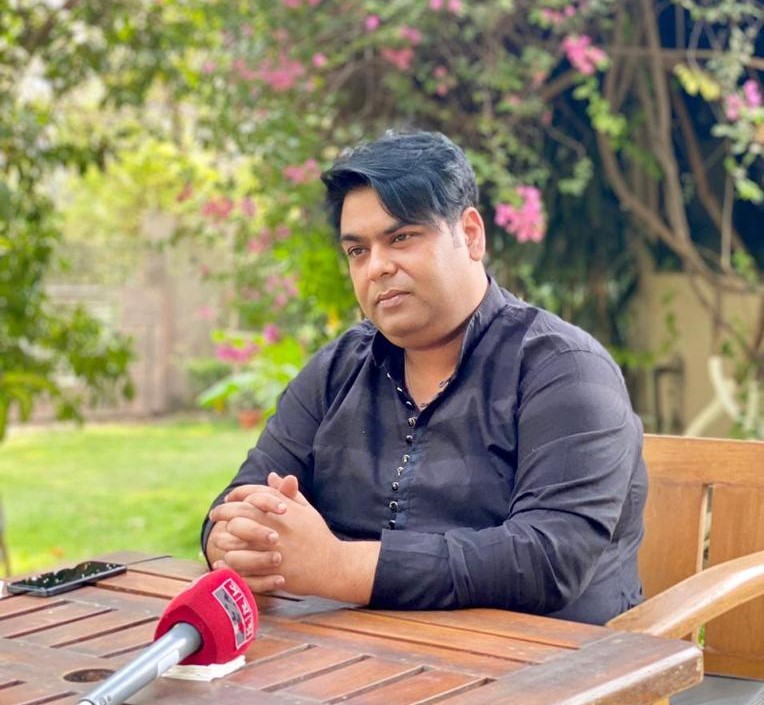 According to our recent survey, even after the number of inventions of digital transactions, cash transactions are not decreasing. What's your comment on it?
In reality, the number of cash transactions did not plummet; rather, the percentage decreased. The overall digital transaction was estimated to be as much as Tk 1000, and the cash transaction (cash in cash out) was Tk 800 crore few years back, which is 80 percent of the overall transaction. Currently the transaction is over Tk 3,500 crore per day. Looking at the number from Bangladesh Bank, it shows that the transaction (cash in & cash out) is Tk 1,200 crore only per day, which is only one third of the total transaction. We are very hopeful that this number will not grow furthermore and the number starts decreasing within a short time.
Looking at the current scenario of the digital industry, it is evident that the digital industry has not come to a plug-n-play system as there is no central system where all the consumers are on-boarded. We are still negotiating one by one with each company to onboard them on our platform and run our system. This is our primary bottleneck in the country, and we are optimistic that the scenario will be changed sooner as the government is already working on it. It is worth mentioning that we have agreed with more than 32 thousand institutions, per year 10 thousand, within three years. Foreseeing the future, we are going to be a cashless country as well.
I would like to mention another mentionable event that took place during the coronavirus pandemic. For instance, we were the first player who proposed to the government to send incentives through our system so that they can use this electronic money for their daily life or as they can cash out from nearby agents. As a result, within one year, we have facilitated the government to disburse support to 35 million people with transacting 85 million times worth of BDT 150 billion social safety net, stipend, and other payouts in the COVID time.
There is a consumer shift due to the digitization of payments and transactions. For instance, there is hardly any long queue for utility bill payment at the bank, was a common picture few years back to gather people and there were tail backs, as our bill payment is completely free. Also, mobile recharging has evolved to recharging from the digital wallet, which dropped the rate of recharging from shops to 60%. Online commerce, food delivery business and other digital industry also evolving depending on us. This shows significant changes in the market and consumer behavior after Nagad came to the market.
Mr. Mishuk, what areas will you concentrate on for the next five years to keep the growth as you lead the organization?
Currently, we are opting for such conditions where Nagad will be part and parcel of people's lives. From purchasing groceries to commuting to eating outside or bringing food at home or office, paying all kinds of bills, transport fair and depositing installments – tuition fees, one can do everything with a single app like- Nagad. So creating a cashless country where one can go out without carrying any cash with them and using Nagad in their device is our primary goal. Pondering the current growth, we are looking forward to making it a reality within next few years, might be less than five years. So our ultimate destination is making Bangladesh a cashless country.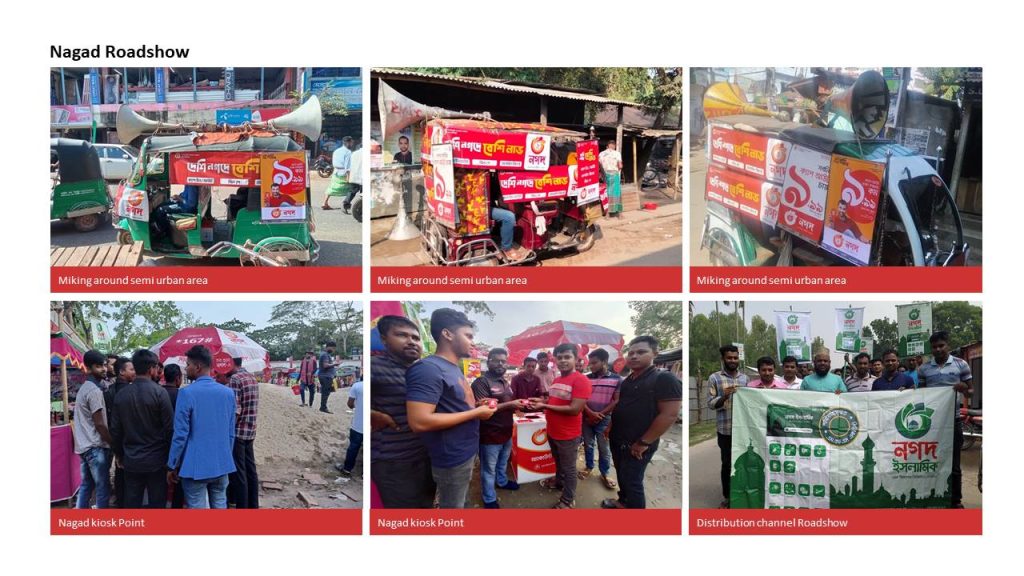 Another prominent example also encouraged us to aim for making a cashless country is around Tk 9,000 crore worth of money is spent on printing money. If we go cashless, every year we will be saving this amount and utilizing it for the country's prosperity. As a part of our drive toward making the country go cashless, currently, we are focusing on educating the customers regarding the MFS and its benefits.
We would like to mention that Nagad's Islamic Account is one of the most popular services in the country. At present, millions of people are using this service. It focuses on keeping the essence of Islam by deducting interest from the service and includes many materials. And we are getting positive feedback on this service.
Therefore, we are working to change the whole ecosystem and want to touch the entire lifecycle of the users. Therefore, I am optimistic that it will not take five years for that, in fact, soon to achieve.
To sustain the FinTech industry's growth in Bangladesh, what must be done?
We need an investment-friendly policy. There are so many bottlenecks in the process that we are trying to mitigate and minimize to overcome, but without policy support, it's something like making possible the impossible. Recently in a competitive market survey run by Bangladesh Competitive Commission on the mobile financial service industry, a first-time survey of this kind brought out some challenges, and they recommended the banking regulator to address it for the betterment of the industry and the country. I am quite sure if the challenges, most of that created by some other carriers, mitigated can present Bangladesh with a cashless society within the next couple of years.
In order to give a bottleneck example, recently, a survey was done in Bangladesh focusing on the competitive market. There is a barrier as one cannot enter the market even if one wants to. So making the market feasible for others to enter would give the customers an option to choose from. The Competition Commission also pointed out some of the barriers created by the dominant carrier (market leader) which are against to ensure a competitive market. We are very much agreeing with the Competition Commission wants to resolve this challenges that the commission recommended the Bangladesh Bank to address the issues.
A massive number of entrepreneurs are growing in Bangladesh, but many drop out within years. What would you say concerning this problem?
Bangladesh is a land of opportunity with so many challenges, and I do not doubt it. Challenges need to discuss from case to case, but some common challenges are, as I already mentioned the study of the Bangladesh Competitive Commission, like anti-competitive barriers to entry and running the service and be resolved. Only in three years, some others vanished after burning billion of BDT.
There were about 30 mobile money carriers in the country, but now a total of 14 MFS companies have the license. It is because they are burnt out and are forced to get out of the market. Here come the challenges for them to sustain due to the entry barrier and less focus on creating market competition. Hence, they are the sufferer of such a monopolistic market. So we are expecting the policy marker's concerns in this regard to help the entrepreneurs enter the market and start doing business. Sometime entrepreneurs also enter into business without proper studying of the market or lack of preparation could force them to drop out from the race.
Mr. Mishuk, many people follow you as their leader. What do you want to say for them?
I believe that without followers, a leader is nothing. Many can have goals or visions, but it's just daydreaming if others do not believe in it. What distinguishes a delusional person from a leader is the followers.
My team makes me who I am. So for my team and everyone who believes in the journey, I have a very simple message. The journey will not always be smooth; sometimes, there will be no way in front of you. But you cannot stop; you must build the road and keep walking.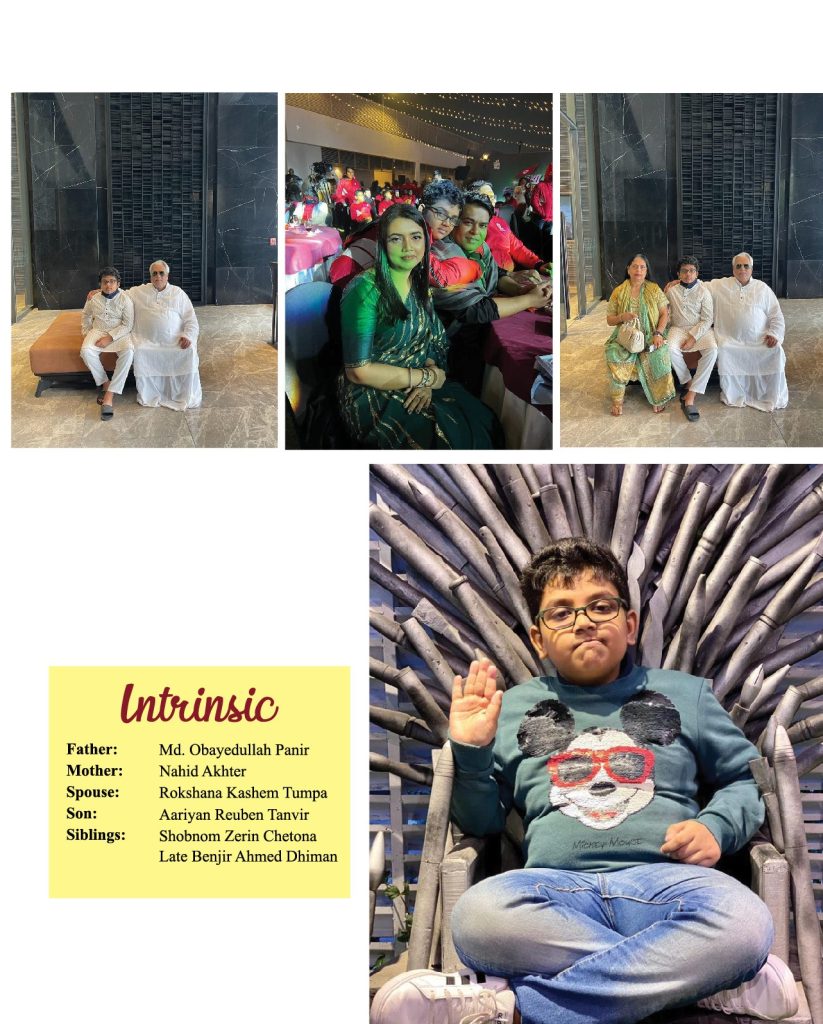 Self Portrait
Mr. Mishuk, how were your early life and childhood experiences growing up?
My childhood memories are mostly passing the time with my brother and family. But, being a doer, I have gone through phases of struggle and hardship, and I make sure to spend time with my interests and further aspirations.
Tell us more about your education and student life that enlightened you.
As a business student, my practical hands-on training started with clubs from the very beginning. Working as a teaching assistant, doing club activities and event organization, and finishing them seamlessly gave me a practical idea of the business field. After graduation, I felt that I already had four years of working experience. This is the edge I had with my contemporaries.
What are your plans for the local people of your home district?
I believe that Bangladesh is my home, but Narayanganj is where my root is. So it doesn't matter how busy I am; I would go there and support people there with education and jobs or in any way possible and nurture them. Also, I am connecting my next generation to my root as much as possible.
What factors have influenced you and helped you become the person you are today?
My business graduation journey and practical ideas helped me become the person today. When I went on to creation rather than following someone else job, dream, or path, I made more impact on the country, society, and my dream.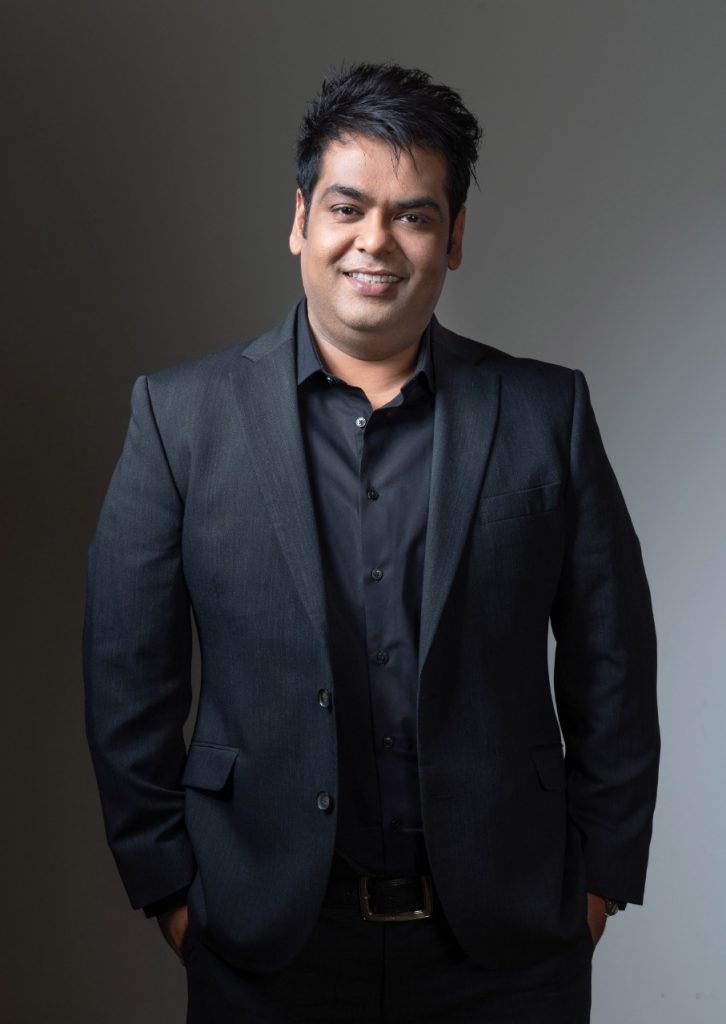 What is your life philosophy?
No room for being complacent: "Complacency kills your dreams."
Dreaming about change is easy, but making that happen requires grit and resilience. A change maker needs to commit to a life of constant hustling because that is what it takes to pave a path for bringing positive change! And the journey of achieving the greater good for society is a never-ending process. One cannot start this journey and end it after achieving merely a few goals. The walk of building a utopian world is ever long, and we need to keep on creating and expanding the path and walk through it.
Mr. Tanvir A. Mishuk, what's your plan for Bangladesh?
Before planning for Bangladesh, I need to thank Bangladesh for enabling an ecosystem for people like me to flourish. My dream is to enable people who have similar mindsets like me so that together we grow on a journey of making Bangladesh a developed country aligned with the vision of 2041.
The InCAP:
It was such a pleasure talking to you. Your interview will be instructive and inspiring for people. Thank you Tanvir A. Mishuk!
Tanvir A. Mishuk:
Such a pleasure for me. Thank you very much to all of you. All the best wishes for InCAP and The InCAP.
Highlights of Achievements, Merits & Honor
Quick Chat
The greatest achievement of your life as of now
Making my father proud, who was a freedom fighter. Sometimes I look at him and feel content that I did not let his efforts go to waste.
How do you define patriotism?
Doing what you do but always asking – "How does this act give back to my country and its people?"
The greatest philosopher in your view
The father of our nation Bangabandhu Sheikh Mujibur Rahman, he instilled the philosophy in me that no matter how difficult the situation is, you must fight for your rights.
Meaning of "Success" to you
Not what others think of you, but what YOU think of yourself.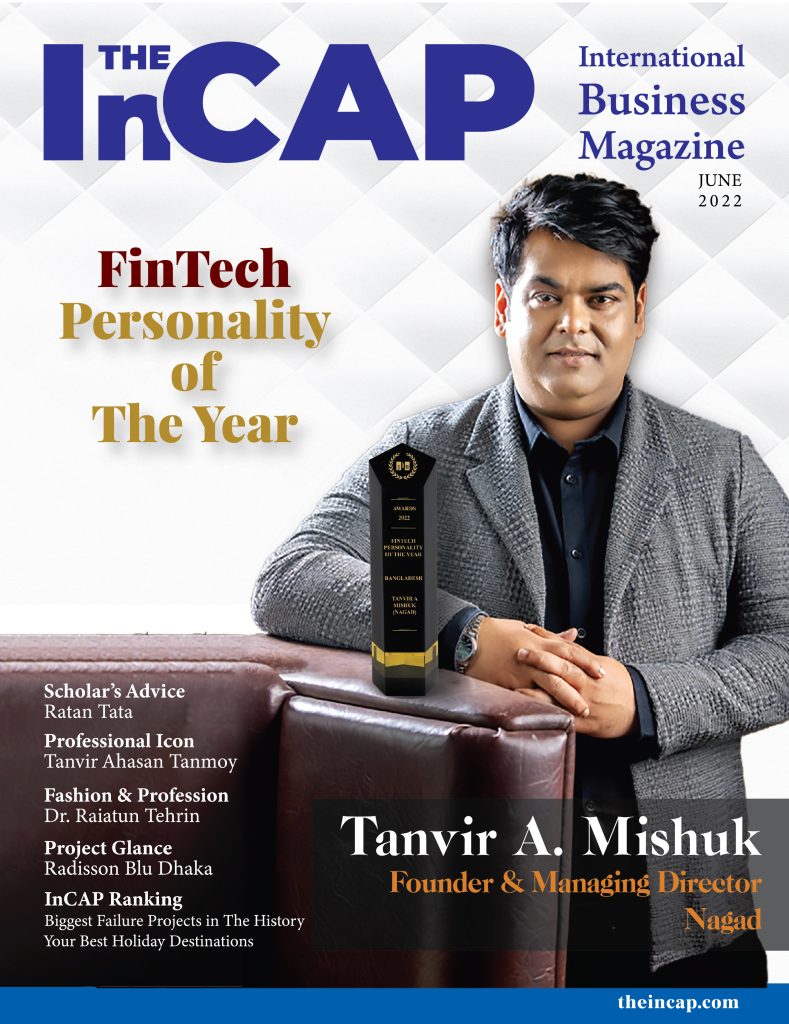 Your Icon
Since I've founded a fintech company, my look up to the person who enabled the ecosystem for it – Sajeeb Wazed Joy, Information and Communication Technology affairs advisor of the Prime Minister of Bangladesh for.
Name the most influential books you have read
Oshomapto Attojiboni (Unfinished Memoirs) by Bangabandhu Sheikh Mujibur Rahman. One of my greatest regrets is that I could not meet him.
What did you want to be when you were a child?
I dreamt of being a Captain of a ship, interestingly at present my work is somewhat similar in metaphorical sense.
Which is the best gift you've ever received?
My dear son.
Your greatest fear
One day we'll wake up and there will be no internet
Favorite Poet and Author
The national poet of Bangladesh Kazi Nazrul Islam
What motivates you?
Constantly challenging the status quo
Hobby
Travelling and learning about different cultures
Your favorite holiday destination
Singapore
Best piece of advice you've received
My icon Sajeeb Wazed Joy once said, "Find new technologies – don't imitate, rather innovate."
You in only three words
Innovator, Empathetic, Foodie
To explore more interviews with prominent persons, Please Click Here!