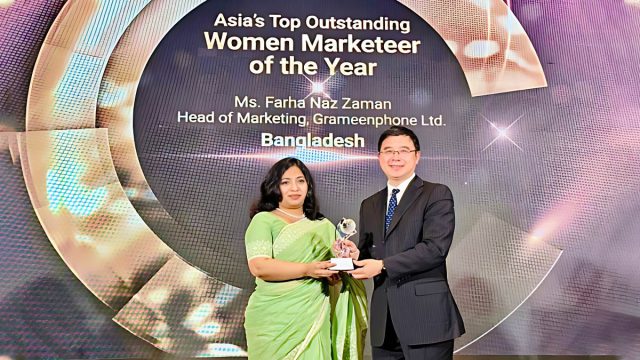 In a momentous celebration of marketing excellence, Farha Naz Zaman, Head of Marketing at Grameenphone, has been recognized as Asia's Top Outstanding Woman Marketer of the Year by the Asia Marketing Federation (AMF). The prestigious award ceremony, held in Thailand, honored Farha Naz Zaman for her exceptional leadership and innovation in marketing.
The Asia Marketing Federation (AMF), a revered governing body, acknowledged Farha Naz Zaman's outstanding contributions, recognizing her pivotal role in realizing Grameenphone's strategic vision and enhancing the convenience of millions of customers in Bangladesh.
Expressing her gratitude, Farha Naz Zaman stated, "I am genuinely humbled and deeply moved to have been awarded by the Asia Marketing Federation. This award is a collective effort of my team members and colleagues to uphold Grameenphone's values in empowering societies with innovative services and digital solutions. I am proud to represent Bangladesh and the contribution of our women in the field of marketing at a global platform. I am inspired to continue my journey of excellence with Grameenphone towards the betterment of societies."
Congratulating Farha Naz Zaman, Grameenphone CEO Yasir Azman emphasized the company's commitment to diversity and inclusion. "We are incredibly proud of Farha's well-deserved achievement, a testament to her prowess and leadership abilities. Her relentless pursuit of excellence, creativity, and passion for delivering exceptional marketing campaigns has been instrumental in Grameenphone's success," said Yasir Azman.
Farha Naz Zaman, with over 17 years of experience in sales and marketing, is a customer-centric and passionate marketer. Her advocacy for gender equality and active support for diversity and inclusion initiatives make her a role model for professionals in Bangladesh and the region.
This accolade aligns with Grameenphone's commitment to promoting diversity and equality in the workplace. The Asia Marketing Excellence Award, organized by AMF, reaffirms Farha Naz Zaman's position as a leader in the dynamic field of marketing.
Read more from our Press Release Section: Click Here