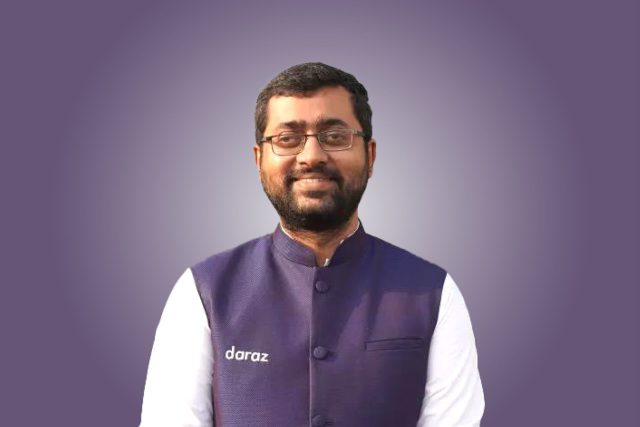 Firstly, I would like to convey my warmest wishes to The InCAP for this incredible edition – Hello 23. I believe that this special edition, designed exclusively for Bangladesh, is garnering lots of love from readers for valuable insights across a number of areas.
Even a decade back, Bangladesh was not entirely open to the idea of e-commerce, but thanks to the efforts of the government, regulator, e-commerce players, and other stakeholders, that scenario has changed; we are now a big ecosystem. This burgeoning sector lays the groundwork for futuristic digital transformation across industries. Hence, to reap the full benefits of this digitalization, it is imperative for Bangladeshi consumers and service providers to be more digitally aware. On top of that, infrastructural developments and technological improvements in Bangladesh can also go a long way in strengthening e-commerce and all digital services, which is necessary in today's world. As the country's leading e-commerce platform, we feel responsible for transforming the country's digital ecosystem through the power of commerce, technology, better customer service, and efficient seller development.
As a business, we are focusing on technology, appropriate business model, expertise, and commitment. Daraz has been working in this industry for eight years and has significantly helped in the development of e-commerce sector. Throughout, we have been able to gain consumer trust and enhance the growth of various sellers across Bangladesh. Moreover, with the help of Alibaba-backed technology, Daraz has gained years of experience and top-notch software, tools, servers, processes, etc., from the parent company to improve user experience; and take data-backed decisions to help scale up. Thanks to Alibaba Group, we are blessed to make use of the best possible technological advances, readying us to face all challenges that come our way. And hence, with the help of cutting-edge infrastructure, Daraz has been able to stand out in the market.
Moreover, we move forward with a long-term vision, focusing on sustainable ventures. Such a futuristic business model which enables us to always stay ahead.
Besides, we also recognize the responsibilities we have towards society through various impactful CSR (Corporate Social Responsibility) projects. Recently, we took an exclusive initiative titled 'For Green For Future" to enlighten the next generation regarding the diverse domain of trees and plants and prepare them for a greener tomorrow. This initiative has been implemented under our social concern, "Daraz Cares," and is primarily focused on demonstrating the importance of trees and their vital contribution to mother nature.
We are committed to building a sustainable business with a satisfied group of sellers and buyers. Going forward, this is exactly what we will be focusing on while also emphasizing further technological innovation and other relevant infrastructural development. Daraz believes that through its various services, the progress of digital Bangladesh can be taken further and provide significant economic growth to the country. Moreover, our priority to continuously improve our customer service shall remain while we also work to train and develop our sellers. We believe that our resolute shopping experience across Bangladesh will continue to flourish for years to come.
Syed Mostahidal Hoq
Managing Director
Daraz Bangladesh