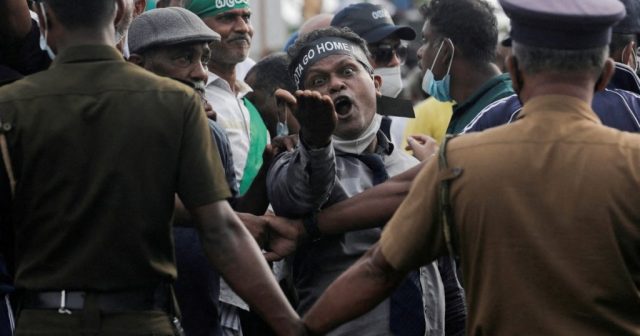 The rate of inflation has surpassed 17%. As a result, people are dying while waiting in lines for petrol, and school exams are being canceled due to insufficient funds to import paper and ink. As a result, Sri Lanka is experiencing its worst economic downturn since independence. And the reverberations are now being felt in India as well. People from the island nation are fleeing starvation and job losses and are seeking sanctuary in India, doing everything it can to assist the neighboring country. The article contains How Sri Lanka's Economic Crisis Affects India?
India has provided Sri Lanka with $2.4 billion in financial aid in the previous three months, including a $400 billion RBI Currency Exchange, a $500 million loan deferral, and a $1.5 billion credit line for importing fuel, food, and pharmaceuticals. In addition to a bailout from the International Monetary Fund, the southern neighbor has requested $2.5 billion in loans from China.
Daily power outages and double-digit inflation, which peaked at 17.5 percent in February, have plagued the island. As a result, the central bank of Sri Lanka allowed the native currency to weaken by 30% in one month. The fundamental source of the issue is a lack of foreign exchange reserves. In two years, they've dropped 70% to just $2 billion at the end of February, not enough to pay two months' worth of imports. Meanwhile, the country owes nearly $7 billion in foreign debt. Several causes have contributed to the Forex crisis.
After the 2019 Easter Sunday suicide attacks, which killed more than 250 people, tourism, the country's third-largest foreign exchange earner, came to a halt. Tourist arrivals plummeted by as much as 70%. Then came the COVID Pandemic, which dealt a serious hit to the tourism business. As a result, remittances from foreign employees, the country's main source of revenue, fell 22.7 percent to $5.5 billion in 2021.
The problem was exacerbated by the country's heavy reliance on imports for basic items such as sugar, pharmaceuticals, petroleum, legumes, and grains. Moreover, last April, the government's ban on artificial fertilizers, intended to make it the first country to embrace organic farming totally, backfired. According to a report, 90 percent of Sri Lankan farmers utilize chemical fertilizers in their crops. As a result of the relocation, domestic food output fell dramatically, driving up food costs.
After months of farmer protests, the decision was reversed, but the harm had already been done. In February, food inflation reached 25.7 percent. Indian exporters are now feeling the brunt of the crisis. Thousands of containers delivered from India to Sri Lanka, both for domestic use and trans-shipment cargo, have been left unattended at the Colombo port because officials cannot afford to move them between terminals. As a result, some cargo bound for Sri Lanka has accumulated in Indian ports.
In 2019, India was the third-largest source of Foreign direct investment (FDI) for Sri Lanka, after China and the United Kingdom, with $139 million. India's biggest investments are made in the petroleum retail, tourism, hotel industries, manufacturing, real estate, telecommunications, banking, and financial services. Many major Indian corporations have invested and established themselves in Sri Lanka. Indian Oil, Airtel, Taj Hotels, Dabur, Ashok Leyland, Tata Communications, Asian Paints, State Bank of India, and ICICI Bank.
Although Sri Lanka is a tiny commercial partner for India, it is a geopolitically significant country, and India needs to counteract China's expanding economic influence. India's annual exports to Sri Lanka totaled $4.8 billion, accounting for only 1.3 percent of the country's overall exports. Sri Lanka only accounted for 0.16 percent of India's total imports. Any disruption in Colombo port operations, on the other hand, puts India at risk of increased expenses and congestion. While developing a transshipment center in Kerala has begun, it is in India's long-term interest to assist Sri Lanka in overcoming its economic crisis.
To read more economical articles, Please Click Here!