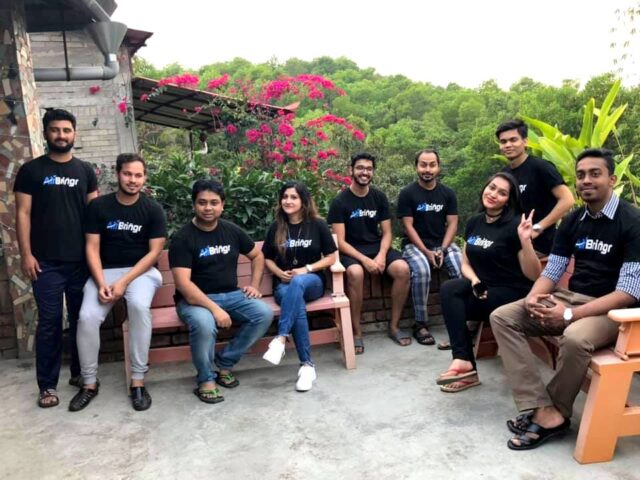 The journey of AirBringr begun in May 2018, with financial and management advisory as well as motivational support of Robi Axiata Ltd. The journey has begun in the form of incubating the employees' business ideas under the company's innovative digital entrepreneurship development platform, 'R-Ventures'. A total of 212 business ideas were initially submitted by the Robi employees. Following multiple rounds of selection, 50 business ideas were chosen for the second phase, from 50 to 15 in the semi-final round. Finally, six business ideas were selected to be put through the incubation stage. My idea "AirBringr" was one of the winners of the Robi R-Ventures season-1 initiative.
AirBringr is a Sharing Economy and Crowd Sourcing based digital platform which connects local shoppers with international travelers for cross border shopping/shipping from international market places by monetizing the unused baggage space of airline travelers. It allows travelers to match their itineraries to customers who want to bring an item in a cost-effective way than courier companies (e.g., DHL, FedEx, etc.) and enable travelers to make money at the same time by sharing his airline luggage space. From a broader perspective, this concept will ignite a significant growth of the global e-commerce industry and also help reduce carbon dioxide (CO2) emissions globally.
In contrast to the traditional international logistic companies which are based on fixed-cost & company-owned asset model, AirBringr is based on information-driven and asset lite model, which enables it to be experience-versus efficiency-focused.
Look For Opportunities To Grow Through A Crisis, And Come Out Better Than Ever
As March 2020 came dawning, everyone in the world was about to brace themselves to an unknown danger. On Mid-March, we as a company had to face with its worst challenge as the Coronavirus was spreading globally. The USA was starting to impose its lockdown all over its states and also banning air flights from all visiting countries as COVID-19 preventive measures. As AirBringr services are based on cross-border shipping where international travelers share their unused luggage space to deliver items of local shoppers, Covid-19 brought us to an uncertain future for a new startup like ours.
​​As a startup 2020 was all built up and set for the best business year for AirBringr. We had just come off a great successful Black Friday campaign at the end of 2019, and we were kicking off our 2020 with a lot of promise to grow. During this upbeat time of the business, coming to know that we may have to cease all working functionality of our company was the worst problem that could have headed towards us.
​​CEOs all over the world started facing overwhelming, challenges, and uncharted waters as they continue to navigate the impacts of the COVID-19 pandemic. Many of the country's biggest businesses were at the brink of closing their door. During this time, our company took the bold decision that we were not letting go of any of our workforces, and this meant we needed to function differently to survive. One of the greatest strengths of a startup is its ability to adapt to different conditions.
​​However, given the travel bans from the USA and the inability to serve our customers had posed a very difficult situation for us. We explained our situation to our customers as honestly as we could, and to our delight, we experienced a very positive encouragement that they were mostly in our support and believed in our service that we should deliver on our promises once this pandemic situation eases. This served as great encouragement for us to look forward.
​​The very first thing we have introduced was the mediatory Home Office from the 3rd week of March. As a protective measure, all our company employees were given the permission to work from home, as we started to adapt to our new work lives we started to ponder on the issue that we could actively work on to be part of the solution in this adverse time of our country.
​​As the COVID-19 pandemic started to take its toll on our country, we identified a scarcity of quality COVID-19 protection gear like mask, hand gloves, face shield, goggles, etc. in the market. AirBringr quickly decided to act on this, and we started to source quality protective gear for people to have access to their personal needs. This was a significant move from AirBringr as we wanted to actively help out everyone we could as a part of our company's CSR campaign. We launched our COVID-19 protective products on our website, ensuring optimal quality products at the most reliable prices, AirBringr made sure that we made NO PROFIT on this to make it most affordable and accessible for all who are willing to get protective gears. Since then, AirBringr has been receiving COVID-19 protection gear orders from Bangladesh and outside Bangladesh and ensuring delivery all over Bangladesh within 48 hours.
During April we as a company came to realize that this current situation may persist in being here for a long time, and since our USA operations were almost no existent due to the lockdown and travel bans, we had to do something drastic for our business to survive and we had to do this locally.
We put our heads together and started brainstorming on ideas that we could immediately enforce to survive, with a dynamic team like ours, we were always confident of executing something new. ​​We all agreed to work on an idea that could make us survive as a company and also help us keep our entire workforce active. This also meant that our company had to take up a new challenge overnight and work on executing it, and we were all up for the challenge ahead.
​​We decided that since people were in lockdown in our country, the most significant difficulty we were to face was getting necessities delivered to us, such as grocery, medicine, etc., as people could not get out of their houses. Thus we decided to move to a new venture dubbed FreshBringr. We identified that with the operations of AirBringr we already had a loyal shopper base in our country under us that we could serve to, who trusts us to provide quality service and products.
​​We launched Grocery delivery service on selected areas at first, which we upgraded to cover the entire Dhaka city in a week. Within a few hours of grocery products launched on our website (www.airbringr.com) we had our first order, and it just started to keep flowing steadily, this response came to give us much encouragement to go ahead and build up a process which shall ensure the best quality service given to our customers. Although we know we had vast competition in this market and much other bigger company were also operating we were not fazed by it, we focused not only on providing people the best service and products but also providing them quality products on the cheapest prices, which is why many products on our website were found on less than MRP prices from other shops.
​​There are a few objectives that need to be highlighted that the FreshBringr initiative was committed towards. Our operation is also aligned with a list of objectives highlighted below:
Serve Maximum Areas – Cover the entire Dhaka city and later Chittagong as well.
Fast Delivery – Ordered items are delivered within 24 hours.
Maximum Savings – Ensuring an affordable price range for our shoppers by procuring items at the best price from our suppliers and partners.
Quality First – Ensuring quality products during procurement and purchase.
Serving NRBs (Non-Resident Bangladeshi) – Ensuring to help overseas NRB shoppers to purchase and send products to their parents & relatives in Dhaka city.
Contactless Payment – A payment option that does not need any interaction between shoppers and delivery persons.
Customer First – Ensuring seamless communication (call center, live chat, email & social media) to ensure the best customer experience in town.
Safety Frist – To ensure social distance, all our delivery boys are equipped with Surgical PPE, Hand gloves, Face mask & Rain court while delivering the orders to shopper's doorstep.
​​No Minimum Order Value – Ensuring shoppers don't have to put any minimum value on the order they place.
Order Anything – Shopper can request any items beyond the items listed on our website as an additional note.
Return & Refund – From Day 1, we have ensured proper return & refund policy for our valued shoppers.
FreshBringr Achievements & Partnership
​​It needs to be mentioned that AirBringr has always got great support from its allies when it comes to the success of our initiatives. As AirBringr is seed funded by Robi Axiata Ltd through its R-venture initiative, Robi has been a constant source of inspiration and encouragement, sharing to include us in many of their promotional campaigns (e.g., Robi 'ধন্যবাদ' program) which has helped us to get exposure towards a vast crowd of consumers that are already enlisted under Robi. Just to highlight their benevolence towards us, we can speak about our partnership with Robi Dhonnobad Program in which FreshBringr a service of AirBringr is offering free home delivery to their customers all of Dhaka City. This very partnership has helped us gather a much greater number of orders, which has directly impacted to the current success of the FreshBringr initiative.
​On highlighting a few other successes of FreshBringr in this short amount of time, we can include mentioning receiving continuous grocery orders from almost 8 (eight) different counties like the USA, Canada, Japan, Australia, UK, Malaysia, and a few other countries among them. Bangladeshi people living in overseas have deeply appreciated the opportunity that we have provided them to help them take care of their family and loved ones living in Bangladesh from abroad by providing them the necessary grocery items which they paid from abroad.
​​We have been able to confirm deliveries of items within Dhaka city within 24 hours. Our success rate on delivery in 24 hours has been above 99%, which we are very proud of. And a great amount of credit for this would go to the tireless work of our employees and delivery persons at work. Within a month of the launch, we have been able to keep regular steady orders from shoppers and also having double-digit returning shoppers with an increasing number of ordered items in their cart. ​​FreshBringr's very first promotional campaign, FREE COKE (1.25 Liter) with every order above BDT 300 during the month of Ramadan, has also helped us gain momentum and helped our shoppers to capture great interest to order their products from us.
​​To ensure safety and social distance, on every last-mile delivery, our delivery person's whom we consider as the brave heroes have equipped themselves with proper COVID-19 protection gears to make sure proper hygiene is maintained while grocery handling. They have worked tirelessly every day, making sure to go the extra mile to offer the best and the service every shopper could rely on. Each individual team's intricate efforts towards achieving a unified goal of providing the best shopping experience to our customers were our mission and mantra behind our current success in growth, popularity, and acceptance among our shoppers.
​​Achieving such high targets in such a short time had its own challenges and obstacles. The COVID-19 pandemic has changed the world around us. There is a famous quote that is arguably apt for this moment to believe in now 'When the Going Gets Tough, the Tough Get Going'. We believe our unified awareness to protect each other and our spirit to not give up is what would help transcend us to get back to the world that we all love.
​​This current global crisis has tested our resilience to survive as a company, along with many others. What we are proud to say is during this tough time when our existence was challenged, we did not give up, and we took prompt decisions to adapt to this changing global environment. To survive, we operated locally, introducing new extensions on our service, which helped strengthening our foothold on our local consumers.
We have also made our footprint by being available and providing our service to the abrupt high demand in product delivery service in Bangladesh and abroad, we are proud to be part of the solution, and we feel most accomplished knowing our tireless effort has helped keep many people of our country stay safe and happy. AirBringr and all its associate extensions like FreshBringr shall look forward in providing excellence in service to all its customers and looks forward to making global footprints with the sights of a brighter future.
Ashik Noon
Founder & CEO
AirBringr & FreshBringr