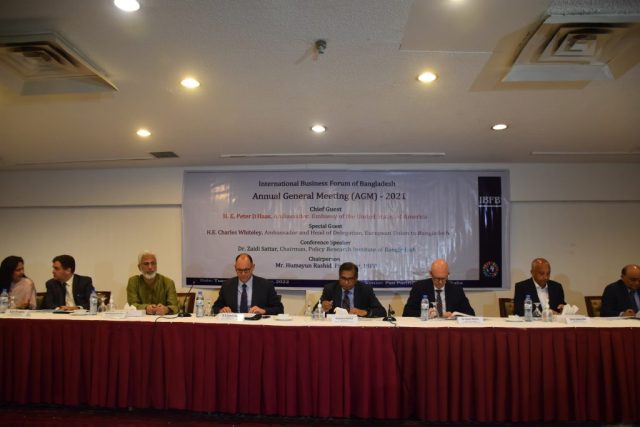 The 16th Annual General Meeting (AGM) of the International Business Forum of Bangladesh (IBFB) was held at the Pan Pacific Sonargaon Hotel on September 27, 2022, where participants emphasized further improvement of the business climate to create more jobs through attracting global investors. The article contains International Business Forum of Bangladesh.
They also called upon the policymakers to bring necessary changes and implement those with replicating successful RMG (readymade garment) models to other export-oriented sectors, making them more competitive. They made the call in the inaugural session of the AGM where the Ambassador of the United States of America (USA) Peter D Haas and Ambassador and Head of Delegation, European Union to Bangladesh Charles Whiteley were present as the chief guest and special guest, respectively.
Mr. Haas, in his speech, said the US wants to help Bangladesh improve its business climate so that it can attract more international investors. "Bangladesh needs to be ready to welcome international investors," he said. Alongside developing a special economic zone, he suggested concentrating more on logistics, ensuring an uninterrupted supply of utilities, and making a legal framework that will suit the investors well. Hailing Bangladesh's economic progress over the years, the EU's head of the delegation here, Charles Whiteley, said the country needs to work on ensuring an equal level playing field for both local and overseas investors. He said the EU wants to work with Bangladesh for her smooth transition from the LDC.
Terming export diversification key for sustainable growth of the economy, Chairman of Policy Research Institute (PRI) Dr. Zaidi Sattar said Bangladesh needs to replicate the successful RMG model in other non-RMG sectors. He also suggested rationalization of the tariff structure.
In a welcome speech, IBFB President Humayun Rashid said IBFB is a non-profit, non-political, and non-partisan platform consisting of business leaders from all over the country, including resource and knowledge-based individuals. In his opening remarks, he said that the private sector is considered as the engine of economic development in a developing economy. IBFB highly appreciates the investment in the energy and communication sector to achieve a growth rate of above 8 percent despite so many odds. Last year's growth of FDI has proven overseas investors' confidence.
"It is working hard to create a business-friendly environment in the country," he added. IBFB vice president M.S. Siddiqui and IBFB founding president Mahmudul Islam Chowdhury also spoke in the session. In the inaugural session of the AGM where Ms. Lutfunnisa Saudia Khan, Vice President (Finance), Mr. S.M. Abu Tayyab, President, IBFB Chittagong Chapter, was present. In the second session, IBFB re-elected a renowned and leading businessman Mr. Humayun Rashid is the Managing Director & CEO of Energypac Power Generation Ltd. Mr. M.S. Siddiqui, a Legal Economist and CEO of Bangla Chemical and Ms. Lutfunnisa Saudia Khan, Director of Banglaphone, was re-elected as the Vice President and Vice President (Finance) of IBFB, respectively, in the Annual General Meeting (AGM).
In addition, Kbd. Md. Aminul Islam, Managing Director, Nabil Group, Mr. Mohammed Raisul Uddin Saikat, Chairman, Albion Group, SK Md. Waliul Islam, Managing Director, Roots Sourcing International Ltd., Mr. Iqbalur Rahman, Proprietor, Multi Trade International, Mr. Mohammad Ali Deen, Chairman, M/S Deen Impex, Syed Mustafizur Rahman, Managing Director, Novo Cargo Services Ltd. elected as Directors for the first time in the Board of Directors of IBFB.
To read more Press Release, Please Click Here!