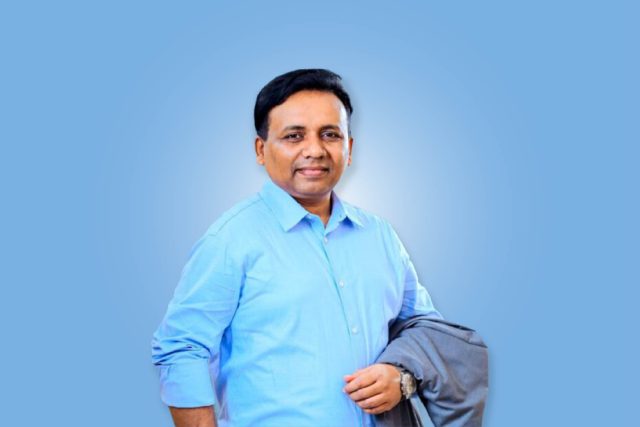 Meet Mr. Iqbal Bahar Zahid, a young and talented entrepreneur making waves in the business world of Bangladesh. He is the visionary behind three successful ventures – OptiMax, Aladin, and Utv. However, it is his remarkable effort in creating "Nijer Bolar Moto Ekta Golpo" that has truly set him apart. This venture is a complete volunteer work where Mr. Iqbal provides training to aspiring entrepreneurs, not only guiding them in their business endeavors but also instilling in them the values of being a good human being. What makes this journey even more impressive is that Mr. Iqbal has conducted a 90-day training workshop continuously for an astounding 795 days, making it a potential Guinness World Record. Join us as we delve into the inspiring story of this young leader, as he emerges as a true warrior of both business and philanthropy.
The InCAP: First of all, we would like to know about your career peregrination.
Mr. Iqbal Bahar: Every human being has a turning point and a story behind the success. At one time in my life, I thoughts that nothing would happen to me! I dreamed of being an engineer. Then I got a Masters and CA (Inter), then an MBA. I started my career in the accounting department, didn't like it, then switch to marketing. Finally, I became an entrepreneur.
Grameen CyberNet Ltd. is my first job. At the age of three months of my job life, I got married. If I didn't do the job in Grameen CyberNet, I would not learn about information technology, would not create affection for the technology. The interesting fact is, at Grameen CyberNet, I was the Accountants Manager.
A dream in the head was always chasing me; you have to have a company where many people are working. I started implementing that dream with five of my friends. Since no one agreed to leave their job, it did not come true.
Then I join Grameen Shakti as Assistant General Manager. Without working with Grameen Shakti, Optimax Communication Ltd. would not have created because I went there and started dreaming again. It has not stopped since then.
Then began the journey of Optimax, which is my brainchild. But the journey was not so pleasant initially. After 18 months, the company was about to close down. After that, with challenge and extraordinary hard work and talent, I again bounce back from the situation, and it took almost 2-5 years to recover from this plight situation. That was a bit slow but steady. The company is now 16 years old. In the middle, I was employed as a General Manager at Singer Bangladesh Limited. The purpose was to get a taste of the job at the multinational company and gain some experience in the corporate world.
This was the beginning of the Optimax. At that time, I used to work for both jobs, in Optimax and Singer Bangladesh. On average, I worked 12-14 hours a day, and still, I'm doing so. My experience at Singer Bangladesh has helped immensely at Optimax's growth.
In between, I created another company, but there was a possibility of earning a lot of money from an uncomfortable way, quickly got myself out of that company, because my father always taught me to be honest. I have always woken up to be a good person.
On many occasions, I didn't even take the opportunity to settle outside the country. Because to me, it is better to live in my country, with the advantages and disadvantages. One day I'll die, but I must have to do something for my remembrance.
I set a goal in life; I will not looking for a job, rather I will create jobs for others. Success in life means not just home, car, and money; success means proper education, good health, happiness and adequate wealth, most importantly – to be a good human being. Nowadays, I see the smiling faces of 200 families every day – this is a success for me.
The latest additions to my initiatives are aladdin.com and UTV Entertainment. Technology promises to provide a different kind of service, which always enchants me. At present, to me, doing something new means dreaming of more people with myself.
We want to know the beginning of "Nijer Bolar Moto Ekta Golpo", also want to know the narrative of naming.
There are about 40 Million unemployed in Bangladesh. So we need a lot of Young Entrepreneurs in our country to reduce the huge unemployment crisis.
I'm a simple human being, but I can proudly say that I'm a Good Human being. This not a simple word "to be a good human being". You need commitment & courage to be a good human being.
One day we all have to die. What we did in the past apart from "Me & My?" If anyone even could take the responsibility of one needed person in the entire life, that is a BIG achievement.
A Story never be formed if anyone grows alone & get the success himself. The Story can only be made if anyone grow & help others to grow by donating blood to save a life, by taking the expenses of treatment to save a life, by making a hut for a needy people, by taking the responsibility of education of a poor child, even by planting a tree for others.
I've been speaking around 100 nos seminars, workshops & events/Universities as an Inspirational Speaker for the last three years for Youths of Bangladesh. But at one point in time, I realized that we are talking knowledge initiative sessions over there for 1-2 hrs, they are getting motivations & directions and clapping, but after leaving the sessions, they have forgotten everything.
So, I have decided to do something that will make an impact on their mind & habit for a long time & created the online training platform "Nijer Bolar Moto Ekta Golpo"


What is the main purpose of Nijer Bolar Moto Ekta Golpo? How do we see it in the next ten years?
Nijer Bolar Moto Ekta Golpo platform, working on three fundamental objectives:
a) Consecutive 90-day Entrepreneurial Training Program (ETP): We are providing almost everything to youth what they need to be an entrepreneur, including entrepreneur meetups and conferences in 64 districts of Bangladesh and 50 other countries.
b) This is the center of developing morality, leadership, skills in various disciplines, and the practice of becoming a good human being.
c) Volunteering, Social Work, and Humanitarian Activities.
In the next ten years, we want to create 50,000 entrepreneurs and businesspersons, those who will create 8-10 lakh job opportunities in Bangladesh. I want to create a business network of 100,000 young people. This will be my best gift to Bangladesh.
A massive number of entrepreneurs are growing in Bangladesh, but many of them are dropping out within years. What would you say about this problem?
Lack of proper guidance and patience is one of the main reasons for this kind of drop out. People are always seeking for shortcut way of making a profit. Moreover, they do not get any institutional or mentoring support to solve the problems they face after becoming an entrepreneur, which causes them to fall.
"Don't do the job, I will give the job" your slogan is controversial to many. If most people have the mentality of not having a job or quitting their job, then no startup or business organization can run. Experts say the idea can have a profoundly negative impact – we'd like to know your explanation.
In my opinion, this slogan is not supporting "not to be employed or quitting the job", but an inspirational slogan of "doing something yourself" without sitting or waiting for a job. I do believe your job experience will definitely help in your business career. But the problem is the number of graduates coming out every year and the job vacancies, there is an alarming imbalance. I think that nothing can be better than that, at least if you can create your job on your own initiative, instead of waiting and being frustrated.


In the context of Bangladesh, do you think there is an entrepreneur-friendly environment hither? What steps should be taken for the betterment?
No one creates a favorable environment for you; you have to come down with the courage to create the environment and have to play a role. However, the government will have to come forward with a loan on easy terms and without collateral.
The current bad debt amount of Bangladesh is more than one lakh crore taka. From it, if only 1 lakh young people are given business funds in simple terms without security, and they are trained and mentored properly, hopefully, they will create 100,000 job opportunities in the country in the next 3-5 years. And remember, young people will not be the loan defaulters.


How do you want to work if the government of Bangladesh proposes you to work for the youth community?
I have been working with the youth community in the country for the last five years, from my own responsibility. If the government proposes to work, it will add a new dimension and work on a larger scale. Our Honorable Prime Minister is now very much emphasizing on entrepreneurship. I think it's an inspiration. Various ministries and departments of the government, including the ICT Ministry, are doing a lot of work on this. But all that is needed is more nurture entrepreneurship and helping them create markets.
"Nijer Bolar Moto Ekta Golpo" is a complete volunteer job. How did you get the motivation to do such a thing at a busy time? When we told your story to some of the most talented people in Bangladesh, everyone was surprised to hear how you were going to carry it alone. We expect your comment on it.
We come into this world and then die one day, but what about our legacy? Do we all just think about ourselves – my house, my car, my family? Beyond that, there is a family called Bangladesh. We have to do some work for the country. You have the responsibility of educating a helpless child in life – this is a job for the country. I am working for the youth of the country without the help of others. That's it!
What do you want to say about the fact that the entrepreneur is being created in Bangladesh, but the quality entrepreneur is not?
I'm partially agreed, however, that training in entrepreneurship and skill development, such as Language, Leadership, Communication, Sales and Marketing, Digital Marketing, Basic Computer Management, etc. will increase the quality of business, and they will do better in business. "Nijer Bolar Moto Ekta Golpo" is currently doing above things regularly. Bangladesh is very near to get the largest group of quality entrepreneurs.

At home and abroad, you have been rewarded with various awards, which is your most desired achievement?
The love of young people is the biggest achievement for me. Their life-changing stories make me the happiest person in the world.
What are the special skills required for an entrepreneur from your point of view?
a) Firstly have to be a good human being
b) Stick to action with patience
c) Leadership and enormous working capability
d) Honesty and commitment
e) Positive attitude towards change


A lot of people from home and abroad love you, treat you as their mentor. You're their idol. Say something to those people.
There needs to be a story to tell in life. First of all, one has to be a good human being. Dare to dream, get started, and stick to it… success will definitely come.

To acknowledge more Cover Stories, Please Click Here!