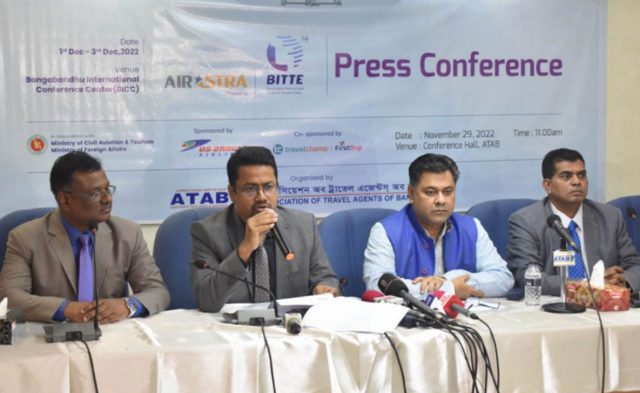 A three-day long first-ever Bangladesh International Travel and Tourism Expo (BITTE) is scheduled to kick off in Dhaka from December 1 to boost the country's tourism industry and showcase Bangladesh to global tourists.
The organizer of the expo, the Association of Travel Agents of Bangladesh (ATAB), organized a press conference in this regard yesterday at its office in Dhaka's Nayapaltan area.
ATAB President SM Manzur Murshed Mahbub said in the press conference that the expo will be organized based on the model of developed countries.
"The role of this sector in the implementation of Sustainable Development Goals, is bringing investment in the tourism sector, enriching the relationship between travel agencies, tour operators, providing support in conducting business activities, and various assistance to tourists, among other issues, will be discussed in the expo," said SM Manzur.
ATAB Secretary General Abdus Salam Aref informed the media that airlines, hospitals, tourism boards, travel agencies, tour operators, hotels, resorts, cruise liners, destination management companies, and other travel and tourism sector service providers of more than 15 countries including India, Malaysia, Bhutan, Nepal, Maldives, Oman, Sri Lanka, Turkey, Azerbaijan, South Korea, Vietnam, Singapore, United Arab Emirates have already confirmed their participation at the event.
He also said that by participating in the expo, business liaison and relationships will be created between travel agents and tour operators and the country's public will get to know about global travel information, packages, and air tickets.
Three seminars titled — "Investment opportunity in Bangladesh tourism sector", "Aviation and tourism opportunity connecting Bangladesh to the world" and "The impact of the 4th revolution in the tourism industry" — will be organized during the expo.
The country's new private airline Air Astra will be the title sponsor of this year's expo.