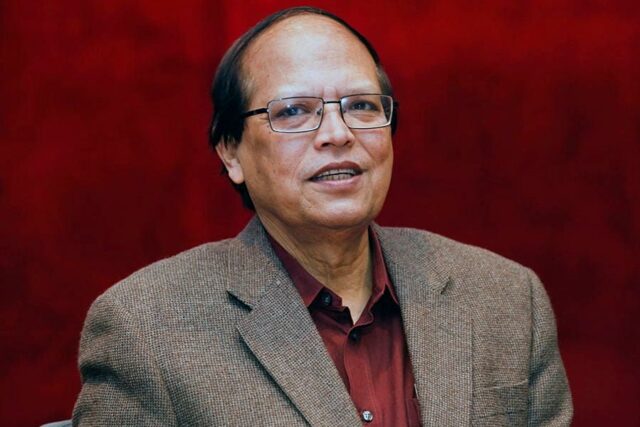 Salute to Father of the Nation for instilling the 'fighting spirit' for development.
Despite all odds of the ongoing pandemic and climate change challenges, Bangladesh is moving smartly ahead, keeping its high head. The strength of Bangladesh in fighting this double whammy is derived from the 'fighting spirit instilled in us by our Father of the Nation. His life is a copy-book of how to move on despite challenges. This spirit was at its highest in 1971 when our valiant freedom fighters shed their blood for freeing the country at his call from the Pakistani occupation forces. This was, indeed, both a sad and happy year for Bangladesh. This year Bangladesh lost so many of its valiant sons and daughters and at the same time basked in the glory of victory.
Nearly five decades are gone. We are going to celebrate the golden jubilee of Bangladesh in this year of birth centenary of Bangabandhu. What a coincidence!
Bangladesh's story of inclusive development over the five decades has been a miracle. The story is still unfolding. It is yet to be appropriately told to the world. This story is built on a dream of fifty years and flames of building 'Sonar Bangla' (Golden Bengal), signifying his drive for a prosperous Bangladesh. This was not an easy journey. Pulling the country from the ashes of the 1971 war of liberation to the road of prosperity was not at all an easy job.
Mind it the size of the economy of Bangladesh was only about eight billion US Dollars back in 1972. That economy jumped to 302 billion US Dollars in 2019. Bangabandhu rightly prioritized agricultural development, fostering entrepreneurship and human resource development at the very start of his developmental journey. Most of the abandoned manufacturing enterprises had to be nationalized as there was a lack of entrepreneurs in the country at that time. But he left room for the development of the private sector as the economy stabilized. This is reflected in the last budget of his government. The economy made a significant recovery under his prudent leadership as the per capita income increased to 273 USD in 1975 compared to only 73 USD in 1972.
This was a stunning performance, indeed braving sudden inflation due to oil price hike, food shortages, and a hostile domestic and international political environment. The train of inclusive development of Bangladesh could have gained further speed had there been no 1975 tragedy when we lost Bangabandhu. Yet, facing all odds, the country came back to the track under the leadership of Sheikh Hasina in 1996. She immediately restarted the journey of inclusive development as envisaged by Bangabandhu, only to be throttled in 2001 by a deep conspiracy. She was back to power in 2009 to take the country to new heights, as reflected in both economic and social indicators. Thanks to enhanced digital connectivity, infrastructural development, a host of mega projects, financial inclusion, extended social safety net programs, and, of course, the mind-boggling transformation of our agricultural and manufacturing sectors. Agriculture has been vastly modernized and diversified. The growth of export-led industrialization, particularly the apparel sector, has been a boon to our external economy. The growing remittances have only added more strength to this outcome. As a result, we now have a foreign exchange reserve of 41 billion dollars, which is good enough for about the cost of ten months' import.
The end result has been a stunning economic growth rate of 7 percent plus over the last decade or so. Despite some reductions in the growth rates due to the pandemic in recent months, the economy is destined to have a v-shaped inclusive recovery due to smart and prudent stimulus packages provided by the government and the central bank. The business confidence will further improve if we can manage well the procurement and distribution of the desired vaccines.
Not only the economy, but the society as a whole has also been witnessing an amazing transformation in terms of poverty reduction, girls' education, primary health, nutritional development, fall in fertility rate, infant and maternal mortality rates, and, of course, the rising life expectancy ( 73 years). Above all, good fiscal management has contributed to this eye-catching macro-economic stability and growth performance, defying all challenges, including the latest pandemic leading to above 5 percent contraction of the global economy. Despite our not so impressive performance in revenue generation, fiscal and public debt contained well enough to be considered sustainable.
Given this short background, I am optimistic about a fantastic inclusive and green economic recovery out of this pandemic. I am confident that this developmental marathon will continue unabated. At the same time, we must remain focused on the dynamic shifts of our economy that are already in motion. We got to continue our policy support for easing the rules and regulations for both the entrepreneurs and the people who take the services from the government and regulatory agencies. In fact, easing services could be a better stimulus package for the hard-working entrepreneurs and people of our nation, which is on the move. To continue this journey more confidently, we need to continue investing in our people in terms of health, education, and social security in addition to that in agriculture, renewable energy, ICT infrastructures and related startups, and improved supply chains, both domestic and global.
With these few words of optimism, let me say a happy new year to all the readers of The InCAP. May we will pass this pandemic safely and prepare ourselves for a much faster, green, and inclusive recovery.
Prof. Dr. Atiur Rahman
Honorary Professor of Development Studies and Bangabandhu Chair Professor at Dhaka University
Former Governor, Bangladesh Bank