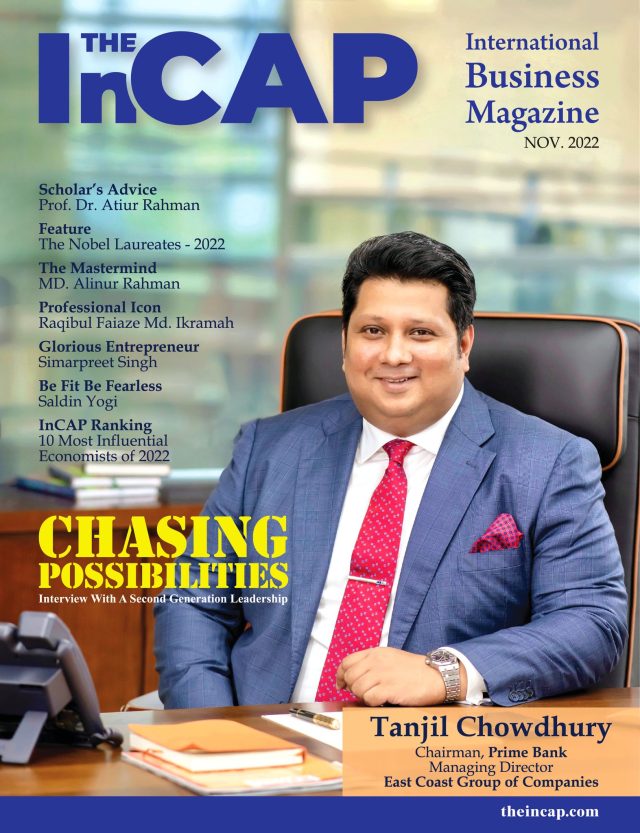 November 2022 Issue of The InCAP is Now Available in International Market!
On The Cover & Cover Story:
Chasing Possibilities
Interview With A Second Generation Leadership
Mr. Tanjil Chowdhury
Chairman
Prime Bank
Managing Director
East Coast Group of Companies
Scholar's Advice
Prof. Dr. Atiur Rahman
Feature
The Nobel Laureates – 2022
The Mastermind
Md. Alinur Rahman
Professional Icon
Raqibul Faiaze Md. Ikramah
Glorious Entrepreneur
Simarpreet Singh
Business Graffiti
Be Fit Be Fearless
Saldin Yogi
InCAP Ranking
10 Most Influential Economists of 2022
Tributes
November 2022 Issue of the printed version of The InCAP is now available in Bangladesh, USA, UK, India, Canada, and Singapore.
To acknowledge the review, Please Click Here! In Bangladesh, you can get your copy from InCAP Corporate House, Pathok Somabesh, Bangle Boi, and many more magazine-stands throughout the country. You can contact our corporate office or dial +880 1712 500237 to collect your copy.
Why are you waiting for? Collect your copy, NOW!