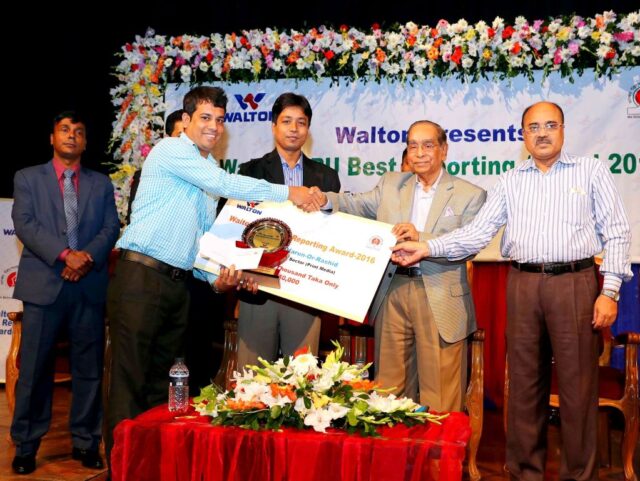 Md. Harun-Or-Rashid
Head of Communication Division
NRBC Bank limited
Professional Navigation
My career started in June 2012 as a staff Reporter. Before that, I was working as a reporter at Jahangirnagar University. Wrote many daily features and articles.
My dream was to become a prominent journalist. Start on the right track. Uncertainty was the main challenge in journalism. I have worked with Amader Shomoy (a Bengali language daily newspaper from Bangladesh) for about seven years. I work very sincerely. I was promoted to Senior Reporter in a very short time. My reporting arena was Business, especially Banks and the Financial sectors.
But Coronavirus changes everything. I joined NRBC Bank on 15 November 2020 as head of the communication division. My dream is to work with sincerity and honesty. I want to be the best performer.
When I was a Jahangirnagar University reporter, I was elected president of the Jahangirnagar University Journalist's Association (JUJA). Before that, I was Treasurer of the organization.
Me & Mine
Born- 11 February 1987, Hingerpara, Harinakundu, Jhenaiday. It is a rural area. No electricity, no concrete road.
Education:
Primary Education: Hingerpara Govt. Primary School.
SSC: Rishkhali High School
HSC: Abdur Rouf Degree College
The flood in 2004 hampered my academic life. But I have successfully completed my graduation and post-graduation in Bangla from Jahangirnagar University.
Then I received my Master of Entrepreneurship Economics degree from Dhaka School of Economics (DScE) under the University of Dhaka.
Highlights of Achievements and Other Honor
President and Treasurer of JUJA
Best Reporting Award from DRU 2016
Hobby and Other Interest:
Traveling all over the country and historical places; reading history and biography. I love to spend time with friends, relatives, and colleagues.
Corporate Perspective:
Good Leader, Performer, Active.
Own Life Philosophy:
Confident. Hard worker. Know thyself.
Personal and Social Responsibilities:
Work for underprivileged people.
To Corporate:
I have to say one thing regarding Affordable Living. Sure there is demand for luxurious apartments; we make quite a lot of those. But we have to keep in mind that many people still want an apartment within their affordability. This is causing a lot of problems in the housing sector. To solve all of these problems, we need to focus on Affordable Housing. The housing industry has to shift its focus to the lower middle class. For the real estate to solve these accommodation problems of the lower middle class, they need to move forward with affordable housing of the housing industry rather than luxurious apartments.
To Students:
Anyone who is a fresh graduate or just completed HSC should determine which sector they should work in; they should start deciding and set goals from the get-go. They should do whatever it takes for them to grow their career. They should try to get some sort of training in the chosen fields. They should also prioritize market research. This applies to all departments. Alongside that, a proper idea of what the market price should be and currently is.
They should be informed about the geographical aspects of the business. A business should know not only the price of a product but also the origin of it and some more details. Alongside this, a piece of very personal advice to those who are starting would be not to dream rather set goals and work accordingly to reach those settled goals.