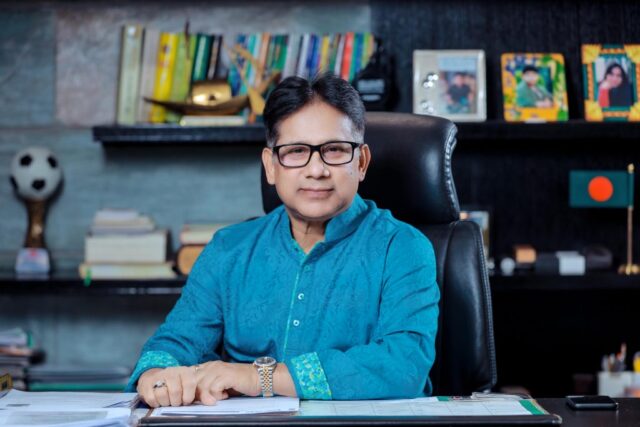 Mr. Abdus Salam Murshedy is a Member of Parliament in Bangladesh, proficient businessman, and former national team football player. He was accredited the status of Commercially Important Person (CIP) by the Government of Bangladesh in 2014. He is the former President of the Bangladesh Garment Manufacturers and Exporters Association (BGMEA).
The Managing Director of Envoy Group has an excellent business background and is highly reputed for his relentless endeavors and dynamism. Mr. Murshedy, a born leader, has started his journey in 1984 with Envoy Garments Ltd. In less than two decades, he has guided the organization to emerge as a business conglomerate in Bangladesh with 15 prominent Garments House, a Textile Industry having state-of-the-art rope dying (LEED Platinum Certified by U.S. Green Building Council, USA), Indigo Dyeing and Finishing unit, Washing Plant, Information Technology, Healthcare, Bank, Freight Forwarding, Trading and Commercial (local and international), Meat Processing and Cattle Farming, Real Estate and Developer and playing significant role to minimize unemployment problem of the country and in contributing to the national GDP.
Since starting his career in business, Mr. Murshedy is closely associated with the garment movement in Bangladesh. He has been playing a vital role in Bangladesh Garment Manufacturers and Exporters Association (BGMEA) for the last 25 years.
He is one of the National Sports Personalities and an active organizer. Holding the highest record of scoring 27 goals in a single season in the National Football League of Bangladesh is still unbroken.
Besides the business, Mr. Murshedy is closely related to the Physically -challenged Development Foundation (PDF), an organization dedicated to the welfare of disabled and underprivileged people. He also works for local charities, sports sponsorship, promoting, and guiding to spread football all over the country to find out the potential players from the grassroots level.
Abdus Salam Murshedy is not only a name; he is one of the most outstanding organizers in Bangladeshi history. He is the current President of the Exporter Association of Bangladesh (EAB), Member of the Board of Trustees – Bangladesh University of Fashion & Technology (BUFT), Senior Vice President of Bangladesh Football Federation (BFF) and also the Director of Premier Bank Ltd. Moreover, Mr. Murshedy is one of the most efficient national sports activists and received National Sports Awards from the Bangladesh Government in 2003.
Mr. Murshedy and the Members of his family have been honored as "Kar Bahadur Paribar" by the National Board of Revenue (NBR) Govt. of the People's Republic of Bangladesh 2017 as introduced for the first time.
Interview with The Legend
The InCAP: Sportsman, Member of Parliament, Business Man, and Father of a Young Business Leader – Which identity do you enjoy the most?
Abdus Salam Murshedy: Everything that I am today, I always accredit that to my career as a footballer. I was just a young boy when I arrived in Dhaka, from Khulna, with the dream of being a great footballer. The journey of Salam from being the striker Salam Murshedy and eventually the record-setter of 27 goals in one season, is nothing less than a roller coaster ride. Along with the immense struggle and hardship, I had earned the hearts of millions, those who still recognize me as player Salam and greet me with the same warmth as they use to display back when I used to play in the stadium. That is priceless for me. Businessman and Member of Parliaments are subsequent roles I got as a result of what I had achieved initially as a sportsman, of course.
However, on a very different note, being a father is something I shall not weigh with anything else. I have 3 children, my eldest daughter, and 2 younger sons. They are everything that I have earned over the years. My eldest, Barrister Shehrin is featured along here with me. I feel proud as a father today, of course. My elder son, Ishmam Salam has joined the business too and is working along with me. My youngest one, Aiyan Salam, is slightly different from all actually, he wishes to be an Engineer, currently studying in Grade 10. Being a father is a totally different feeling in the world; I have grown up with each of them, and seeing the world through their eyes makes it all worthwhile.
You handed over 20 takas to your mother in 1973, which you earned by playing football – we want to know how you were feeling at that time!
My father was a teacher, and I was the youngest amongst 6 children. It was a measured life, and everything was pretty calculative. In the initial stages of me playing football in the area-based matches, in Khulna, I got paid tk 20 only. It was my first earning and was huge for me at that time. I handed that over to my mother it was an extremely emotional moment in my life which I shall cherish for the rest of my existence.
Envoy Group started with a factory of only 2 lines, and now it's a massive organization. Our readers want to know the details about the Envoy Group from your words.
The journey of the Envoy Group started in 1984. It was my first atrium in the apparel industry in its very initial days in Bangladesh as well. Gradually we had expanded the number of Garments over the years. It was a call of time to expand vertically, so we went on to set up a denim mill. The Envoy textile is the first LEED Platinum-certified industry in the textile sector in Bangladesh. Eventually, we set up a fully automated washing plant, expanded to IT, Brokerage Houses, Real Estate, Freight Forward, Banking, and Hospitality.
Mr. Murshedy, how do you evaluate Bangladesh National Budget 2021-22?
In the present COVID-19 world, in light of the whole world economy, the National Budget of 2021-2022 is a very much timely budget, addressing all pressing concerns with adequate value. The Budget 2021-2022 is a people-oriented budget, an industry-oriented budget, a labor-oriented budget, and an investment-oriented budget.
In the budget, all the sectors have been covered. But especially the health sector. Appx BDT 10000 crore has been kept for COVID. I believe some more capital can be set aside for the health sector, considering the situation of the present world during the pandemic.
I believe that in COVID-19, the whole world business community is in a shaky state and the whole world economy is in a challenge. The world market is squeezed, demand has decreased, and the prices are facing a further reduction in respect of buyer orders. There is tremendous competition in the overall market with the competing nations, and sustainability of the fittest is of utmost importance now.
Which sectors do you think should be given more importance for the sustainable development of Bangladesh?
In the world of such a pandemic, besides the negative aspects, this pandemic has also given rise to opportunities that need to be housed. In light of that, the Government has already passed 100 economic zones in both private and public sectors. From my side, I would like to press on the urgent realization of some of these zones with ready infrastructure as a call of need from some possible sectors like IT, pharmaceuticals, ceramics, jute items, etc.
Government has given several principal support and incentives; I shall seek for the concerned bodies to make sure that they are timely realized so as to ensure that the industry can successfully overcome the effects of the pandemic.
BGMEA was awarded by USGBC Leadership Award for its dedication to bringing sustainability to the RMG industry, with Bangladesh having the highest number of green garment factories in the world. The world fashion trend has changed. We can start moving to invest in some man-made fiber fabrics as a need of time. 70% of apparel moved from cotton to such orders. Fashion moved from cotton to man-made fiber items.
You like to introduce yourself as an organizer; people want to know about your initiatives with this characteristic.
My organizing capacity comes first from football. When I retired from Mohammedan, I was the secretary for 10 years appx in the football club. After that, when we started garments, and eventually the democratic BGMEA systematically initiated in 1990, I had taken part in the elections since the very beginning and elected as directory, VP, senior VP several times and subsequently the president, in 2009.
Many recognize me as the most successful president in BGMEA's tenure. The reason greatly included me bagging several policy decisions concerning BGMEA and its members in this sector i.e., country of origin facility, alongside several developmental works, were initiated too under my regime, i.e., purchase of the land for BUFT, starting of the BGMEA hospital in the port city, Chittagong, etc. So I believe this whole capacity is not a matter developed in days, but with dedication and hard work over the years. Being an organizer mainly seeks to work for the people for their best interest. The role of being a successful organizer and a subsequent leader mainly requires one to deliver correct solutions to problems at the right time.
Thanks to our Hon. Prime Minister Sheikh Hasina for recognizing my hard work and skills and for allowing me the opportunity to serve the nation as a Member of Parliament under AL.
Envoy Group, which started in 1984, now represents 40 business enterprises. So how did this magic happen?
I had a wonderful team working with me. Since 1984 when we started, the journey allowed me to meet and work with many wonderful souls that greatly contributed to this growth. Our combined relentless efforts, dedication, strong determination, and leadership played the vital role behind our success. Our dream to grow more inspired us, and we left none of the opportunities we are learning for.
Mr. Murshedy, you are one of the most admirable and prominent figures in the Bangladesh Business World. Your advice is incredibly important for everyone. People are expecting some advice from you.
Not an advice. I can share my experience in this hardship-filled life of mine. The struggle of Salam Murshedy taught me so much and made me who I am today. The trial and error method, learning new things, patience, dedication, time investment, everything.
I would just like to tell the new generation that despite me coming from an urban city, being a teacher's son, not having so many facilities at my disposal, I still managed to get selected and played national level soccer, became an entrepreneur, and a BGMEA president and finally the Member of Parliament, so just imagine how much you all can achieve in this new Digital Bangladesh with all the facilities that you have at your disposal at the moment.
The Independence is a gift we received from the Father of the Nation, Bangabandhu Sheikh Mujibur Rahman, a collective pride we all share, so please develop yourself as entrepreneurs, create job opportunities for the people of this nation, and realize the dreams that the Father of our Nation had seen for Bangladesh.
What's your plan for your beloved motherland Bangladesh?
I believe that at this point in time, Bangladesh is a successful role model for developing nations, a model for nations showcasing immense potential. I attribute the full credit of this to none other than our Honorable Prime Minister Sheikh Hasina's visionary leadership. As an entrepreneur and an organizer, I have always ensured to brand Bangladesh in the best way possible to the world, now is my chapter as a member of parliament where I intend to do more for my country's people in a more intrinsic manner.
I am greatly dedicated to Football development, as the Senior Vice President of BFF, so that Bangladesh football regains the same glory of its days back in the 1980s, within Asia initially. As an entrepreneur, I see our PM's futuristic visions as the goals we all need to pursue, i.e., the 2041 vision.
An honest and most dedicated leader, and the best head of state, since 1975 onwards, who contributed the most in the reversal of BD from a bottomless basket to an icon of a developing nation, I salute HPM Sheikh Hasina for allowing us the opportunity to showcase Bangladesh so successfully on the world platform. As an MP, I am a public property – the opportunity that I have as MP, I and my wife are working together to ensure that we live up to the expectation of the people in my constituency – I get ample peace in working for the people.
How do you explain your life so far? What is your life philosophy?
Abdus Salam Murshedy: I am a workaholic, and anyone knowing Salam Murshedy will know that too. Any industry starting and growing is easier but hard to retain the same success and standards at all times. When I started work, there was an immense risk, but the standard I have set now, to maintain that, it takes continued effort. I still work a minimum of 12 hours each day. Hard work has no alternative, and I always believed this.