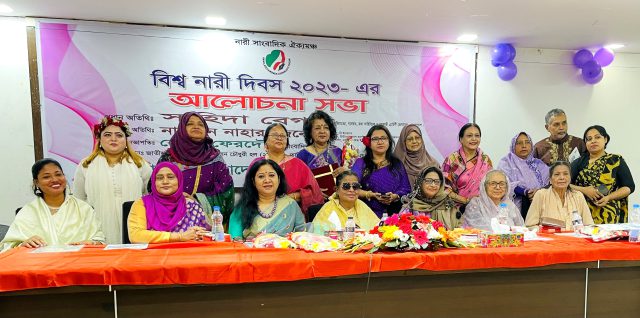 In recognition of their outstanding contribution to journalism, four remarkable Female Journalists were awarded by the Women Journalist Forum at the Press Club on March 10. Ms. Sahida Begum, Freedom Fighter, Fiction Writer, and Assistant Attorney General of Bangladesh was present as the Chief Guest at the event.
Ms. Nasrin Nahar Jeneva, Editor of The InCAP, Director of the International Corporate Association of Professionals (InCAP), and Chairperson of Aristo Tex International was present at the program as a Special Guest. The four famous women journalists are Rasheda Amin, Mahmuda Chowdhury, Nirun Yakub, and Shamima Chowdhury. Rozi Ferdous, the president of the organization presided and she highlighted various aspects of her life.
If there are risks for women journalists in the profession, they are moving forward smoothly, leaving behind all the adversities. The speaker pointed out that it is the need of the hour to gain skills in one's profession and to get one's rights without being a victim of gender discrimination. The organization's Former President Mumtaz Bilkis Banu, Secretary Sharmin Rinvi, and current General Secretary Fahmida Ahmed also spoke on the occasion.
Sharmin Rinvi and Joint General Secretary Labin Rahman were in charge of the entire program. Dewan Masuda Sultana, Lipi Khan, and Alea Begum Alo were in overall supervision of the program.