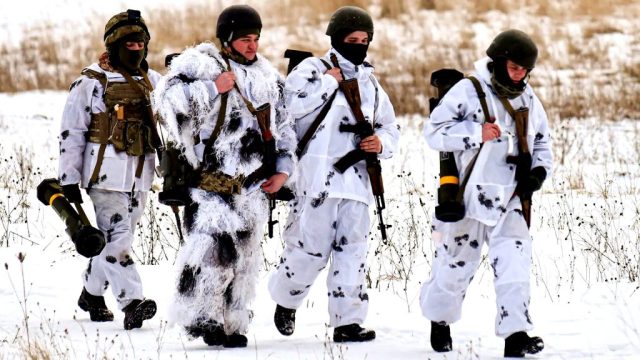 The threat of a war between Russia and Ukraine is already impacting global markets. For example, the Russian stock market has dropped by 14% since the end of February.
However, the impact of more sanctions or a full-fledged conflict will not be felt equally worldwide. For example, despite being more extensive and more numerous, Russia's GDP is half the size of Italy's.
"My view of the world economic position is that Russia is not that crucial for the global economy except for oil and gas," Parantap Basu, Professor of Macroeconomics at Durham University Business School, said. "But oil and gas are fairly essential, so we can't ignore that."
Harsh impacts on the regional and global markets
Since the Russia-Ukraine situation deteriorated and the Biden administration sanctions Ukraine's newly recognized breakaway regions, markets have been on pins and needles, both locally and globally. Even though the trend in Indian markets is optimistic, Tradingo Founder Parth Niyati believes that there will be much volatility due to the crisis in the coming month. As a result, investors are looking for safe havens in overseas markets, while global stocks have fallen and oil prices have risen due to the Ukraine crisis.
According to Parth Niyati of Tradingo, the general trend is favorable, but there may be considerable volatility over the next month, so short-term traders should be cautious, while long-term investors should see this correction as a buying opportunity. "We are quite positive on capital goods, infrastructure, real estate, banking, consumer goods, and auto ancillaries' space," he adds.
Markets worldwide — "We are much closer to military involvement," says Carlos Casanova, senior Asia economist at UBP. "Of course, this will drive a lot of the risk-off attitude in the markets."
He went on to say that the global markets' short-term volatility was caused by both geopolitical issues and the US Federal Reserve's "relentless" policy. He also predicted that this would result in more excellent gasoline prices, stock market sell-offs, and investors flocking to safe-haven assets like the Japanese yen.
According to a recent note from Goldman Sachs, if a war between Russia and Ukraine breaks out, risk premia might climb even more across all industries. It went on to say that its estimates of how much the world markets will fall are based on the rouble's depreciation.
"On that basis," analysts Dominic Wilson, Ian Tomb, and Kamakshya Trivedi said in a note, "the rouble is still more than 10% away from its highest undervaluation level of the last two decades."
Will oil prices be increased and for how long can this rise in oil prices be sustained?
According to Moody's Corporation (Financial Services Company), an increase in hostilities near the Russia-Ukraine border is expected to push oil prices much higher than they are already. However, the research group also believes that the current surge in oil prices would be short-lived "because of economies' limited ability to tolerate higher oil costs while continuing to grow."
It illustrates how persistently high oil prices can stifle economic growth and hasten the shift to alternative energy sources, causing oil prices to fall back into the reinvestment range eventually.
It further states, "Geopolitical developments that aggravate supply uncertainty boost oil prices. At around $90/bbl, the oil price already reflects lingering uncertainty about the outcome of US-Iran negotiations, rising risks in the Middle East, and tensions on the Ukraine-Russia border."
The world is in danger. Russia-Ukraine Crisis, Chaina-Taiwan, Syria-Saudi and what not! These cause great impact in global markets, led many executives and business owners to geopolitical risk resulting in geopolitics conflict, have impacted international diplomacy, economy, politics, and almost every other aspect of life.
Read: Scholars Opinion