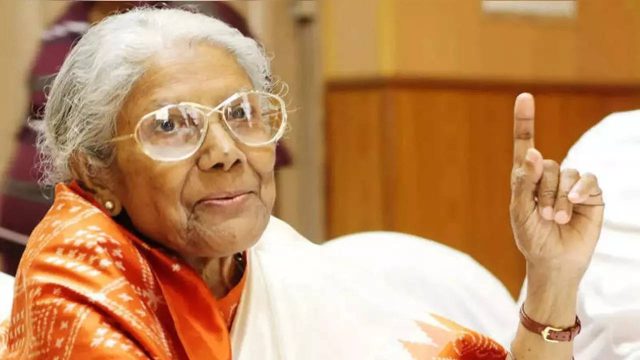 Sandhya Mukherjee, also known as Sandhya Mukhopadhyay, a veteran Bengali vocalist, died on February 15, 2022 after cardiac arrest. Another legend, Sandhya Mukhopadhyay died at 90.
The 90-year-old passed away at the Apollo Hospital in eastern Kolkata, according to media sources. Hospital sources say she had a significant cardiac arrest earlier in the day and died despite extensive efforts to resuscitate her. In the last week of January, she was admitted to the hospital due to problems caused by the Covid-19 infection. Recently, the award-winning singer made headlines after declining the Padma Shri, India's fourth-highest civilian honor.
According to NDTV, she refused to receive the prize, claiming that "it is more deserving of a minor artiste" than someone of her prominence. However, while grieving the famed singer's death, West Bengal Chief Minister Mamata Banerjee stated that she had recovered from Covid-19 and was in good health, according to The Indian Express.
"Her condition deteriorated on February 14, but we didn't expect her to pass away." She was a very disciplined person. "We've lost a legend today," she added.
On 16 February, her body would be kept at Rabindra Sadan for her fans to pay their respects. The West Bengal chief minister stated. "With full state honors, she will be cremated."
In addition, the demise of the veteran singer has shocked and saddened President M Abdul Hamid and Prime Minister Sheikh Hasina. In his sympathy letter, the president noted that Sandhya Mukhopadhyay's death was an irreparable loss for the subcontinent's music scene. He added that her contribution to Bangladesh's liberation war will be remembered with respect by the people of this country.
Prime Minister Sheikh Hasina conveyed her condolences to the bereaved family and prayed for the ultimate salvation of her departed soul. The premier also mentioned her role in the Liberation War of 1971.
Sandhya Mukherjee was an Indian playback singer and musician who had an almost eight-decade career. She was awarded the Banga Bibhushan, West Bengal's highest civilian distinction, in 2011 for her work in Bengali music. She also received the National Film Award for Best Female Playback Singer in 1970 for her songs in films like Jay Jayanti and Nishi Padma, and she offered her voice to 17 Hindi movies as a playback singer.
To read more articles from The Mastermind, Please Click Here!