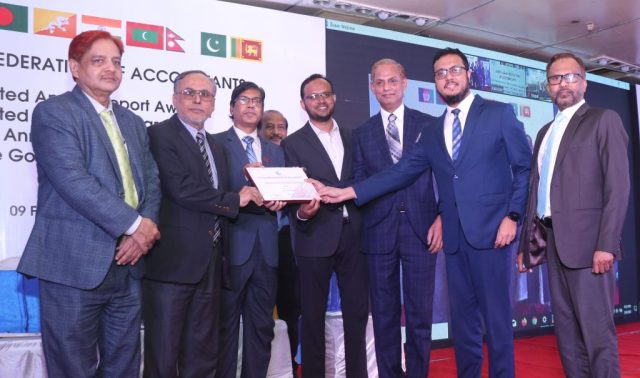 Bank Asia Ltd became the 1st prize winner in South Asia for Best Presented Annual Report 2020 (Private Sector Banks) and SAARC Anniversary Award for Corporate Governance Disclosures 2020 awarded by the South Asian Federation of Accountants (SAFA). The press release is about Bank Asia Ltd is the 1st Prize Winner in South Asia Awarded by SAFA.
In 2022, Bank Asia was awarded "Overall Winner" in the SAARC countries. The Institute of Chartered Accountants of Sri Lanka recently organized the prize-giving ceremony through a virtual platform. Mr. Md. Sazzad Hossain, DMD & COO, and Mr. Mohammad Ibrahim Khalil FCA, CFO of Bank Asia Limited, received Mr. Md. Shahadat Hossain FCA, President, The Institute of Chartered Accountants of Bangladesh (ICAB).
Mr. Md. Kamruzzaman, Deputy CFO of the Bank were also present in the ceremony, among others.
To read more Press Release, Please Click Here!