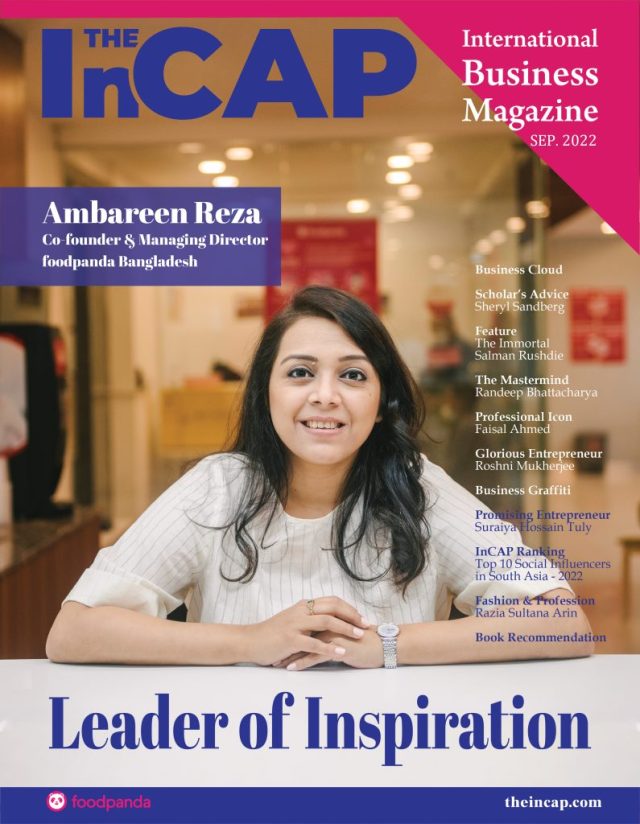 September 2022 Issue of The InCAP is Now Available in International Market!
On The Cover & Cover Story:
Leader of Inspiration
Ambareen Reza
Co-founder & Managing Director
foodpanda Bangladesh
Scholar's Advice
Sheryl Sandberg
Feature
The Immortal Salman Rushdie
The Mastermind
Randeep Bhattacharya
Professional Icon
Faisal Ahmed
Project Glance
Radisson Blu Bangladesh
Glorious Entrepreneur
Roshni Mukherjee
Business Graffiti
Promising Entrepreneur
Suraiya Hossain Tuly
InCAP Ranking 
Top 10 Social Influencers in South Asia – 2022
Fashion & Profession
Razia Sultana Arin
Tributes
September 2022 Issue of the printed version of The InCAP is now available in Bangladesh, USA, UK, India, Canada, and Singapore.
To acknowledge the review, Please Click Here! In Bangladesh, you can get your copy from InCAP Corporate House, Pathok Somabesh, Bangle Boi, and many more magazine-stands throughout the country. You can contact our corporate office or dial +880 1712 500237 to collect your copy.
Why are you waiting for? Collect your copy, NOW!